Forward Momentum Slate Wins – Tears for 'Tribune', Lavery and Bastani as their 'Renewal' faction loses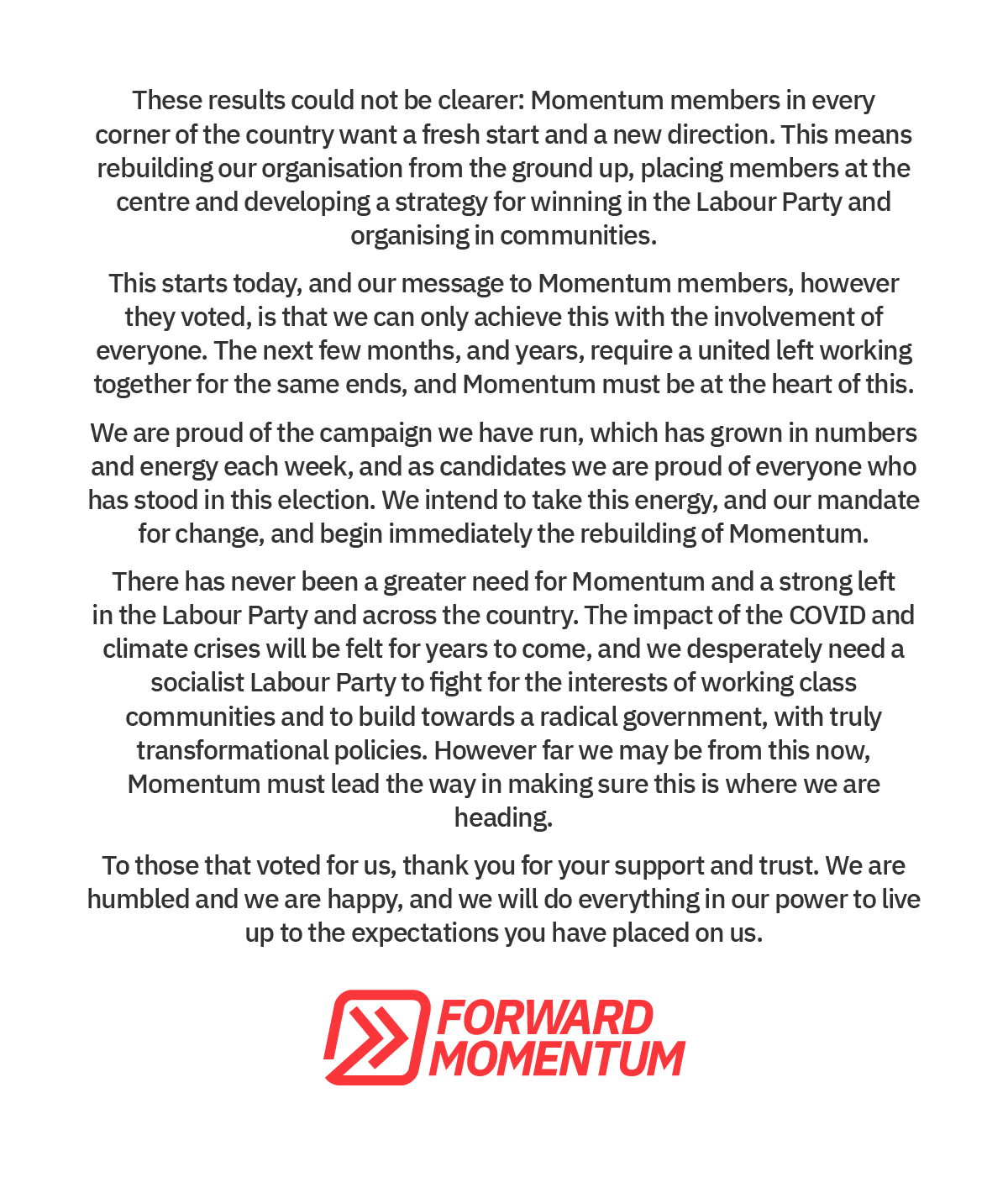 Tears for 'Tribune', Lavery and Bastani as their faction loses..
" Labour MPs such as Ian Lavery, Paula Barker, Sam Tarry and Charlotte Nichols, plus Tribune's Ronan Burtenshaw and Novara Media's Aaron Bastani, had all signed up to back the Renewal initiative."
" the candidates selected by FM – said to include key workers, shop stewards and community organisers – were described by the campaign as "representing a break with the current leadership faction".
It was bitterly contested fight, involving anonymous Twitter feeds attacking some of the Forward Momentum candidates for links with the Alliance for Workers' Liberty.
Described as a less than edifying bun fight this is the result (on a turn out of 8,580, tiny in comparison with Labour's growing membership of over 580,00).
Victory for Forward Momentum candidates as Lansman steps down
Labour List. Sienna Rodgers
Forward Momentum candidates have swept to victory by winning all member representative seats in Momentum internal elections that saw co-founder Jon Lansman step down.

Forward Momentum put forward one of the two main slates in the contest. The group pitched itself as 'anti-continuity' with a focus on democratising the organisation, and held open primaries to select candidates.

Momentum Renewal was the rival platform, more closely associated with Lansman. It stressed the importance of "left unity" within Labour and being "rooted in working-class communities".

FM candidates won all 20 places in the members' section, which gives them a majority on the NCG. Renewal candidates were elected by MPs and councillors to the four office holder posts.
That is, Renewal holds the  "4 representatives of Labour public office holders."
"the candidates selected by FM – said to include key workers, shop stewards and community organisers – were described by the campaign as "representing a break with the current leadership faction".
The Clarion has a report,
Forward Momentum sweeps election for Momentum NCG
Mohan Sen.
Momentum reform group Forward Momentum has won all 20 seats elected by members on the Momentum National Coordinating Group.

The four seats reserved for and elected by public office holders (MPs and councillors) were all won by conservative left / Stalinist slate Momentum Renewal. It remains to be seen if Momentum Renewal will try to use the 'fake seats' on the NCG allotted to various organisations to gain advantage. It will be hard given how comprehensive their defeat is.

(Full results here. Candidates outside the two main slates did poorly.)

This rejection of the conservative, demagogic and witch-hunting campaign Momentum Renewal ran is a good thing for the movement.

It at least opens up possibilities for changing Momentum.

Forward Momentum is a real mixed bag politically, with widely differing perspectives – even on what democratising the organisation means, let alone wider political strategy.

A serious debate about left strategy, demands and campaigning – which didn't get very far during the campaign – is needed.

It is very positive that two candidates who endorsed Momentum Internationalists' socialist platform – Abbie Clark and Ana Oppenheim – were elected on the Forward Momentum slate. We were sorry to see Nadia Whittome MP, who also supported the MI platform, narrowly lose out in the office holders' section.
Poor old Skwawky thinks he has managed to scramble on board the Forward bandwagon:
So far, (written a bare hour after the results were announced) the losers are keeping their chins up.
Keeping the Flag of the Bolivarian Revolution flying Bastani looks to set to continue his work in heralding the latest act of Maduro, and attacking the Labour leader.
It remains hard to see what role Momentum has today.
From its creation, as a group pledged to support Jeremy Corbyn, engaged in some serious election work in 2017, it has struggled to define its role.
Was it to become a "social movement", the yeast in amongst the people that gave substance to a British 'left populism'?
Was it, as it described itself, building socialism "in the community"? A " a people-powered, vibrant movement".
The claim that Momentum has been, "Harnessing people-power, technology and networks, we've won seats for Labour, changed minds about the solutions to the biggest crises of our time and altered the direction of travel for British politics. Our aim is simple: we're creating a society for the many, not the few." looks pretty empty after the 2019 Election Disaster.
Now some of the left seem happier spending their time attacking the popular and respected Labour leader, Keir Starmer.
Flaking away from the Party the self-pitying left seems on the up:
Nobody with morals or self-respect should remain in Labour.

Nobody with any with morals, intellect or self respect should now remain in the Labour Party. Throughout Jeremy Corbyn's leadership, the party was constantly sabotaged from within: the plotters praying that electoral defeat would help restore the hegemony of the right wing careerists – and it has. They have won.
And so it goes..
Many will be happy that Momentum has seen a clear out of the loyalists who used Momentum to ensure factional control of Labour Conferences in the interests of the Corridor Clique  that thwarted, notably, internationalist opposition to Brexit.
Beyond that there is little to indicate that Momentum has found a new positive direction away from its past factionalism.
12 Responses