Shock as Spiked- Brendan O'Neill – Defends Dominic Cummings against "embittered cultural elites".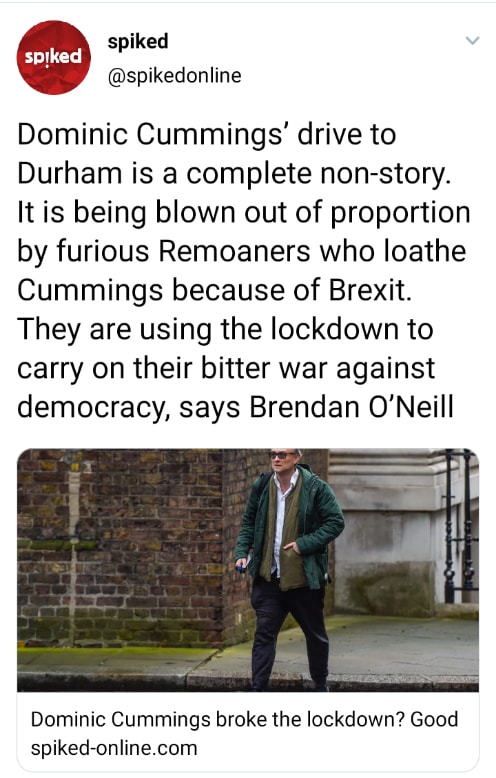 Who would have guessed that Spiked would say this?
While ordinary people tweet, write, and speak out about Dominic Cummings callous arrogance – and even this,   First senior Tory breaks ranks over top aide's 'lockdown breaches' – there's a brave voice ready to be put the alternative view.
Dominic Cummings broke the lockdown? Good
The hysteria over his trip to his parents' home is driven by nothing more than Remainer revenge.
Dominic Cummings broke the lockdown? Good. Welcome to the sensible minority, Dom. According to a survey published a week ago, 29 per cent of Brits have busted out of the lockdown straitjacket and done things they shouldn't have done. I salute these people. Sensibly and carefully bending the rules to visit one's parents, read a novel on a beach or, in Neil Ferguson's case, to shag one's polyamorous lover are wonderful buds of human rebellion in this dystopia we find ourselves in. It isn't Cummings who should be ashamed – it's the shutdown Stalinists who are calling for his head because he dared to visit his folks.
In full fettle of a flow the great man continues,
Listening to the Cummingsphobic Remoaners in the chattering classes, you could be forgiven for thinking they did this in order to cough their germs all over every motorway and lane in the land.
For those who can be arsed there's plenty more to read,
It's the embittered cultural elites seeking a Brexit scalp. It is a political vendetta disguised as concern about the pandemic.
More on those 'elites':
In the Telegraph another figure, David Goodhart, of the red-brown Full Brexit, writes, Jim posts, on tis:
Our society asks a lot of political leaders and their advisers. We should try to cut them some slack
David "The Road To Somewhere" comes up with a fascinating new definition of what is – and isn't – elitism, in today's Sunday Telegraph, while defending Dominic Cummings: "There is an anti-elitist piety, often expressed by the academic or medical branch of the same broad elite, that refuses to accept the specialness of leaders [in case it's not clear, Goodhart thinks that's *bad*] … So it's important that Mr Cummings stays. Even if his actions were technically outside the letter of the law -which is far from clear – there is surely, an extreme circumstances loophole, and more broadly we need to cut our rulers (and their top advisers) some slack.
We expect the Red Brown Front to castigate this whingeing liberal:
Here
10 Responses