Dominic Cummings: How long will he cling on as PM's Senior Adviser?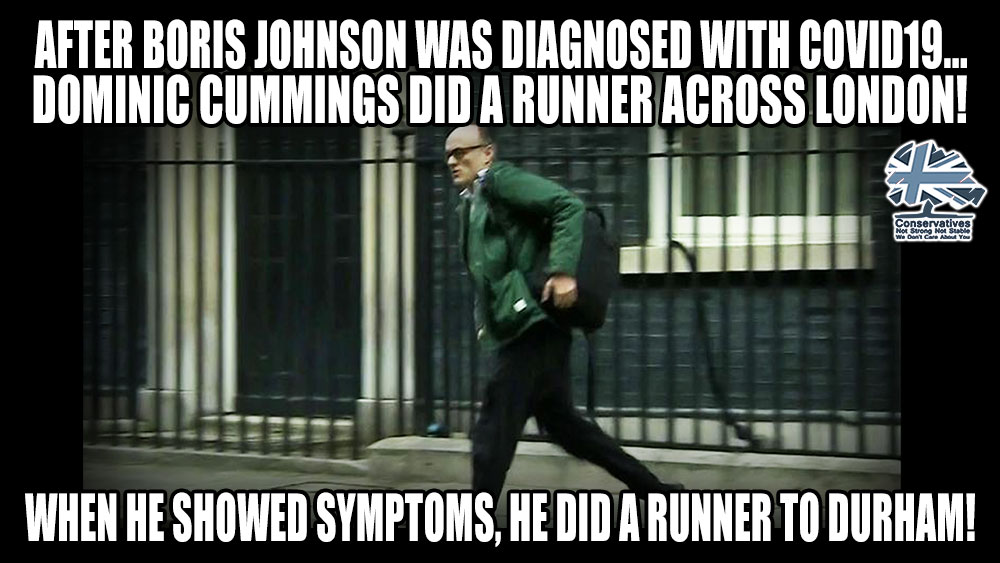 Scuttling Away.
The Previous Story….
There is a clear message at work.
And this was well:
Comrade Mason points out the implications for the media.
Not to mention this…
The Telegraph sums up the latest state of play:
Dominic Cummings is a hypocrite whose position is "untenable", the Government's opponents have said, after it emerged that Boris Johnson's top adviser breached lockdown rules.

Mr Cummings was investigated by police after he drove from London to Durham with his wife and son to stay with his elderly parents after developing symptoms of coronavirus.

A Labour Party spokesman said: "If accurate, the Prime Minister's chief adviser appears to have breached the lockdown rules. The Government's guidance was very clear: stay at home and no non-essential travel.

"The British people do not expect there to be one rule for them and another rule for Dominic Cummings. Number 10 needs to provide a very swift explanation for his actions."
It's worth remembering some of the political interventions Cummings made over Brexit.
This was late last year.
On the referendum #34: BATSIGNAL!! DON'T LET CORBYN-STURGEON CHEAT A SECOND REFERENDUM WITH MILLIONS OF FOREIGN VOTES
November 2019.
Summary: Tell your family and friends face-to-face: if Boris doesn't get a majority, then Corbyn and Sturgeon will control the government, their official policy is to give the vote to millions of foreign citizens to cheat their second referendum, we'll all get screwed on taxes, Parliament will drag the whole country into crisis, and immigration will return to being a central issue in politics instead of being marginalised by Brexit…
This was his programme of work after the Tories' victory.
January 2020
'Two hands are a lot' — we're hiring data scientists, project managers, policy experts, assorted weirdos…
A few examples of papers that you will be considering:
Complex Contagions : A Decade in Review, 2017. This looks at a large number of studies on 'what goes viral and why?'. A lot of studies in this field are dodgy (bad maths, don't replicate etc), an important question is which ones are worth examining.

Extract from this paper:

"2.1. Applications to Health
For the past few decades, the study of public health has concerned not
only biological contagions, but also social contagions concerning
health behaviors: e.g. medication, vaccines, exercise, and the ideologies related to each (Christakis and Fowler 2012). It has been found
that simple contagions do not adequately capture the network dynamics that govern the diffusion of health behaviours (Centola and Macy
2007; Centola et al. 2007; Centola 2010, 2011). Social health behaviours often require reinforcement from peers, and they are strongly influenced by cultural practices and group norms.
Dominic Cummings: If Leave had lost Brexit vote, I'd have queried result as invalid.
December 2019.
Boris Johnson's adviser Dominic Cummings would have challenged the EU referendum result as "invalid" had Vote Leave lost the Brexit campaign.

According to documents seen by the Observer, the prime minister's chief aide told the UK's data watchdog that he would have contested the result because UK elections are "wide open to abuse."

In an email sent in 2017 to the information commissioner's office, Cummings, the former head of the Vote Leave campaign and architect of Johnson's stunning election victory, said: "If we had lost by a small margin I would have sought to challenge the result as invalid."

The UK voted to leave the EU by the slim majority of 52% to 48% in the 2016 referendum, with many Brexiters subsequently attacking the losers as "Remoaners" who refused to respect democracy. On Friday, Cummings openly criticised "educated Remainer campaigner types" for failing to understand the country and "driving everyone mad".
And there was notably this,
In March 2020, it was reported in The Sunday Times that during a private engagement the previous month, Cummings had claimed that the government's strategy towards the coronavirus was "herd immunity, protect the economy and if that means some pensioners die, too bad". The spokesman for 10 Downing Street decried the article as "a highly defamatory fabrication" which "includes a series of apparent quotes from meetings which are invented".[49] On 30 March, Cummings displayed symptoms of COVID-19 during the COVID-19 pandemic and is reported to be self isolating. This was three days after Johnson was tested positive for the virus.[50] On 27 April, it emerged that Cummings sat in on meetings of the Scientific Advisory Group for Emergencies (Sage) which advises the cabinet on coronavirus response.[51] Cummings urged a faster lockdown and encouraged the scientists to support the closure of pubs and restaurants.
On the latter,
Johnson's Top Aide Pushed Scientists to Back U.K. Lockdown. (Bloomberg).
April the 28th.
Boris Johnson's most powerful political aide pressed the U.K.'s independent scientific advisers to recommend lockdown measures in an effort to stop the spread of coronavirus, according to people familiar with the matter.

…….

Speaking on condition of anonymity because the meetings are private, the people said Cummings asked why a lockdown was not being imposed sooner, swayed the discussion toward faster action, and made clear he thought pubs and restaurants should be closed within two days.
Here
7 Responses