London Protest Against Far-Right Italian National Populist Leader Salvini.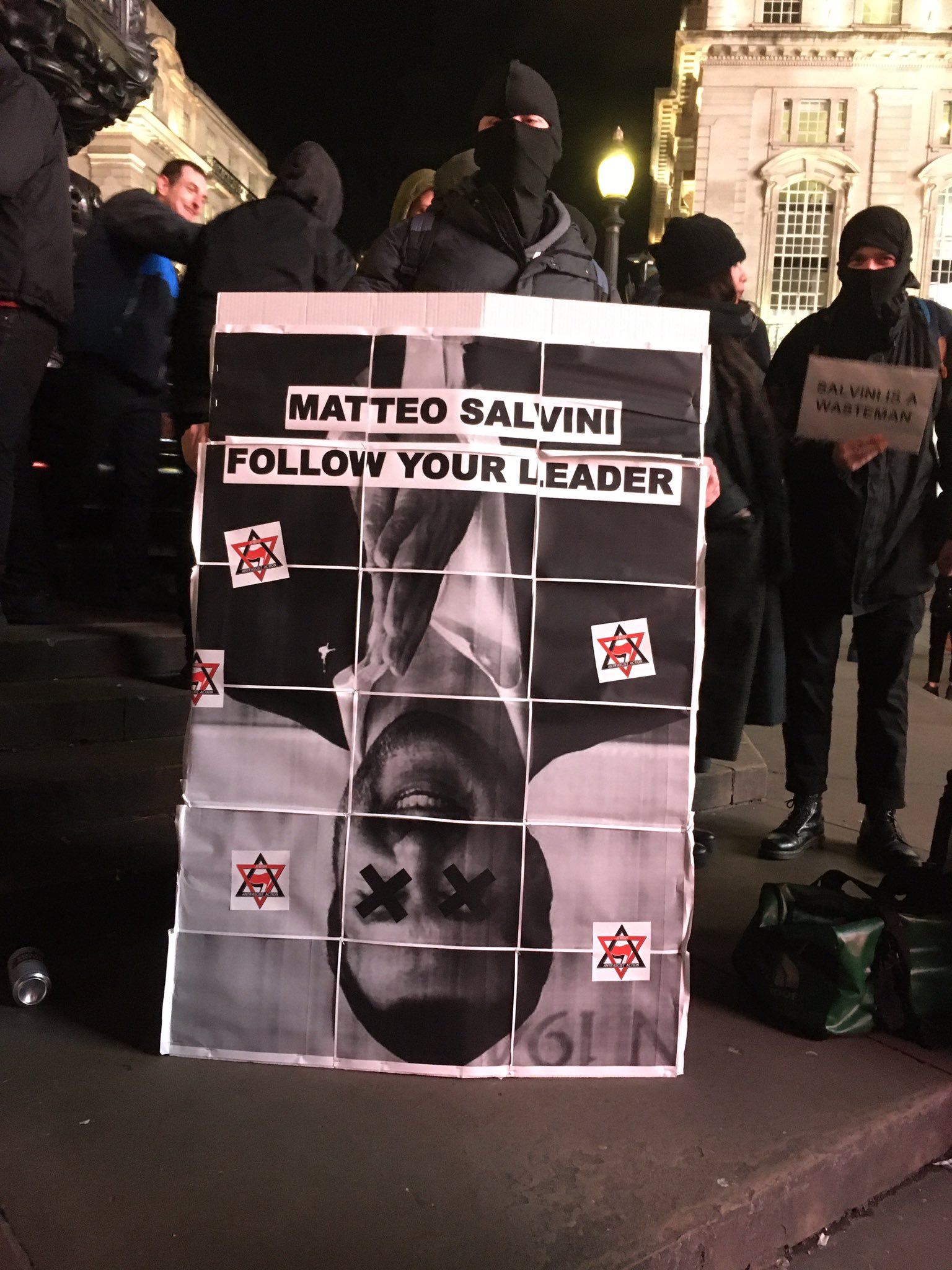 London Protests Against No-Show Salvini.
Inspired by Italy's anti-far right, and anti-Salvini movement, the Sardines, people protested in London yesterday against the visit of the Italian national populist leader to the British capital.
The fact that his flight was cancelled because of the Coronavirus did not stop people demonstrating.
This is the movement in Italy: Sardines against Salvini 
Socialist Resistance.
December 2019.
A few weeks ago four thirty year olds from Bologna were complaining about the victory of Salvini's  hard right Lega (League) in the Umbrian regional elections and the danger of him winning their traditionally left of centre region in the January elections, writes Dave Kellaway. They then did something that is typical of angry thirty year olds. They went onto social media and cooked up the Sardines idea.

Put simply, it was to fill the squares of Italy with people against the Lega.  The reference to the sea was twofold. Firstly, small fish group together in massive shoals to defend themselves against predators and secondly Salvini was the notorious interior minister who was happy to let migrants die in the Mediterranean by closing the ports.

As sometimes happens, the whole idea exploded on social media and the squares of Bologna and other places across the region were successfully taken over by huge crowds. A majority were young but people of all ages came too.

On December 3 there were 25,000 in Milan and tens of thousands in Florence and Naples. The weather has been as bad in Italy recently as it has been here.  Given that the merest hint of rain on an Italian beach sees them emptied very quickly, this showed the strength of this movement as a sea of umbrellas covered the squares.
And:  New "sardine" movement in Italy. Hugh Edwards.
Solidarity.
December 2019.
In the past few weeks, as if from nowhere, a new movement, calling itself "the sardines", has filled the squares of Italy, originating from Emilia Romagna's capital city, Bologna.

25,000 came out in Milan on Sunday 1 December, and there will be a mass national demo of all groups and organisational conference in Rome on 15 December.

Drawing in thousands of the young, and often very young, the dynamic of the mobilisation is focused against the reactionary racist extremism of Matteo Salvini and his party, La Lega nationale.
Radical anti-Fascists took part.
This is the Sardines UK.
2 Responses