Pro-Brexit Left accuses "dumb centrist" anti-Brexit Keir Starmer of Responsibility for Labour Defeat.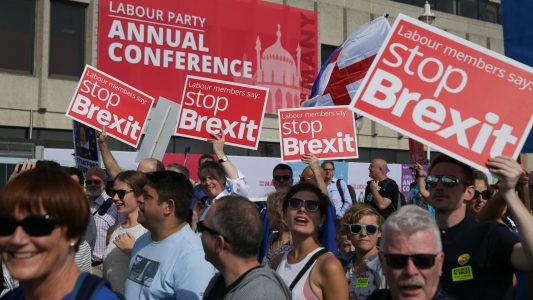 Dolchstoßlegende: Labour stabbed in the back by its anti-Brexit membership.
A couple of weeks ago the Morning Star published this assertion,
…in my view Starmer doesn't seem electable at all — with his anti-Brexit views I don't think he has a hope in hell of winning back our heartlands.

It was Starmer who was at the heart of our Brexit volte-face between 2017 and 2019, the biggest reason we lost 2.5 million votes. He has done nothing to own this calamity of the highest order and doesn't seem to be able to accept his huge role in it. If he can't see the problem how on earth can he try to put it right?
The author, Rick Evans, is apparently a Labour Party activist linked the 'Red Labour'.
These are his politics:
But the claim that Labour lost the election because of Starmer is not an isolated one.
The pro-Brexit Counterfire makes the same charge,
Labour lost Leave constituencies because it became a Remain party, with Starmer and others mounting pressure on the party leadership to support a second referendum, and stating that they would campaign for Remain regardless of what was in any prospective Labour deal.

Starmer argued that this was the path to victory for Labour. In reality, it was a disastrous approach that alienated traditional Labour voters and drove them to the Tories. It's difficult to defend Starmer's leadership credentials when he was behind such a great miscalculation.
It looks as if the former supporters of George Galloway's Respect Party are preparing for possible defeat and a return to their political isolation.
This is their more recent description of Starmer's politics:
Starmer sides with Trump against Assange: expect more of the same if he's leader
….unquestioning loyalty to the establishment on both sides of the Atlantic. But they can also expect Sir Keir to be a dumb centrist who will be out manoeuvred by the Tories…
Apart from Counterfire mocking the mute,  this is the kind of catch-all rhetoric we can expect from their side in weeks to come.
At is core is a new  Dolchstoßlegende, that Starmer stabbed Labour in the back by supporting the massive protests against Brexit.
It has equally expressed in an intellectual version.
New Left Review Editor and Brexiteer, Susan Watkins imagines, with the blessing of hindsight, that Labour could have let Brexit pass under Boris Johnson,
Placing the Labour leadership candidate within the "Remainer elite" who "betrayed" the working class she suggests that a better way would have been to follow the wiles of Harold Wilson and allow Labour MP's to back the Tories and ignore the decisions of their Party Conferences.
The Parliamentary Party, acting alone (without reference to democratically agreed policy on the 'tests' on an acceptable Brexit deal, and favouring the option a Second Referendum), could, by
…giving Labour mps a free vote on Brexit legislation in 2019, 'according to their conscience', as Harold Wilson had done on the divisive 1975 referendum on the uk's entry into the Common Market. With the 'northern group' voting for the bill and two dozen Labour abstentions, Johnson would have been denied the chance to make electoral hay out of the obstruction of Brexit, and the prospect of combating a much weaker Tory administration would have lain ahead at the next election. A Labour government could then have fought for an open immigration policy, or its own recalibration of the eu's 'four freedoms'.
Lexit Left's Responsibility for Defeat.
In reality the Lexit left share in the responsibility for Labour's defeat: they sided with the hard right in voting for Leave, and encouraged the illusion that there was a "People's Brexit' waiting to emerge from the break with the EU. That is, they encouraged the very pro-Brexit feeling that Remainers like Starmer are alleged to have ignored, and let the red to blue switch-overs with a ready-made justification for their vote.
Not only did an alternative socialist Brexit not happen, it could not happen.
The Brexit project was part of the very hard-right, national neoliberalism, aligned with the "'outward-orientation' " of sections of capital, "in the era of bubblenomics", which was, and is "above all Atlanticist. "
With this as the backdrop, Watkin's strategy had been ruled out by the domestic political landscape as condensed in the House of Commons.
The idea that Labour could have left pro-Brexit MP's vote, en masse, for the Leave legislation, was dead in the early years of the 2017 May government.
The option that The NLR Editor and friends have dreamt up was, it's becoming clear, was already not on the cards.
Mike Phipps, in a review of this book,  May at 10, by Anthony Seldon,  indicates why.
These are the relevant sections of the article:
Some Party activists have suggested that Labour should have voted for Brexit to get it out of the way so that the 2019 general election could have been about issues less divisive for Labour voters and members.

There are several problems with this analysis. First, to have called for a vote for May's particular form of Brexit would have collaborated in creating the bonfire of workplace rights and environmental safeguards that would follow leaving the EU. Secondly, it would have split the party down the middle, with most members and MPs opposed to Brexit. Thirdly, with some Labour MPs already breaking the whip, any attempt to impose a hard Brexit on the parliamentary party would have provoked not just more defiance but possibly a challenge to the leadership, Fourthly, it was only in April 2019 that the May government indicated a preparedness to negotiate with Labour – but there was no real willingness to move towards Labour's proposal for a permanent customs union.

Worse, the government was by now falling to pieces. Seldon suggests that Labour's front bench was in intransigent pre-election mode, but the reality was that the talks ground to a halt when May's own departure was being briefed to the media, with no commitment that any agreement reached would be honoured by her successor.
Mike continues,
Should Labour have adopted a different position to the compromise it made with itself over Brexit?

Leavers say it should never have floated the idea of a second referendum, which indicated contempt for the 2016 verdict of the voters. Remainers say Labour should have come out for a People's Vote earlier, pointing to the slump in the Labour vote in the 2019 EU parliamentary elections and the rise in support for Remain parties such as the Lib Dems and the Greens.

The debate will rumble on in relation to the 2019 general election, but two things should be borne in mind.

Firstly, Labour's position on Brexit was not seen by voters as the principal reason for rejecting the party in 2019.

Secondly, whatever position Labour might have adopted, it would probably not have changed the course of events prior to the election, which were not controlled by the party's leadership.
This are the standout points,
The assumption that if Labour had somehow got Brexit out of the way, it could have fought the general election on different terrain overlooks the obvious point that, with Brexit done, there may not have been an election in 2019 at all, or 2020 or 2021. Johnson gambled in 2019, but he would have preferred to call a general election when the polls could give the Tories a clearer lead.

True, it would not have been the 'Brexit election', but the mobilisation of nationalist sentiment and the weaponisation of the Labour leader's patriotism are themes that the Tories have used repeatedly in the past and are still exploiting now post-election. We shouldn't be surprised: the rise of authoritarian nationalist conservatism is a global phenomenon challenging social democratic parties across the world.
He concludes,
With hindsight, we can see we were a long way from that and much more political and practical preparation was necessary after 2017 to make it possible. Furthermore, the absence of industrial struggle or a more generalised upsurge against government policy over the last nine years should have told us that there was something fundamental missing in the combination of ingredients that might bring a socialist government to power. Instead, we suffered a colossal defeat – and one from which we have to learn lessons.
While the Lexiteers may have helped soften up opinion for the Tories their influence was far from decisive. There is plenty of evidence to suggest that, while it did have some effect (above all in letting convinced Labour turncoats with a ready excuse for their ballot), that, "Labour's position on Brexit was not seen by voters as the principal reason for rejecting the party in 2019" Leadership is the most cited reason for not backing the Party.
Mike is also right to underline that Labour politicians of any side  were, a minority in parliament, able to determine the way the issue played out as the election agenda was set, "whatever position Labour might have adopted, it would probably not have changed the course of events prior to the election, which were not controlled by the party's leadership."
Brexit has not gone away, at least in Labour debate.
Starmer comes under fire from Long-Bailey and Nandy over Brexit
Guardian.
Labour leadership hustings saw frontrunner criticised for party's 'tone-deaf' approach
Long-Bailey implicitly condemned Starmer's Commons-based tactics against Theresa May's minority government, saying: "Unfortunately, we focused a lot on what was happening within Westminster, and didn't convey what we were trying to do to our community. And that led to a lack of trust.

"It took so many other things down with it. So in the election, when we should have been talking about jobs, aspiration, industry, what the future will look like, we were talking about Brexit and trying to justify our position, which was confusing."

Speaking later in the event, Nandy said Labour's problem with Brexit was that it "took all the wrong lessons from what the public were trying to tell us".

She said: "Brexit was a real problem for us, it was the straw that broke the camel's back. And the reason it was a problem was because our response was so utterly tone-deaf."
The "public" were not one group. Labour, as a party of over 500,000 members is part of the public, so are those who filled the streets protesting against Brexit, mass currents of opinion and street activity, the latter the"movementists" of Counterfire ignore, or denigrate.
This drew a measured response,
…Starmer vehemently rejected this analysis, saying that "fairly or unfairly, rightly or wrongly", Corbyn's leadership was the number one issue on the doorstep, as well as what he called "manifesto overload".

Starmer said: "Whether what was in the manifesto was right or wrong, there was too much. There was a tipping point, and it didn't matter whether it was good or bad, because people didn't believe we could deliver it."

"And every team was talking about what was coming up on the doorstep, the big issues. And there was complete uniformity across the country; it was number one, the leadership. Fairly or unfairly, rightly or wrongly, anybody who was in that campaign knows that was the number one thing that came up. I'm not saying it's right; I'm just saying let's be honest about it.

The second thing was Brexit, of course. But that came up differently. If you were campaigning in the Midlands, it came up in a particular way. If you were campaigning in Scotland, it came up in a completely different way. But it did come up, I accept that.

The third thing that came up – this is not me, this is the teams reporting to me – was the manifesto overload. Now, whether what was in the manifesto was right or wrong, there was too much. There was a tipping point, and it did not matter whether it was good or bad, because people did not believe we could deliver it. And once you got past that point, there was no coming back.

And I'm really sad to say, but in all honesty antisemitism came up … It came up as a values issue and as a competency issue."
Exactly. 
5 Responses