Affaire Milla: 16 Year Old Gay Lycéenne Faces Death Threats for Criticising Islam, Minister of Justice says, "Insulting Religion" is an "Attack on Freedom of Conscience".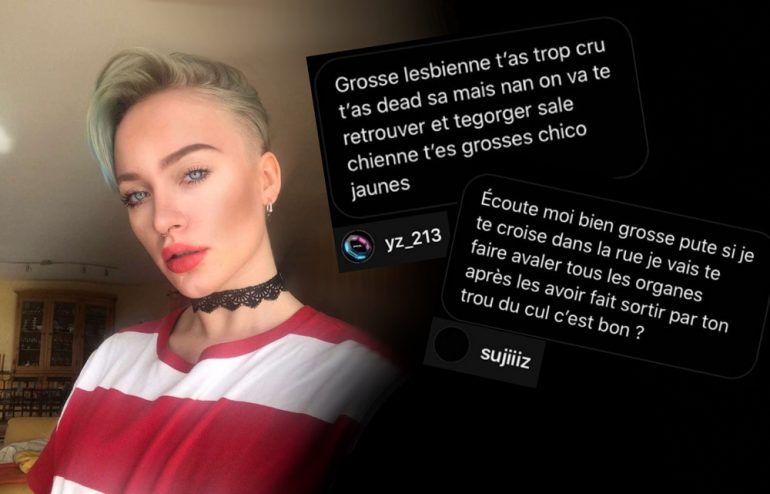 Misogynist and Homophobic Hatred in Response to Mila's Criticism of Islam.
Le Monde, Mattea Battaglia and Charlotte Herzog.
(Adapted)
It could have been just another live video posted by a teenage girl on Instagram on a Saturday. It has become what is now called the "Mila affair". This homosexual high school girl with purple hair was insulted and threatened with death for having made insulting remarks towards Islam on January the 18th.

…

The case took on a new dimension when the Minister of Justice, Nicole Belloubet, was invited to speak on the subject on Europe 1 on Wednesday January 29. She was accused of wanting to put into  question the right to blaspheme (which is not not a crime in France), declaring that insulting a religion "obviously constitutes an attack on freedom of conscience" .

….

Mila is 16 years old, she lives in the Lyon region, and is passionate about singing. It is on Instagram that she shares her opinions, speaks about her life, posts videos of her, chats with her followers, and talks openly openly about her homosexuality.
In a video she expressed this view,
"  I hate religion, (…) the Quran there is only hatred in there, Islam is shit. (…) I said what I thought about it, you are not going to make me regret it. There are still people who will get excited, I clearly don't give a damn, I say what I want, what I think. Your religion is shit, your God, I put a finger in her arsehole, thank you, goodbye.
This was the reaction,
"I received 200 messages of pure hatred per minute", fake accounts are created in her name, she explains to Bellica (an 'identitarian' rightist site) , which has posted screenshots of the ultra violent messages that she received .

Personal information concerning her, such as her address or the name of her school, was disclosed.
She says,
Unlike them, I did not insult anyone, nor threatened, nor called for violence against anyone. What I did was blasphemy, general criticism of religions, and nothing else . "

But,

"I can no longer set foot in my lycée and I can't even change my  lycée because it's the whole of France that wants my hide" .
This was another response,
On Thursday January 23, the general delegate of the French Council for Muslim Worship (CFCM), Abdallah Zekri, estimated in the programme Les Vraies Voix on Sud Radio  : "whoever sows the wind harvests the storm". "She sought this, she is responsible," he said again, while saying "against" the death threats she received.
Mila has problems at her  lycée where some of the students are thought to have been at the origins of the violent threats.
Her case is being dealt with by the educational authorities.
A procedure to prosecute MIla for inciting race hate has been dropped, while another investigation into the origins of the death threats has been launched.
In France after the assertion of the Minister of Justice, Nicole Belloubet the "affaire Mila" has taken a political dimension.
If she soon backtracked, saying the death threats are no acceptable, questions remain as to why she ever came out with this defence of hatred.
The Minister of Justice returns to her remarks concerning the Mila affair
France 24.
"We have the right to criticise a religion, it's very clear. There is no question of coming back to this," added Nicole Belloubet to Radio Classic's microphone on Thursday.

It evokes a 

"formulation error"

. Nicole Belloubet, the Minister of Justice, made a point, Thursday, January 30, the day after her remarks strongly criticized on the Mila affair. The Keeper of the Seals condemned the cyber harassment and death threats against the 16-year-old girl on Europe 1, adding that

 "insult to religion is an attack on freedom of conscience"

.

"I didn't have to say that, for sure", said Nicole Belloubet, at the radio of Radio Classique. "We have the right to criticise a religion, it's very clear. There is no question of coming back to this", she added.

he minister had already started, on Wednesday afternoon, a mea culpa, believing that his "expression may have been awkward". "Insults and discrimination on the grounds of religious affiliation are offences. That is what I meant", she said, denouncing a controversy "ridiculous". And to add: "I have absolutely no justification for the offense of blasphemy."
A stock response on the British left these last years has been to dismiss people like Mila.
Saying that Islam is shite obviously does not hold up to the high standards of those, like Terry Eagleton, who think that religious truths are a separate kind of verity that unbelievers cannot understand.
Others, who promote a communitarian view of truth, think that nobody should be rude about a community of belief.
Even the 'free speech' warriors of Spiked and people like Douglas Murray consider that saying nasty things about 'gammons' should be halted.
Charlie Hebdo came to the defence of Mila, unbowed, recalling their own bloodied martyrs.
Yesterday they published this:
Editorial by Riss: Teenagers to the stake!
Have you heard of the boot torture? It involved encasing each of the suspect's legs between two wooden planks, tying all four tightly together and then driving wooden wedges between the two central planks, thus crushing the limbs if the suspect refused to admit the crime of which he was accused. The Chevalier de La Barre was one of the most famous victims of this torture. In 1766, aged 20, he was condemned to have his legs crushed, initially with two wedges and then with four, before having his tongue ripped out, being decapitated and being thrown into the flames. His crime: blasphemy. He was accused of having failed to doff his hat to a passing religious procession in the saintly town of Abbeville and, what is more, of mutilating a crucifix. His decapitated body was burned with a copy of Voltaire's Philosophical Dictionary nailed to the torso.

Today, blasphemy is no longer punished by decapitation: it is not even against the law. Nevertheless, in 2020 there are still people clamouring for death in its name. The Chevalier de La Barre was only 20 when he was tortured. He read licentious and impious books that did not respect religion. He had the insolence of his age – an age that fears nothing – and desired only to live in freedom.

At the ripe old age of 16, the age of revolt, Mila could have been his younger sister. Last week, online, she dared to express her anger against the injustice and aberration of faith, particularly that of Islam, in terms that the Chevalier de La Barre probably wouldn't have disavowed. Mila won't be subjected to the boot torture, only to insults on the social networks and death threats on the Internet. Routine treatment nowadays for those who refuse to submit to religious authority.

Her anger against the arbitrariness of religion is all the more moving because it recalls that of another young girl of her generation, the now famous Greta Thunberg. They both seem to be rebelling against the same injustice: adults' cowardliness. Adults have done nothing to stop the planet disintegrating before our eyes. Nor have they done anything to fight religious intolerance, which is becoming more invasive every day, like an oil slick that we can no longer hold back. At 16, it's impossible not to be worried by the thought that this is the world where you have to try and live: a planet asphyxiated by exhaust gases and the toxic preaching continually emitted by the diesel engines of Islamism and fanaticism. And you can't count on adults to protest against the pollution filling our lungs and smothering our freedom of speech.

After first being insulted by the most stupid, Mila was threatened by the most fanatical and finally abandoned by the most cowardly. Her anger and sincerity should have elicited as much support as Greta Thunberg's. But people have turned their backs on her out of fear and intellectual laziness, because her cause is less photogenic than koalas squealing when their little backsides are toasted by the flames of an apocalyptic fire. Above all, Mila is more dangerous. Here, we're not talking about saving life on Earth, but saving our very skins. We refuse to admit that our society is capable of torturing the innocent with the same icy certainty as our ancestors at the Chevalier de La Barre's time. We're so full of our own modernity that we nonchalantly brush off the impassioned indictments of a Voltaire against the inquisitors, because they make us confront our cowardice. The boots in which we crushed blasphemers' leg bones belong to the past. We no longer need them.

Smartphones, backed up by a few Kalashnikovs and well-sharpened kitchen knives, have taken their place when it comes to intimidating the insolent who refuse to bow before the faith of the fanatics and the resigned.
7 Responses