Verso Publishes 'Antisemitism and the Labour Party, Jamie Stern-Weiner'. Norman Finkelstein: "British-Jewish elites are terrorising Corbyn".
Verso have just put this out.
Antisemitism and the Labour Party
We are approaching the 2019 general election in bizarre circumstances. From the climate crisis to homelessness, Brexit to the NHS, the stakes could scarcely be higher. Yet a story about the Labour Party that has no basis in fact and whose partisan motivations are transparent is playing a significant role in our national conversation and might even influence the result.

The 'Labour antisemitism' controversy is, in its profile and its protractedness, unprecedented in modern British politics. Its prominence may increase still further as polling day draws near, while other progressive campaigns abroad—notably supporters of Bernie Sanders in the United States—are beginning to be targeted with the same allegations.
The Introduction sets the tone.
Like a creature from a horror film, the 'Labour antisemitism' controversy just won't die.

The 'antisemitism' campaign is, in its profile and its protractedness, unprecedented in modern British political history. To find an analogy requires reaching back to those outbursts of collective madness which periodically stain the annals of human history and astonish all succeeding generations. If its consequences do not compare with those of the Salem Witch Trials or the McCarthyite purges, still, in, bottomless irrationality, and self-perpetuating moral hysteria, the propaganda offensive against Labour lies squarely in the trajectory of these infamous episodes.
Some might remark that Stern-Weiner, apparently a DPhil candidate in Area Studies at the University of Oxford,  sounds pretty over the top as well.
He predicts that any Labour election difficulty will mean that the
" 'antisemitism' charge will briefly take on renewed salience as factional opponents seek to engineer his ouster (translation from American, his removal) . If and when he is ejected, the whole issue will vanish overnight, consigned forever to Orwell's memory hole. What happens if Corbyn wins is less certain. But his opponents will continue to have resort to the 'antisemitism' weapon, while there are already indications that the relentless smears have curtailed his radicalism.
Stern-Weiner draws wider conclusions,
In any case, the 'Labour antisemitism' campaign set a template that is sure to be deployed against other popular movements of the left – as supporters of Bernie Sanders are beginning to discover. It is therefore critical that the strange events that have warped British politics since 2015 are soberly examined and the truth about them established – not just for posterity, but to help kindred  governments avoid repetition of Labour's mistakes. This volume brings together a selection of analytical writings on the 'Labour antisemitism' affair" as a contribution to this effort.
21 November 2019
Norman Finkelstein is keen to underline his contribution.
Not long ago Finkelstein caused a lot of controversy for his view on Jews in Britain,
Jews have too much power in Britain. The three richest Brits in 2016 were Jewish.[12] Jews comprise only .5 percent of the population but fully 20 percent of the 100 richest Brits.[13] Relative both to the general population and to other ethno-religious groups, British Jews are in the aggregate disproportionately wealthy, educated, and professionally successful …These data track closely with the picture elsewhere. Jews comprise only 2 percent of the US population but fully 30 percent of the 100 richest Americans, while Jews enjoy the highest household income among religious groups.

Jews comprise less than .2 percent of the world's population but, of the world's 200 richest people, fully 20 percent are Jewish. Jews are incomparably organized as they have created a plethora of interlocking, overlapping, and mutually reinforcing communal and defense organizations that operate in both the domestic and international arenas. In many countries, not least the US and the UK, Jews occupy strategic positions in the entertainment industry, the arts, publishing, journals of opinion, the academy, the legal profession, and government. "Jews are represented in Britain in numbers that are many times their proportion of the population," British-Israeli journalist Anshel Pfeffer notes, "in both Houses of Parliament, on the Sunday Times Rich List, in media, academia, professions, and just about every walk of public life." The wonder would be if these raw data didn't translate into outsized Jewish political power.

The chimera of British anti-Semitism (and how not to fight it if it were real)
In the present E-Book Finkelstein argues the following,
The Labour Party's code of conduct hitherto faithfully honoured its libertarian legacy as it allowed every idea, however bizarre or noxious, to be mooted. Prodded by the anti-Corbyn Jewish Labour Movement, the party's leadership poured into the code a mass of verbal sludge  128 anti-semitism and the labour party that polluted the venerable principle of free speech. Now British-Jewish elites are terrorising Corbyn to accept a purported definition of antisemitism that, one, is and couldn't but be gibberish, two, exemplifies ethnic special pleading, three, is not just pointless but also stifles vital debate, and, four, has nearly nothing to do with antisemitism and nearly everything to do with shielding Israel from deserved condemnation. The long and short of it is, to detoxify its code of conduct, Labour should junk the revised text, reject as a whole and in all its parts the IHRA text, and return to its radical roots.

…

If the Labour Party adopts them, it will become a willing dupe of Israeli hasbara; it will disgrace the party's noble traditions; and it will betray Jeremy Corbyn's promise to set the party on a new-old path of upholding Truth and Justice, wherever it may lead and whatever the price.

Why the Labour Party Should Not Adopt the IHRA Definition or Any Other Definition of Antisemitism.
Without going into the fraught debate on the code of conduct Finkelstein simply wishes Labour to adopt the US First Amendment and refuse to allow any abridgement of free speech.
Here is contributor Daniel Finn, in an article taken from the populist US journal Jacobin, arguing against what is now Labour policy on the Middle East,
A 'two-state solution' as envisaged by Israel and its Western allies would really be a 'one state, several Bantustans solution', with some pitiful fragments of the West Bank handed over to a supine Palestinian leadership to administer on Israel's behalf. The longer Israel is shielded from any kind of effective pressure by euphemistic phrase-mongering, the more likely this outcome will be.
In the following contribution Finn writes on Chris Williamson,
This is where the Chris Williamson row comes in. The case against the MP mainly rests on the people he has defended rather than the things he has said. On that count, the charge-sheet is very uneven: it is one thing to criticize Williamson for circulating a petition in support of Gilad Atzmon, a true example of a Jewish antisemite (Williamson said he was unaware of Atzmon's antisemitic comments, deleted his post, and apologised) it is quite another to attack him for supporting Marc Wadsworth, a black Labour activist who was the victim of an unpleasant stitch-up.

Overall, I find the arguments for his expulsion unconvincing and tendentious, even if you accept – as many of Williamson's defenders do12 – that his interventions on the 'Labour antisemitism' controversy have often been clumsy, insensitive, and ill-judged. And to state a point that should be obvious: while some on the Labour left dislike Williamson and think he's a liability who does more harm than good, disciplinary action has to be based on clear-cut principles, not political expediency. Unless he's done something that clearly merits the harshest penalty, it should be up to Labour members in Williamson's constituency party to decide whether he continues to be their representative.

But what really matters is how this case fits into the overall picture. If Chris Williamson had never been a Labour MP, the basic structure of the controversy would be exactly the same as it is today. And if Williamson is expelled from the party, retires from political life, and never says a word in public again, the controversy will still grind on remorselessly, for all of the reasons stated above. Williamson himself would just become one more link in the chain of guilt-by-association ('X defended Y, who defended Z') that has become wearingly familiar.
Williamson gets another defence here:
The Fake News Nazi Corbyn, Williamson, and the Antisemitism Scandal. 
David Edwards. Media Lens, 13 March 2019.
Both completely ignore the substance of the many weighty accusations against the – present – independent candidate in the General Election.
WHAT'S WRONG WITH CHRIS WILLIAMSON?
Amongst other issues this struck many people,
3. The time Williamson promoted a Syrian war crimes denier

For me, one of the most unforgivable things Williamson has done, last summer, was promote Vanessa Beeley, a war crimes denier and fake news merchant. Here is an extract from Oz Katerji in the New Statesman on this incident:
A thoughtful contribution by David Rosenberg tries to restore some sanity to this volume,
There is Another Way to Resolve Labour's Toxic Wrangles Around Complaints David Rosenberg Rebel Notes, 24 July 2019
On Shami Chakrabarti's  report comrade Rosenberg  notes
She sought to replace the paranoid and toxic atmosphere that was felt at times in the party, with an atmosphere 'for learning, positive consensus and progressive change' where members 'discussed and debated difficult issues and differences, in an atmosphere of civility and a discourse of mutual respect'. For her that also meant 'a moratorium on the retrospective trawling of members' social media accounts and past comments'.
He argues (on the basis of how people who'd been on the far-right in the 1930s could be changed) in favour of this approach.
Chakrabarti added, 'I do not recommend lifetime bans from the Labour Party. Present or future members of the NEC should not be robbed of their discretion to consider how someone may have changed their attitude'.
There are also Testimonies: Labour Jews Speak Out.
Many are important reading.
But does this volume bring " together the most rigorous and penetrating analytical writings on the 'Labour antisemitism' affair?
For a start the (already over-used)  list, "Sixty Times Jeremy Corbyn Stood with Jewish People @ToryFibs November 2019″
Just stop at the start.
1. April 1977: Jeremy Corbyn helps organise the defence of Jewish populated Wood Green from a neo-Nazi march.
Jewish Voice for Labour (which is prominent in the present book) published the original, which says,
Corbyn organised the Apr. 1977 defence of Jewish populated Wood Green from a Neo-Nazi march.
I was there, in the thick of the violent counter-demo in the road outside Wood Green Tube station.
We had come down in coaches from Warwick University Students' Union.
Yet it was known territory: I grew up just on the border (literally, my parents' street at the time is the dividing line between Wood Green and New Southgate) and had lived there not that long before,  in Bounds Green.
Jeremy Corbyn, a young councillor, and a  minor trade union official,  was a liaison officer for Haringey councillors who worked with the organisers of the demonstration, labour movement, left, and campaigning bodies.
On 23 April 1977, a twelve hundred-strong National Front march through Wood Green was opposed by some 3,000 anti-racists, including delegations from Haringey Labour Party, trade unionists, the Indian Workers' Association, local West Indians, members of Rock Against Racism and the Socialist Workers Party. While Communists and churchmen addressed a rally at one end of Duckett's Com-mon, a contingent composed of more radical elements in the crowd broke away and subjected the NF column to a barrage of smoke bombs, eggs and rotten fruit. Eighty-one people were arrested, including seventy-four anti-fascists. Such are the bare bones of our history, but they explain little about what the National Front was, where it came from, and why so many people felt that it should be opposed.

The Battle of Wood Green 23rd April 1977 Keith Fleet (an invaluable post)
Fleet says, "One of the Labour Councillors at the time, and an organiser of the counter-demonstration, was Jeremy Corbyn, then a trade union official, now a Labour MP."
Corbyn did a good job, but, as Fleet says, he was not alone, far from it, and I doubt if he's every claimed otherwise.
The National Front were marching against immigration above all, from the sub-continent and the Commonwealth and were felt to target the black community, important in the area and next door Tottenham.
Wood Green has never been "Jewish populated" – although not far away Muswell Hill has a  Jewish community (see the transfer of the small Hornsey and Wood Green Synagogue to Muswell Hill here), and there is a Synagogue in Brownlow Road on the border with Southgate,  in Bounds Green, about a mile from the march…
The rest of list does not get better.
EDM3933 7 Nov. 1990: Corbyn signs motion condemning the rise of antisemitism
EDM634, 11 Apr. 2000: Jeremy Corbyn signs motion condemning David Irving for being a Holocaust Denier
EDM1124, 6 Nov. 2000: Jeremy Corbyn praised the 'British Schindler', Bill Barazetti, for his WW2 kindertransport
EDM742, 28 Jan. 2002: Jeremy Corbyn signs motion praising football clubs for commemorating Holocaust Day
EDM1233 30 Apr. 2002: Corbyn was a primary sponsor on a motion condemning antisemitism
And so it goes….mostly Early Day Motions  to Parliament….
This Blog agrees with some of Stern-Weiner's Blog recent statement (if one replaces the word fascism with national populism and the extreme right),
This election is not like any other. The far-right is winning around the world. It might very well be that we are just one economic crisis, one climate shock away from the return of fascism across Europe.

This is the real threat to Jewish people.

It is the saddest of ironies that whereas Jews were a principal target of fascism in the 1930s, Britain's Jewish leadership has now aligned itself against the chief bulwark of anti-fascism.

In the past and today, our best defence, our only defence, against the far-right, is a strong left, which promises a positive and inclusive plan for a fairer society.

If we want to defeat the far-right and to defeat the causes of the far-right, our only hope is Jeremy Corbyn's Labour Party.
The present E-Book, with its message against 'Jewish elites', and denial that there are serious problems with a conspiratorial minority in the Labour party which includes an anti-Semitic fringe, is not likely to help that call.
Nor is its constant use of the words "elites" and this claim -itself;f with no research offered, or clarity about what "power elites" and theories about elites arem how the floating signifier of "elites" has developed within  present day national and other varieties of populism.
Is the Labour Party Against Empirical Sociology? Notes on Power, Elites, and Anti-Racism Tom Mills and David Miller
The Labour mini-site warns against 'theories [that] ascribe to Israel influence on world events far beyond any objective analysis'. This sounds reasonable enough, but who then should be the judge of what is 'objectively' acceptable? More research on this topic would likely help the movement to navigate such questions for itself, but this has only been made less likely and more difficult in the febrile political atmosphere that has taken hold around this issue.
This forway from the political shallows  doesn't even mention the hard right Brexit project that's unleashed a Carnival of Reaction in which 'elites' are the main target.
But then the side of pro-Reform and Remain internationalist left gets no mention, only sneers at the 'Blairite' claims to be "liberal cosmopolitan progressiveness" (Jeremy Gilbert).
Nothing there about anti-rootless cosmopolitan campaigner and hardline 'left'  Brexiter Paul Embery: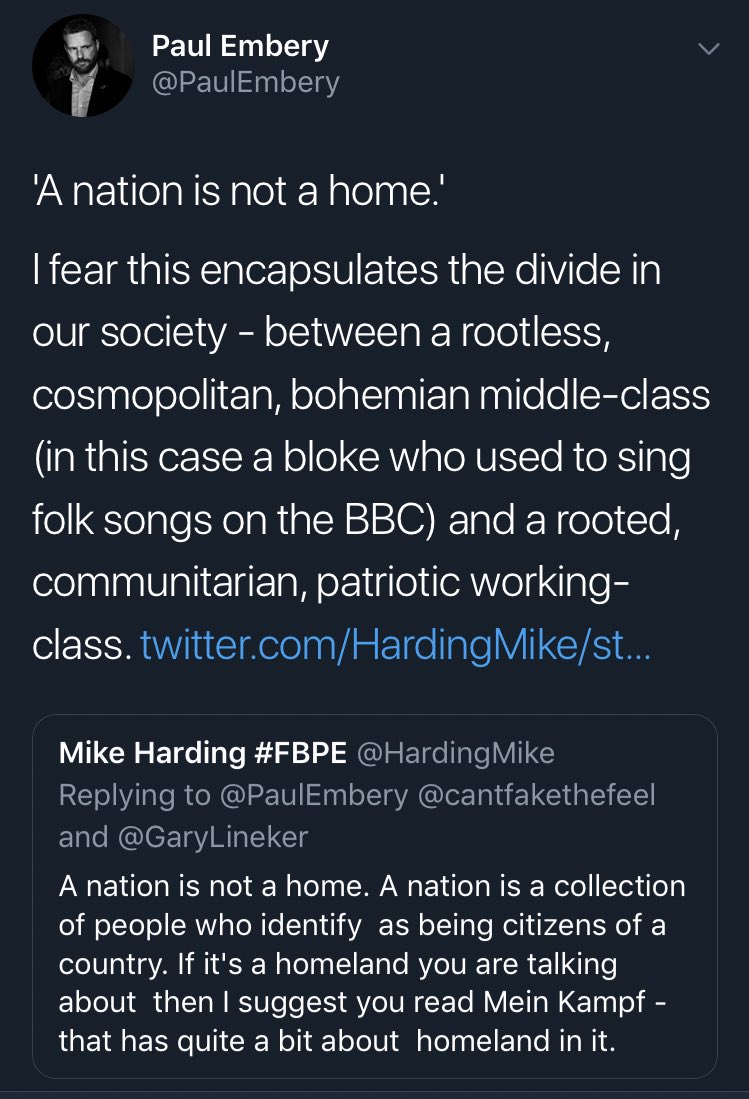 2 Responses