Amongst Unity in Admiration for Public Who Confronted London Attacker, Stop the War Coalition Strikes Discordant note.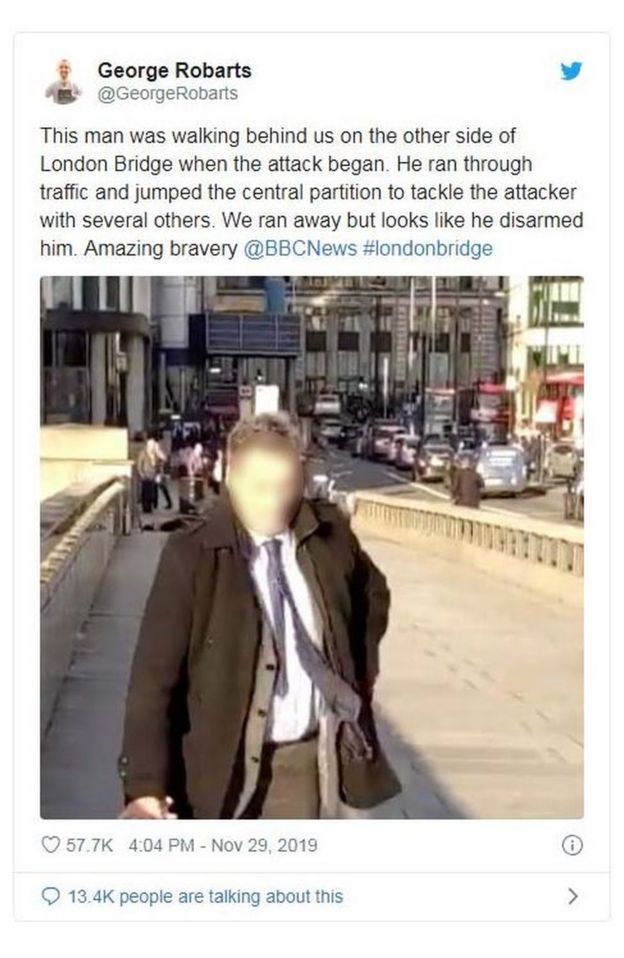 One of the Heroes of London Bridge.
There is a quiet  dignity about the response to the London Bridge attacks.
This is Labour's well-measured response:
There are still political issues to raise (Independent).
Sadiq Khan, the mayor of London, has said terrorism and security cannot be separated from cuts made to resources after two people were killed in an attack on London Bridge on Friday.

The attacker, who was named as 28-year-old Usman Khan, was convicted of terrorism offences in 2012 and had been released from prison on licence last year.

He was fatally shot by police after several people were stabbed at about 2pm on Friday.
There is also the responsibility of Islamist movements, "The London Bridge attacker was a student and personal friend of Anjem Choudary, the Islamist hate preacher."
Inevitably a few voices, from the fringes, have tried to impose another agenda.
One such effort, unfortunately, comes from the Stop the War Coalition.
First there was this hastily written tweet
Then.
The view that Islamic terrorism is 'caused' by "international tension" – it extends from Bangladesh to the Philippines, from the Maghreb to the (non-Western occupied) Syria, is vacuous.
The picture above has a banner reading Britain Out of NATO and a line about the New World Order.
Is German, the Convener of  the Stop the War Coalition,  suggesting that NATO and the 'new world order' are connected to the horrors on London Bridge?
2 Responses