March Against Islamophobia in France – some divisions on the French left.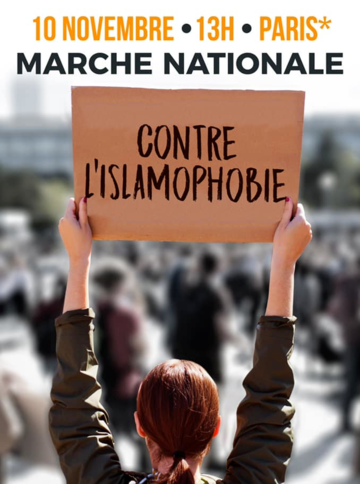 This Sunday there is going to be a large demonstration against Islamophobia in Paris.
This is bound to have international resonance.
Protesting against hatred shown towards Muslims takes place after the attack on a Mosque  in Bayonne at the end of October and polls which show up to  44% of French people backing laws against wearing the veil in public spaces. (LES FRANÇAIS ET L'INTERDICTION DU PORT DU VOILE ISLAMIQUE DANS LES LIEUX PUBLICS.)
An appeal, signed initially by 50 prominent figures of the political left, trade unionists, anti-racist activists and intellectuals  was published in Liberation on the 1st of November calling for a response to the rise in hatred.
The dignity and integrity of millions of our fellow citizens are at stake. It is a question of unity against racism, which, in all its forms, which today again threatens France.

Le 10 novembre, à Paris, nous dirons STOP à l'islamophobie !
The racist atmosphere has reached a new level after what has been called an appeal to civil war against Muslims and immigrants from the writer Éric Zemmour at the  Convention de la Droite, held at the end of September,  which also starred the rising figure of the French far right Marion Maréchal. (Les propos d'Eric Zemmour, comme une incitation à la guerre civile)
Anybody wishing to be informed on the climate could do well to begin by reading Zemmour's Le Suicide français (2014).
He begins by lamenting French decline, blaming an alliance of 68 libertarian leftist ideology, feminism, gay rights, and unrestrained free market capitalism for undermining the family and French national sovereignty. The left, by denigrating the Nation, the land, and its dead, has paved the way for globalism. The destruction of France is furthered by the European Union's super-national project and the 'elites' running it against the rooted people of the countries they rule over.
Immigration plays a role in undermining French nation. In place of the 'integrationist' process of assimilation – he himself is from a North African Jewish background – today capitalists and leftists have allowed separate communities to develop. The "cult of mixing" and diversity has replaced the republican model of equality (, le culte du métissage )
Le Suicide français Zemmour described Paris as surrounded by a banlieue  studded with Islamic and drug dealing fortress.
His more recent diatribes continue in this vein,
"one must choose between living and together" [a play on words on the slogan "vivre ensemble"]. The question today is thus that of the people. The people can remake a nation. The French people against the universalisms, whether market or Islamic. The French people against the cosmopolitan citizens of the world who feel closer to the inhabitants of New York or London than to their compatriots in Montélimar or Béziers and the French people against the Islamic universalism that is transforming Bobigny, Roubaix and Marseille into so many Islamic Republics and which waves the Algerian or Palestinian flags when its football team wins – I mean the team it loves, the team of their parents' country, not the team of their ID or health insurance card.
In these conditions it is valid to make some comparisons between Zemmour and the 19th century  author of the best known French anti-Jewish hated, Edouard Drumont  (De Drumont à Zemmour, les résonances de la France rance).
It is less clear that we can draw exact parallels with the organised anti-Semitism, which included 'leagues' that promoted Jew baiting,  of that period.
The attempt to do so and make explicit reference to the Dreyfus Affair in Pour les musulmans by Edwy Plenel (2015) whose title echoes Pour les Juifs  by Emile Zola is devoid of all geopolitical context, beginning with the rise of extreme right Islamism.
Yet there are clearly mechanisms of exclusion against Muslim voices. During public debates on the veil, the Hidjab, this has happened:
La semaine du racisme antimusulmans a commencé le 11 octobre 2019 : depuis cette date, 85 débats sur le hijab ont été organisés, 286 personnes ont été invitées sur vos écrans mais PAS UNE SEULE femme portant le hijab n'a été invitée dans le cadre de ces débats
 (The week of anti-Muslim racism began on October 11, 2019: since then, 85 debates on the hijab have been organized, 286 people have been invited to your screens but NOT ONE ONLY woman wearing the hijab has been invited as part of these debates)
These indicate some of the reasons why the Sunday protest may have problems in balancing a universalist stand against the racist wave and the need to avoid becoming trapped in an incircle defence of religious-political  ideas.
So far most of the debate has centred on these aspects of the difficulties involved.
To begin with the word Islamophobia, as if a religion rather than Muslims as people, are the target of hatred, is a difficulty for many.
This is much less of an issue than the fact that the demonstration is backed by people whose own anti-racism is far from clear.
Marcher le 10 novembre avec les islamistes et décoloniaux : une erreur politique majeure pour la gauche. Manuel Boucher.
There is equally  a strident tone against existing secularist  laws in the appeal for the march.
Few people are eager to take lessons on secularism from anybody associated with Islamism. (1)
This had led the Parti Socialiste and others to withdraw their support. A gauche, défections en série avant la «marche contre l'islamophobie»
Despite these criticisms Jean-Luc Mélenchon has maintained his backing (Marche contre l'islamophobie : Mélenchon défend sa signature «au nom du texte réel et du contexte cruel»)
Even from a distance it is hard not to deny the scale of the problems Muslims, from very diverse communities, forms of Islam, politics,  and origins, from the Maghreb onwards,  face in France.
********
(1) Une ombre islamiste plane sur la marche contre l'islamophobie
La Croix.
D'autres signaux permettent de déceler l'engagement de l'islamisme, parfois radical, dans la manifestation « Nous dirons STOP à l'islamophobie ! » du 10 novembre. Ainsi, une source policière note le relais de l'Appel à cet événement par plusieurs imams lyonnais, très investis dans l'UOIF. Mohamed Louizi relève, lui, les mêmes attitudes chez l'imam francilien Noureddine Aoussat, « frériste » reconnu ou chez l'imam nordiste Abdelmonaim Boussenna (Roubaix), très proche, longtemps, de Tariq Ramadan, et dont les profils YouTube et Facebook comptent des centaines de milliers d'abonnés.

Scrutant la liste des signataires de l'appel à manifester « contre l'islamophobie », Mohamed Louizi estime que « plusieurs d'entre eux posent problème ». Ainsi, la « Plateforme L.E.S. Musulmans », un « réseau collaboratif » qui entend exprimer l'opinion des « bases musulmanes », a été fondée par Marwan Muhammad, un « proche des Frères musulmans » qui fut aussi porte-parole et directeur exécutif du Collectif contre l'islamophobie en France (CCIF). Cette plateforme activiste vient d'ailleurs de lancer une Union des imams qui inquiète certains observateurs. Ses adhérents pourront être de toutes sensibilités et tous courants de pensée, y compris salafistes.

Plus largement, poursuit Mohamed Louizi, « tous les initiateurs de cette manifestation dénoncent, depuis le début, la loi du 15 mars 2004 qui interdit de porter à l'école les signes manifestant ostensiblement son appartenance à une religion… » A ce propos, une phrase de la tribune publiée par Libération, le 1er novembre, a particulièrement attiré l'attention : « Depuis des années, les actes qui visent (les musulmans) s'intensifient : qu'il s'agisse de discriminations (…) ou de lois liberticides… »
3 Responses