Labour Backs Putting Boris Brexit Deal to a Referendum but pro-Brexit Labour wing may split the Party.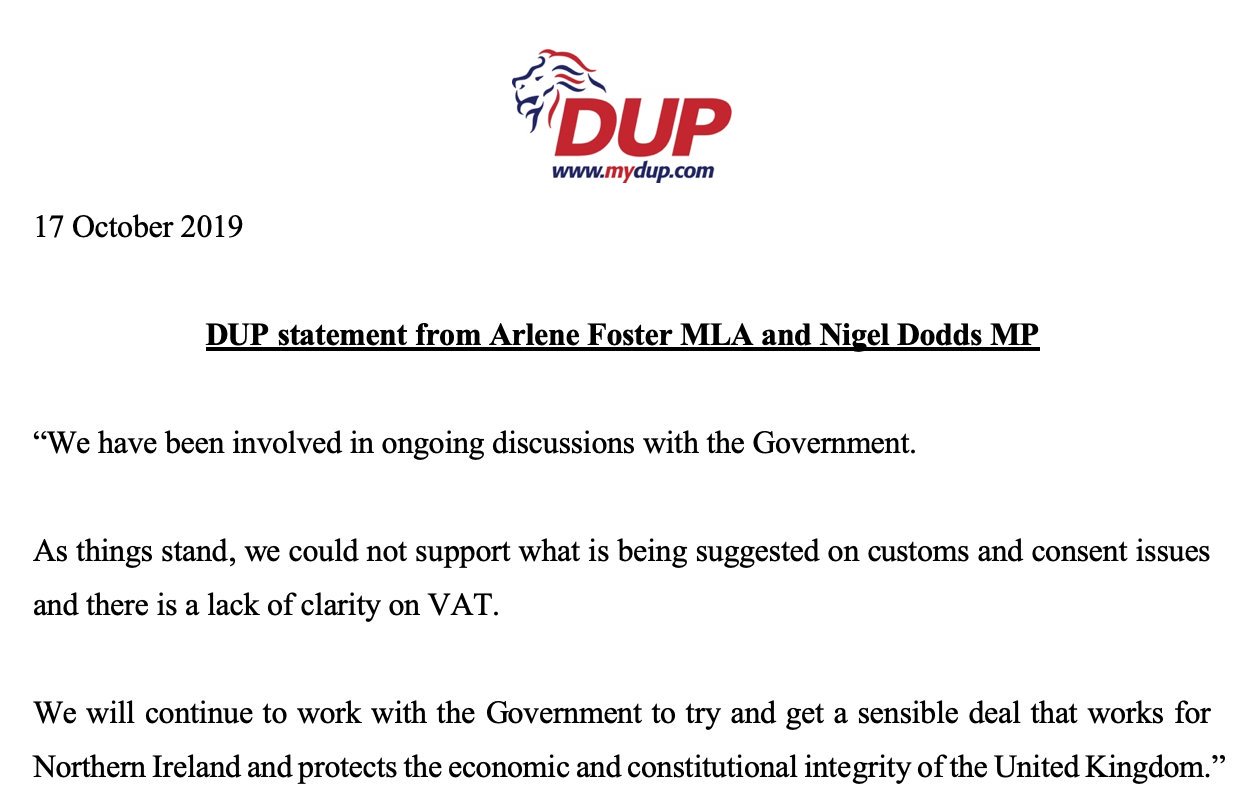 Latest Stumbling Block.
Brexit is not a subject for the faint-hearted.
The news that the DUP has thrown its rattle out of the pram is only one incident in the continuing efforts to Boris Johnson and his publicists  to create an unstoppable momentum towards his  deal to Saturday's Parliament.
Johnson continues to plough on.
https://twitter.com/BorisJohnson/status/1184764798107602944?s=20
A Brexit deal has been agreed between UK and EU negotiating teams before a meeting of European leaders in Brussels.
BBC
Prime Minister Boris Johnson tweeted: "We've got a great new deal that takes back control."

The two sides have been working on the legal text of a deal, but it will still need the approval of both the UK and European parliaments.

The DUP has cast doubt on its success, saying they still cannot support it.
This is Labour's latest response.
Brexit: Labour says it would back putting Boris Johnson's deal to referendum.
On the Today programme Tony Lloyd, the shadow Northern Ireland secretary, has confirmed that Labour would push for a referendum on Boris Johnson's Brexit deal. This should not be a surprise – Jeremy Corbyn has been saying for some time that if the country is facing either a no-deal Brexit or what he terms a damaging Tory Brexit, there should be a referendum – but in recent days there has been some uncertainty about what the party would do, because it also wants a general election ahead of a referendum.

But Lloyd said the party would back moves to subject Johnson's deal to a referendum. He said:

If there is a majority for that deal, and if in turn there is an amendment moved, and that's put to a confirmatory vote, a public vote, then, consistent with what Labour is saying that any deal ought to go back to the public, then we are almost bound to vote for that amendment …

It would be very hard for us to support a deal [along the lines proposed by Johnson, with employment rights in the UK potentially falling behind EU standards]. Labour doesn't have a majority in parliament. It doesn't necessarily have a blocking minority in parliament. And on that basis if Prime Minister Johnson is able to push through a deal, even a deal that we don't like, if an amendment were moved to subject that to the test of public opinion, that would be the right thing to do.

With Labour backing a plan to put Johnson's deal to a referendum, it is possible, although not yet certain, that such an amendment could pass.

But what would happen then? It is almost impossible to imagine circumstances in which the government would agree to put the proposal to a referendum. Inside No 10, a no-deal Brexit is seen as preferable to a second referendum. And legislating for a referendum, and then having a campaign, would probably take several months. This suggests that, for any referendum on Johnson's plan to actually happen, opposition MPs would have to vote for some sort of interim government to replace Johnson's.
Already we can see that the pro-Brexit factionalists of the Morning Star today (Editorial) look favourably on some aspects of Johnson's plans,
There are anxieties in Berlin and Paris that the hegemony exercised over the EU's markets by these two main economic players may be compromised if Britain's Tory government gets away with a deal that tilts the so-called "level playing" field — actually the rules which privilege German and French exports — towards a British industrial and export sector less encumbered by the regulatory framework which presently underpins their increasingly troubled economies.
Their allies in Labour and the Trade Unions, as well as their friends in Spiked, would like to push forward Brexit. This will unleash, they believe, the conditions for a  democratic revolution as people 'take back control'.
The daily of the trade union subsided Communist Party of Britain, also notes,
Labour leader Jeremy Corbyn voiced his "deep concerns" over what Johnson would be agreeing with the EU — saying that the PM's ongoing negotiations would lead to a "mega loss of rights."

Mr Corbyn said: "This is not a deal that we can support."

But Corbyn added that he would not remove the whip for Labour MPs that vote for such a deal.

Johnson could be forced to eat his words on refusal to ask EU for Brexit extension
This is has been welcomed by Labour supporters of  voting for a Boris Brexit,
Corbyn to urge 'outriders' to stop attacks on Labour 'leave' MPs, promises no whip withdrawal.
The pro-Brexit site continues,
A series of recent columns by 'blue-tick left', remain-supporting commentators have demanded that Corbyn must withdraw the whip – essentially expel from the parliamentary Labour party (PLP) – any MP who votes in favour of Boris Johnson's Brexit deal, should he succeed in reaching an agreement with the European Union.

A number of MPs submitted written complaints to the Labour leader about those articles, which they believe are an attempt to publicly bully or intimidate them into turning against the wishes of their constituents.
Corbyn has backed down from acting against pro-Tory Labour MPs,
MPs will not lose the whip for any vote on Johnson's deal
he will ask blue-tick outriders to cease the 'bullying' of northern MPs

This commitment effectively means that the vote on any deal Johnson brings back to Parliament will be treated as an 'unwhipped' conscience issue, allowing MPs freedom to vote as they believe best.
Labour's problems with its pro-Brexit wing  are deep rooted.
In the unlikely event of the referendum referred to above happening with Johnson's consent, those who back Leave in the Labour Party, from the Blue Labour Red-Brown extremes to the so-called 'Northern' faction, may well campaign for the government. No doubt, on the above evidence, their alliance with the Tories will also go unsanctioned.
Yesterday this Blog covered some of the bases of the pro-Brexit wing of Labour.
The Clarion today identifies this trend within the 'left' movement, Momentum. It's centred on the issue of immigration and the EU.
An influential current within Jon Lansman's organisation is opposed to freedom of movement.For a time part of the pro-Brexit left tried to justify their campaign to vote with the Tories and Nigel Farage for Brexit with rhetoric denouncing 'Fortress Europe'. Apparently groups, with membership running into the thousands, would be able, outside of the EU, to open the borders to the world.
But actually existing freedoms to move within the EU will be removed by Brexit. There are no MPs with any weight who support this version of Lexit, promoted by the SWP, Counterfire and whatever is left of  Revolutionary Socialism in the 21st Century (RS21).
As fine words have emptied away, it has not taken long for something like a Blue Labour nationalism to take hold on the Brexit left.
Linking Momentum to Unite and some other unions is the increasing strength of Stalinist-nationalist politics in the circles around the Momentum office, dominating Young Labour, etc. These people saw ending free movement as a good or necessary thing in itself, part of their project for a "socialist Britain". These people provided a particular line of 'labour movement' anti-free movement arguments, for instance the absurd idea that limiting immigration could mean converting Britain into a giant "closed shop".
The  project to assert the cultural and national identity of Britain through the tools of sovereignty unites disparate strands in this mouvance. There are groups like the fragmenting Socialist Party which has its own stand alone position on the immigration 'closed shop'. The Full Brexit brings togther others, from the Morning Star CPB, members of the Brexit Party, and – embedded within the Labour Party's right wing, Blue Labour.
This Blog yesterday posted on Jon Bloomfield's critical account of the emergence  Blue Labour.
Focusing on migration we can see that the Clarion article identifies an important aspect of this approach.
At first sight  the demand against free movement may seem to have some purpose.
Jon Bloomfield notes that " There are genuine concerns among those at the lower end of the labour market about wage competition from newcomers and pressure for long working hours."
But he argues for for "tight regulation of the labour market, for a high minimum wage which is legally enforced; the mandatory imposition of the EU Working Time Directive setting out a maximum forty‐eight hour working week; and stronger rights for trade union organisation." There is a material context, "the optimal economic area is now continental in scale. In Europe, all the main production processes rely on integrated supply chains operating across borders. " Progressive Politics in a Changing World: Challenging the Fallacies of Blue Labour.
A socialist Britain cannot "opt out" of these economic links without great damage to its own union supporters. It cannot opt out of freedom of movement, giving the power to control labour movement to national government with a record of abuse of immigration rights. Perhaps a future Labour Cabinet may make this more equitable. Perhaps the Tories will win – now or in the future – and make things worse.
It is obvious that Europe wide rules go with Europe-wide economies.
Those denouncing the 'neo-liberal' European Union are intent on giving succor to a  project that will create neo-liberalism in one country, national neoliberalism, National Populism.
Against the politics of the pro-Brexit factionalists in the Labour Party and Unions internationalists support the movement against Brexit.
Update (Independent).
Jeremy Corbyn says Boris Johnson's Brexit deal 'worse than Theresa May's'
Jeremy Corbyn has branded Boris Johnson's Brexit deal "worse" than Theresa May's, as he called for a Final Say referendum.

In a statement released just minutes after No 10 and Brussels announced a new deal had been reached, the Labour leader said: "This sell out deal won't bring the country together and should be rejected."

He added the "best way to get Brexit sorted is to give the people t

From what we know, it seems the prime minister has negotiated an even worse deal than Theresa May's, which was overwhelmingly rejected," he said.

"These proposals risk triggering a race to the bottom on rights and protections: putting food safety at risk, cutting environmental standards and workers' rights, and opening up our NHS to a takeover by US private corporations."
6 Responses