Pro-Brexit Karie Murphy Loses Key Labour Post. Boost for Left Internationalists, Loyalist Ultras Full of Rancour.
Karie Murphy Loses Key Labour Post: 'Ultras" accuse McDonnell of making a "power-play".
The story began this morning.
Now:
In the Financial Times Jim Pickard reports,
Karie Murphy, one of the most controversial figures in Jeremy Corbyn's Labour party, has been sidelined amid a power struggle in Britain's main opposition party. Ms Murphy, the pro-Brexit chief of staff, is to move out of the leader's office in Westminster to the party's headquarters in Victoria to help run the election campaign, a Labour spokesman said on Tuesday.
The reaction from internationalists started:
The voice of the "Four M's  the pro-Brexit group around Corbyn (Karie Murphy, Andrew Murray, Len McCluskey, and Semmus Milne) has just responded.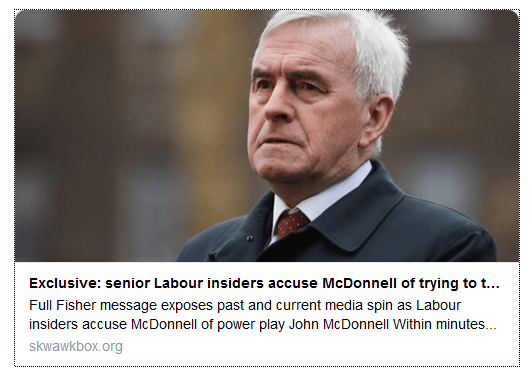 Within minutes of news breaking this morning that Jeremy Corbyn's chief of staff Karie Murphy and a number of his 'LOTO' (Leader of the Opposition) team were being seconded to Labour's 'Southside' HQ to coordinate the general election campaign, journalists hostile to the Labour left were being briefed from inside the party that the move was a form of pay-back by Shadow Chancellor John McDonnell.

McDonnell was said to be 'furious' over the resignation of LOTO policy expert Andrew Fisher – whose resignation has been painted by hostile corporate media as triggered by the behaviour of Corbyn's closest aides, with a clear implication that Murphy was at the heart of the problem.
Pause.
Andrew Fisher is a greatly respected comrade, known for his activism, union work, and  research before he joined the Corbyn team.
Steve Walker, that is Skwawky, continues, citing unamed "Labour insiders" – believed not to be a million miles away from the "Four Ms clique".
"Labour insiders tell a very different story – and have accused McDonnell of making a power-play. One told the SKWAWKBOX:
Karie Murphy was Jeremy Corbyn's firewall. She absorbed key attacks on him & carried out the ugly jobs dutifully. She shovelled the s**t everyone else was either too timid and/or too self-interested to touch.
Hold your breath…..
There are only two potential reasons for wanting to connive to remove her. First, so they can isolate and destroy Jeremy. Second, so they can control him. We won't have long to wait to discover which of those motivations were behind this redeployment.
The site continues,
This has been brewing for a while. John has been on manoeuvres, as his comments about Labour and remain have shown when Jeremy has wanted Labour's 'sensible leave deal'.

But it dates back much further. Hostilities commenced in June last year, at least in part in response to Jennie [Formby] becoming general secretary, and have gone steadily downhill since.

Of course, Karie's too highly regarded (Note: not by internationalists! ) for John to get her out altogether. But all of a sudden, Jeremy's closest aides who have helped resist John's attempts to push the party down a damaging line are all in a different building, leaving Jeremy isolated and exposed.
For "damaging line" read, Comrade McDonnell's efforts to get Labour to adopt a firm anti-Brexit position.
McDonnell, it is widely acknowledged, knows something about economics, and if he doesn't know it, he has a whole raft of serious advisers to tell him. His stand on Brexit, some might say, is a pretty good indication of this.
That's apart from his clear roots in the internationalist democratic socialist movement.
Skwawky then publishes Andrew Fisher's resignation letter which gives details of what he had to endure from that lot/
This is a key section, it illustrates for comrade Fisher,
a snapshot of the lack of professionalism, competence and human decency which I am no longer willing to put up with daily. I've tried to resolve some of these issues for a long time, but have been unable to – and yesterday just proved that I never will.
No  internationalist will shed any tears over pro-Brexit Murphy's departure.
Fighting Boris Johnson's national neo-liberalism, spearheaded by Brexit, with people who support leaving the EU in top Labour posts, means having one hand tied behind the back.
This is the wider Labour shake-up:
7 Responses