Tunisia, "Revolutionary Conservative" Kaïs Saïed heads First Round: two Populists to battle it out.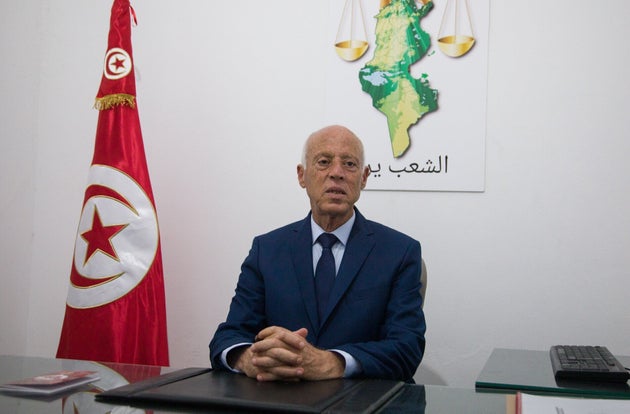 Robocop Heads Tunisian Presidential First Round.
Presidential election results were seen as a shock in the Tunisian media.
Here
Tunisia election: Outsider in lead stuns after most votes counted.

Al Jazeera.

With two-third votes in presidential race counted, conservative constitutional law professor Kais Saied takes the lead.

Law professor and political outsider Kais Saied is leading Tunisia's presidential polls with two-thirds of the votes counted, the electoral commission said, after the country's second free vote for head of state since the 2011 Arab Spring.

Saied was on 18.9 percent on Monday night, ahead of imprisoned media magnate Nabil Karoui, who was on 15.5 percent, according to the electoral commission, ISIE.

Prime Minister Youssef Chahed, a presidential hopeful whose popularity has been tarnished by a sluggish economy and the rising cost of living, could well turn out to be the election's biggest loser.

ISIE figures showed him in fifth place with 7.4 percent of the vote, trailing both Ennahdha party candidate Abdelfattah Mourou (moderate' islamists, once a favourite of Jeremy Corbyn's right-hand man, Seumas Milne)  and former defence minister Abdelkarim Zbidi.
France 24 noted,
In a sign of voter apathy, especially among the young, turnout was reported by the elections commission (ISIE) to be 45 percent, down from 64 percent recorded in a first round in 2014.
Reports indicate that  Kaïs Saïed's electoral base is the educated youth, the "les 20-30 ans éduqués."
Nicknamed, "robocop", this comes from his unflagging diction, his use of a rigorous literary Arabic (when many candidates speak in Tunisian forms), his analysis essentially based on the country's constitutional problems, his conservative positions on social issues. Others have made the connection with "Robespierre", a "  Robespierre without guillotine, but if the situation was that of two centuries ago, he would have used it," an observer noted. He has been a favourite in the polls for many months.
The  analysis by Syrine Ben Youssef on Huffington Post Maghreb has a different angle on the age cohort.
Kais Saïd ou le choix de la génération Z
37 % des électeurs de Kais Saïd auraient entre 18 et 25 ans

37% of the voters for Kais Saïd  are said to be between 18 and 25 years old.
Syrine Ben Youssef summarises some reasons for this result.
They call them 'Generation Z' who have grown up since the Tunisian Spring, in contrast to 'Generation Y who made the revolution.
This is the digital generation, "digital natives" ultra-connected, born with internet, mobile phones, and  social networks.
Saïd is seen as "honest, independent, intellectual" and, above all, he conveyed this image in short broadcasts which can be quickly absorbed and gave an image of furthering a change from the old political set up, the style of lengthy speeches and arguments. He, the Huffington Post journalist, argues,, managed to give an accessible image and a message of supporting, "ideas of ​​direct popular participation" and backing for "universal suffrage", that is, not the rule of a squabbling political class.
Generation Z, for its part, shows us, through this election in 2019, that it needs change and that it thinks differently. Kais Saïd advocates  a direct democracy where the intermediaries between the power and the people would be reduced. A democracy in the image of a horizontal company or even a liberated firm having little or no level of separation between employees and the executive. Kais Saïd targets, perhaps very intentionally or possibly accidentally, Generation Z.
In case anybody should think this audience makes Saïed a liberal, think again.
He is in favour of the death penalty, he thinks homosexuality is promoted by 'foreign' forces' (l'homosexualité, ou plutôt son expression publique, est encouragée par des parties étrangères qui les financent »)  which should be kept Private, and he thinks that inheritance laws should give priority to males (as in most interpretations of Islamic 'law'). More here.
It looks like a standoff between two "populists", the one, constitutional and conservative, who attacks "elites", the other Nabil Karoui, referred to as a Tunisian Berlusconi with dodgy money – currently in Gaol awaiting trial for this – who wants to "Libérer l'économie", free the economy.