TUC, to Campaign against "damaging right-wing agenda behind Brexit and supports a confirmatory public vote on any deal or no deal with a remain option.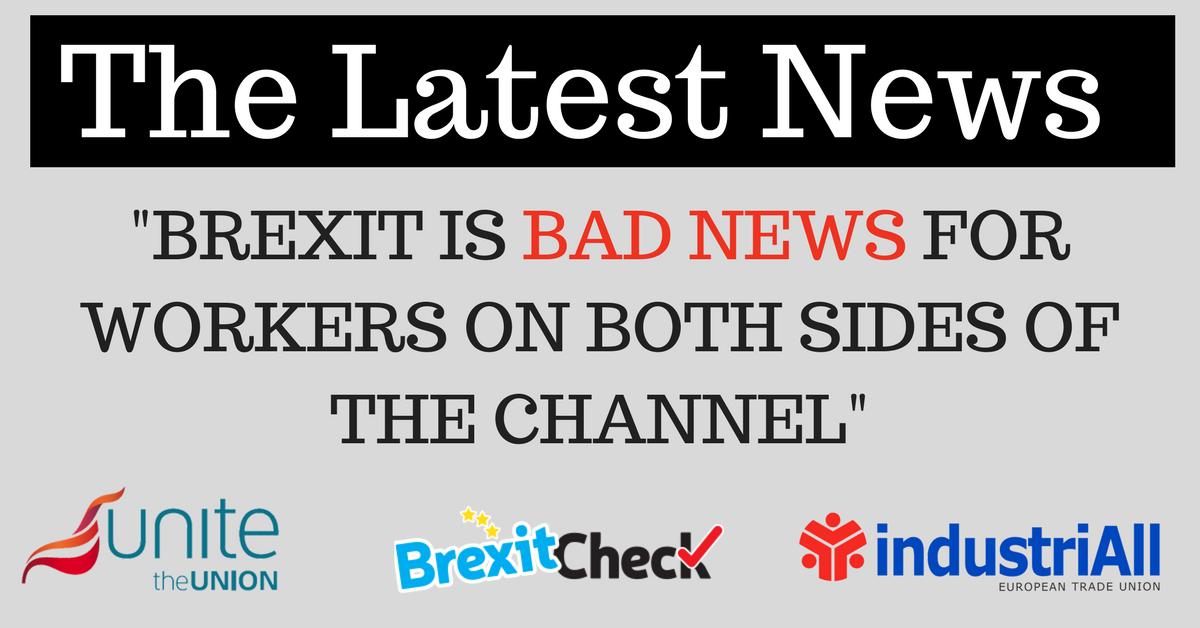 The TUC Puts Words into Policy.
Motion passed at TUC yesterday.
Composite 04 Brexit
Congress recognises that the promises that were made during the EU referendum campaign are now distant memories, and that a Tory no-deal Brexit looms on the horizon – with potentially devastating results for workers in the UK.

Congress notes that the Tories have so far miserably failed to negotiate a Brexit deal that protects our jobs and our rights.

Congress notes with concern that Brexit, especially under 'no deal', would hit the NHS hard, with new immigration hurdles deterring EU healthcare professionals from coming to the UK to work in the NHS and the deep risk of wholesale privatisation flowing from a trade deal with the Trump White House. Congress fears the agenda of many Tory MPs is to enter into a devastating trade deal with Donald Trump which will reduce our rights and standards and leave our NHS and agriculture vulnerable to predatory US companies.

Congress believes too many Tory MPs are unwilling to defend the Good Friday Agreement which has brought peace and prosperity to Ireland. A hard border will have a devastating impact on the lives of people on either side of it.

Congress condemns the Tory government's plan to categorise migrant workers earning less than £30k a year as 'low skilled' and allow them to stay in the UK for just 12 months. We will not let right-wing politicians and bosses divide our class. We will fight shoulder-to-shoulder with migrants to stop any attacks on them.

Congress will campaign against the damaging right-wing agenda behind Brexit and supports a confirmatory public vote on any deal or no deal with a remain option. Congress will continue campaigning for reforms to help build a Europe for the many through solidarity across borders.

Congress also supports a general election as a matter of urgency so that the British people can elect a government committed to ending austerity and building a new economic settlement that leaves no-one behind.

Mover: Musicians' Union
Seconder: Transport Salaried Staffs' Association
Supporter: Royal College of Midwives
Reiterating the TUC's official position in support of a second referendum, TUC general secretary Frances O'Grady said: "Whatever happens, we will fight for our jobs, we will fight for our rights and we will fight for public services.
"Even if there is a no deal, and I will do everything I can to stop that, that won't be the end of it — it will just be the beginning.
"Because working people did end up paying the price of the banking crash.
"I think there is no appetite among working people to pay the price for a no-deal Brexit."
On the issue of Brexit the current manoeuvres in Parliament will give the opportunity for an emergency motion that could help to stop the lemming-like rush to the Remain cliff.

Andy Bain is the Communist Party of Britain's industrial organiser.
It was clear that the TUC would pass policy, however much the result of compromise, to oppose not just a Hard Brexit but to support a third referendum.
Hence this disingenuous  attempt yesterday by the pro-Brexit Morning Star to wriggle out of TUC policy before the vote was taken.
It argues against Labour's position of stopping No Deal.
A pincer movement in which Labour is trapped between rival political forces which fetishise Brexit and divorce it from the political, economic and social crisis which created it must be met by a massive mobilisation to fight for a Labour government whose mission is to deliver the radical change its programme outlines.

Pacts based on stopping "no-deal" that shackle Labour to parties of the status quo, that are intrinsically hostile to any fundamental shift in wealth and power to workers and that have been complicit in the devastation of our communities by austerity, the relentless rise of child poverty and the fire-sale of our public assets will bury our movement's message and hand Boris Johnson the narrative he craves, as the man who defied Parliament and fought to implement the 2016 referendum decision in the face of Establishment sabotage.

Polls suggest that despite purging his parliamentary party and losing Commons vote after Commons vote, Johnson's strategy is paying off with a growing lead over Labour.

Our movement should throw aside parliamentary games designed to trap the Labour leader and demand an immediate election to unseat an illegitimate government and replace it with a socialist one.
There is no doubt that some people would just wish all the business of opposing Brexit would just go away and we could get back to unity around left folk politics.
But note this:
One Response