Allegation that 'Syrian Truther' heads Chris Williamson Fund Raiser to Sue Labour Party.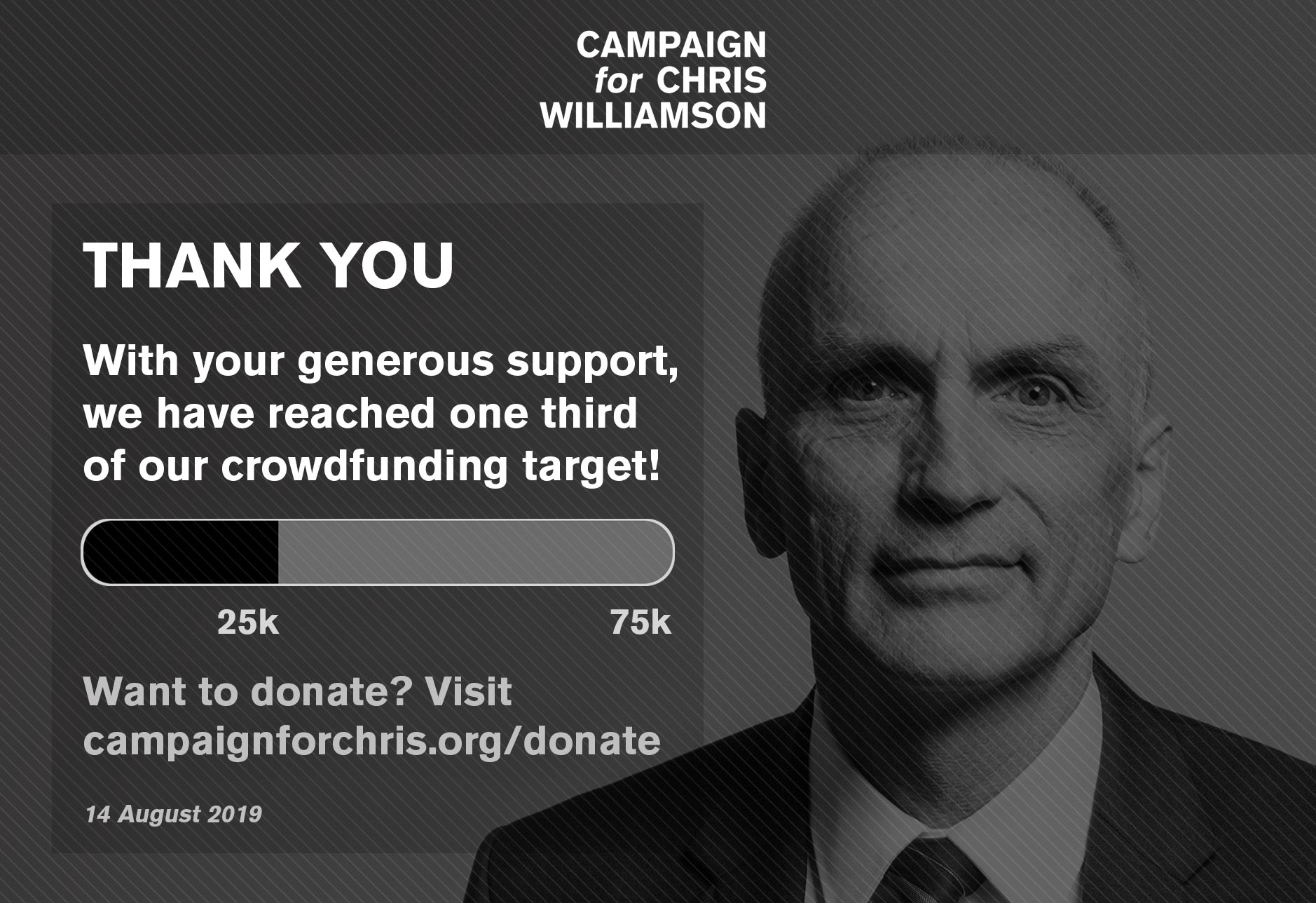 Syria 'truther' heads fundraising campaign to sue British Labour Party
Brian Whitaker.
Bristol University professor David Miller – a member of the "propaganda professors" group which defends the Assad regime against accusations of chemical weapons use in Syria and disputes Russia's use of a nerve agent against the Skripals in Britain – is behind a new campaign to sue the British Labour Party.

Miller is director and sole shareholder in a company called Campaign for Chris Williamson Ltd, which was registered on 17 July.

Williamson, MP for Derby North, has been suspended from the Labour Party over allegations of antisemitism and Miller has launched a crowd-funded campaign through his company to take legal action against the party. The aim is to raise £75,000 to cover the costs.

Miller is a prominent member of the quasi-academic Working Group on Syria, Propaganda and Media which claims that chemical attacks in Syria have been "staged" by rebels in oder to falsely accuse the Assad regime (see previous blog posts). Miller is a co-author of the group's latest article which claims the OPCW's investigation into alleged chlorine attacks in Douma was "nobbled". The group also disputes that Russia was responsible for poisoning Sergei and Yulia Skripal in Salisbury last year.

The convenor of the Working Group is Piers Robinson, who until recently was a professor in the journalism department at Sheffield University. Last year Robinson wrote a review of a book by two 9/11 truthers, describing it as a "diligent and painstaking work". His name appears on the book's back cover, endorsing it as "authoritative and carefully argued".

Robinson and Miller have worked together on various articles produced by the Working Group and both are directors of the Organisation for Propaganda Studies, a non-profit company which "facilitates and conducts rigorous academic research and analysis of propaganda".
Wikipedia entry:
Brian Whitaker has been a journalist for the British newspaper The Guardian since 1987 and was its Middle East editor from 2000 to 2007.

He studied Arabic studies at the University of Westminster and Latin (BA Hons) at the University of Birmingham. He is currently an editor on the paper's "Comment is free".[1] He also writes articles for Guardian Unlimited, the internet edition of the paper. He runs a personal, non-Guardian-related website, Al-Bab.com, about politics in the Arab world.
Brian Whitaker: 2018.
A university-based group is seeking funds for what it claims will be "rigorous academic research and analysis of propaganda". The project sounds academically respectable — it has official recognition from the University of Sheffield in Britain and has enlisted the famous American professor Noam Chomsky as an adviser — but it also has links to conspiracy theorists, including a 9/11 "truther".

Last November the group set up a non-profit company called Organisation for Propaganda Studies (OPS). The registration documents say its purpose  is to carry out "research and experimental development on social sciences and humanities", plus "higher education" at undergraduate and postgraduate levels.

 Articles written by members of the working group dispute almost all mainstream narratives of the Syrian conflict, especially regarding the use of chemical weapons and the role of the White Helmets search-and-rescue organisation. While they are critical of western governments, western media and various humanitarian groups they show little interest in applying critical judgment to Russia's role in the conflict or to the controversial writings of several journalists who happen to share their views.

The activities of this group were the subject of an investigation published by The Times newspaper on Saturday. A strongly-worded editorial headlined "Assad's useful idiots" said:

…

Robinson has decribed the Russian propaganda channel, RT, as a source of "useful insights" and is frequently quoted in its programmes. Another member of the working group, Dr Tara McCormack of Leicester university, has a regular slot on Russia's Sputnik News.

Rather oddly, the only "research" so far posted on the Syria working group's website has been two articles (here and here) casting doubt on a Russian role in the poisoning of Sergei and Yulia Skripal in Britain.
Defenders of the Working Group on Syria Propaganda and Media
The Working Group on Syria Propaganda and Media is made up of academics and PhD students from a variety of UK universities. It was convened by Piers Robinson. It is critical of the UK commercially-controlled media reporting about Syria, and has in turn been criticised by them.
Corporate media response
Brian Whitaker, former Middle East editor of the Guardian wrote on 26 February 2018 that the group (which then numbered three professors, two lecturers and three postgraduate researchers) seemed "more like a propaganda exercise than a serious academic project." Two days later Jonathan Cook write in an article entitled The Authoritarians Who Silence Syria Questions that Whitaker was "using every ploy in the misdirection and circular logic playbook to discredit those who commit thought crimes on Syria, by raising questions both about what is really happening there and about whether we can trust the corporate media consensus banging the regime-change drum."[2]
The Times wrote that the group was "spreading pro-Assad disinformation". Tim Hayward wrote that "a question thoughtful readers will likely be asking is why The Times has gone the trouble it has to give such prominence to a small group of critical academics."
Recent Miller Tweet:
Perhaps this might explain the link between Miller and Williamson.
Bob From Brockley. What's wrong with Chris Williamson? 2019
The time Williamson promoted a Syrian war crimes denier

For me, one of the most unforgivable things Williamson has done, last summer, was promote Vanessa Beeley, a war crimes denier and fake news merchant. Here is an extract from Oz Katerji in the New Statesman on this incident:

Williamson, who was attending the Beautiful Days festival, tweeted of his "privilege" in meeting Vanessa Beeley, a blogger who described meeting the Syrian regime's war criminal president Bashar al Assad as her "proudest moment" and has waged a relentless campaign of lies and distortion to promote the Assad regime abroad… Responding in kind to Williamson's endorsement, Beeley said in a Facebook post "Hats off to Chris Williamson, Labour MP – a genuine human being."…

Williamson's tweet provoked immediate condemnation, drawing a strong response from James O'Brien, who called Williamson a "disgrace" and referred to Beeley as "Assad's very own Alex Jones." The Washington Post's Middle East correspondent, Louisa Loveluck, responded to Williamson's endorsement of Beeley's "reporting" with: "Beeley has justified the use of incendiary weapons against civilians, recycled and championed debunked conspiracy theories, and described a meeting with Assad as her proudest moment. This is cheerleading, not reporting."

Noting that Beeley has viciously slandered the late Jo Cox (Beeley "has shamelessly accused her of being a "warmongering Blairite" and "al-Qaeda advocate" endorsing a policy of "wholesale devastation" on Syria.) Oz argues that the Labour Party has a choice between being the party of Jo Cox or the party of Chris Williamson.

The times Williamson promoted fake news about chemical weapons in Syria

As Katerji put it when writing about Williamson's support for Beeley, "This is not Williamson's first dalliance with pro-Assad trutherism, having voiced doubts over allegations that Assad was responsible for the gas attack on Douma while addressing a protest outside parliament in April 2018."

More recently, Williamson has taken up a particular version of Douma trutherism: that the chemical attack was a managed massacre by rebels and the civilians White Helmet civil defence first responders, and that this is somehow proved by a dubious document (read all about it here) leaked from the OPCW chemical weapons watchdog, probably via Russia, to some pro-Assad activists in the UK called the "Working Group on Syria, Propaganda and Media", with which Beeley is connected.

Williamson is so obsessed with the "leaked document" that he has asked several questions in parliament about it, worded in completely dishonest ways. The theory holds that chemical weapons in Douma were not dropped from above but staged by Syrian rebels or their civilian first defenders, the White Helmets, i.e. that the rebels massacred dozens of their own family members. In my view, this conspiracy theory is borderline Islamophobic, based on the idea of Syrian rebels and civilians in rebel territories as savage, bloodthirsty jihadis.
Tony Greenstein, a Man with Experience in Barrack Room Lawyering,  backs Chris Williamson – in black T-Shirt, not the youth in the Stalinist Red.
One Response