Spiked Celebrates Hard-Line Supporter Munira Mirza's Entry into Johnson Cabinet.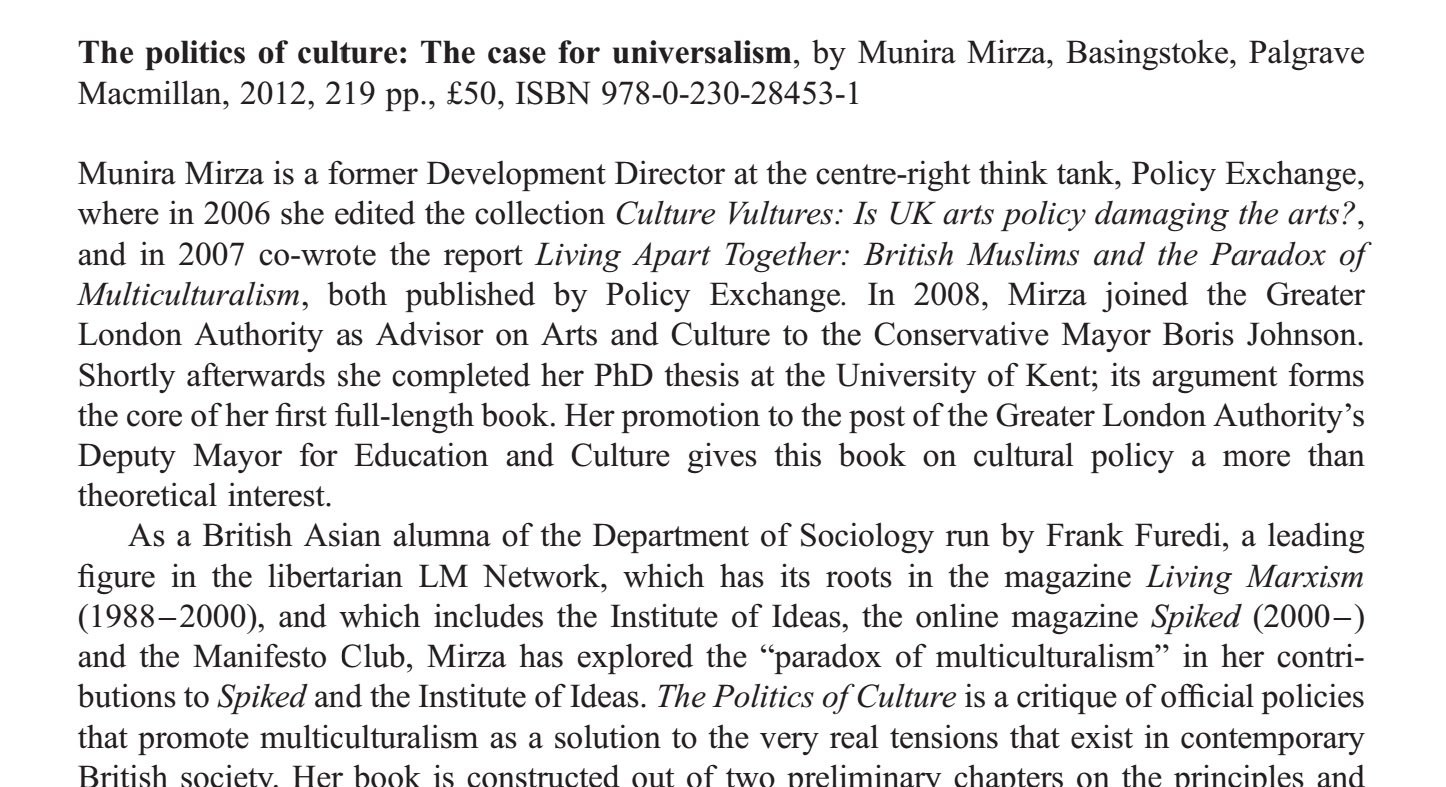 Munira Mirza, in Downing Street Policy Unit to Blast the "Myth of Institutional Racism" .
At last the country is run by Leavers
Brendan O'Neill 
Boris Johnson's Cabinet is more in tune with public opinion than May or Corbyn could ever be.

On top of these ministers we have Boris's new senior adviser, Dominic Cummings, the strategic whizz behind Vote Leave, and his director of policy, Munira Mirza, friend of spiked and a committed Leaver. Downing Street is now a Leave bastion.
The sage opines,
This is progress. The proof is in the pudding, of course, so Downing Street must make good on its Leave credentials or else the masses' eyes will roll yet again, as they have many times over the past three years. In some ways the most admirable thing about the appointment of Cummings is that it suggests Johnson doesn't care that much what the media class thinks. He must have known that having Cummings at No10 would cause a meltdown among those chattering-class muppets who think Cummings is a mad, criminal mastermind who hoodwinked the electorate in 2016 – and yet he still did it. Let's hope this is a positive sign of a healthy disregard for media-class moaning and Twittermob hysteria.
Mirza's Wikipedia entry says this,
Revolutionary Communist Party Membership

Munira was a member of the Revolutionary_Communist_Party_(UK,_1978), a small Trotskyist organisation that dissolved in 1997. She occasionally wrote in its magazine, Living Marxism, which was dissolved after losing a libel case to ITN over the Bosnian Genocide. The magazine was replaced by Spiked, which has Munira also contributed to over the years[13]. Many of Munira's ex party members have become influential in Conservative or Eurosceptic circles since the dissolution of their party, whilst remaining closely associated with each other's endeavours
Update (thanks John):
What is it about London Mayors and Marxist Sects? Boris Johnson, Munira Mirza, the Revolutionary Communist Party and the delayed coming of history

Posted by Michael Mosbacher

Michael Mosbacher on London Mayors, Marxist sects and the delayed coming of history. Michael Mosbacher writes in a personal capacity.

As Mayor of London, Ken Livingstone drew many of his – publicly funded and extremely well paid – advisors from one particularly obscure Marxist sect, Socialist Action. One might have thought that – with the political demise of Ken Livingstone – the era of the advisors to the London Mayor coming from Marxist sects would be at an end. This does not, however, appear to be the case.

Yesterday's Sunday Times records that Munira Mirza has been appointed as Boris Johnson's "cultural advisor". The piece points out that Munira is the third person to be appointed by Boris Johnson who used to work for the think-tank Policy Exchange.

To my mind, much more interesting is the fact that Munira is very much part of the tight-knit little coterie which came out of the Revolutionary Communist Party.

This Marxist sect emerged around University of Kent at Canterbury sociologist Frank Furedi. The Revolutionary Communist Party – and its magazine Living Marxism – was noted for taking provocative positions which outraged others on the left. Famously the magazine ran to ground when ITN successfully sued Living Marxism for libel for claiming that it had fabricated its Srebrenica coverage.

While the Revolutionary Communist Party has ostensibly dissolved itself, its former personnel are still much in evidence and are still operating as a tight-knit group. They are still noted for taking provocative positions. There is Frank Furedi himself, Claire Fox of the Institute of Ideas and Mick Hume of The Times and Spiked Online. Lesser figures include Bill Durodié of Cranfield University, Ann Furedi, Frank Furedi's wife and the Chief Executive of the British Pregnancy Advisory Service, and – allegedly – the contrarian film maker Martin Durkin.

Munira Mirza herself runs what in less charitable times would have been described as a front organisation – the Manifesto Club. Its strap-line is "history is still young". This might seem just an anodyne bit of snappy copy, but it fits rather well into what is the overall perspective of the Revolutionary Communist Party coterie. Their perspective is that Marx is right, only that previous Marxists have got the timing wrong. We are still in the productive stages of capitalism – the time for revolution will still come, it is just that history is not ready yet.

Michael Mosbacher is Director of the Social; Affairs Unit. He writes the above in a personal capacity – the views expressed are not those of the Social Affairs Unit, its Trustees or Advisors.
One Response