The Last Days of Lady Hayter – Corbyn Critic falls to Godwin's Law.
Now Norm in Labour Row on Anti-Semitism.
Godwin's Law (also known as Godwin's Rule of Nazi Analogies) is a saying made by Mike Godwin in 1990. The law states: "As a discussion on the Internet grows longer, the likelihood of a comparison of a person's being compared to Hitler or another Nazi reference, increases."
The old – cracked – tunes are the best…..
Corbyn criticised for sacking shadow Brexit minister over 'Hitler's bunker' comment
Jewish Chronicle.
Lady Hayter criticised the Labour leadership's handling of the antisemitism crisis, comparing Jeremy Corbyn's office to 'the last days of Hitler'
Others condemned Lady Hayter's sacking, including Labour's Ilford North MP, Wes Streeting, who told the Guardian that it was a "gross over-reaction to a comment that was actually about Jeremy Corbyn's bunker mentality".

He added: "This sacking only reinforces her point. The speed of this sacking shows that Labour's leader is quick to act to protect his feelings, but slow to act against racists. The double standards are extraordinary.

"Dianne Hayter remains the elected deputy leader of the Labour group in the House of Lords, regardless of Jeremy Corbyn's purge."

Luke Akehurst, the secretary of Labour First, defended Lady Hayter, adding: "It isn't a bunker, it is the last days of Saigon.

"It's like they are trying to get on the helicopters trying to kick off the incumbents in these parliamentary seats, because they know their days of control are numbered."
More:
A senior Labour peer has been sacked as shadow Brexit minister for saying Jeremy Corbyn was leading the party with a "bunker mentality".

Baroness Hayter said Mr Corbyn's team's refusal to acknowledge criticism – such as of the party's handling of allegations of anti-Semitism – was similar to the "last days of Hitler".

A Labour spokesman described her remarks as "deeply offensive".

The peer remains Labour's elected deputy leader in the House of Lords.
Huffington Post: Jeremy Corbyn's Leadership Like 'Last Days Of Hitler', Says Shadow Brexit Minister
Baroness Dianne Hayter hit out over Brexit and anti-Semitism.
She went on to say Corbyn's team were refusing to acknowledge criticism of listen to information on polling, saying: "Those of you who haven't [read the book] will have seen the film Bunker, about the last days of Hitler, where you stop receiving any information into the inner group which suggests that things are not going the way you want."

She added: "That seems to be where we are at the moment: having the leadership in a bunker so they are not hearing in those views, that evidence, that is in conflict with what they are trying to do, to the extent that even undermines what they are trying to do.

"Because if you are trying to win an election and you don't honestly look at the polls, then you are not going to be in a position to take the action to win."
This Blog agrees with Comrade David Osler:
Harry's Place.
WATCH leaked video from Labour Shadow Cabinet meeting on antisemitism
Yet more: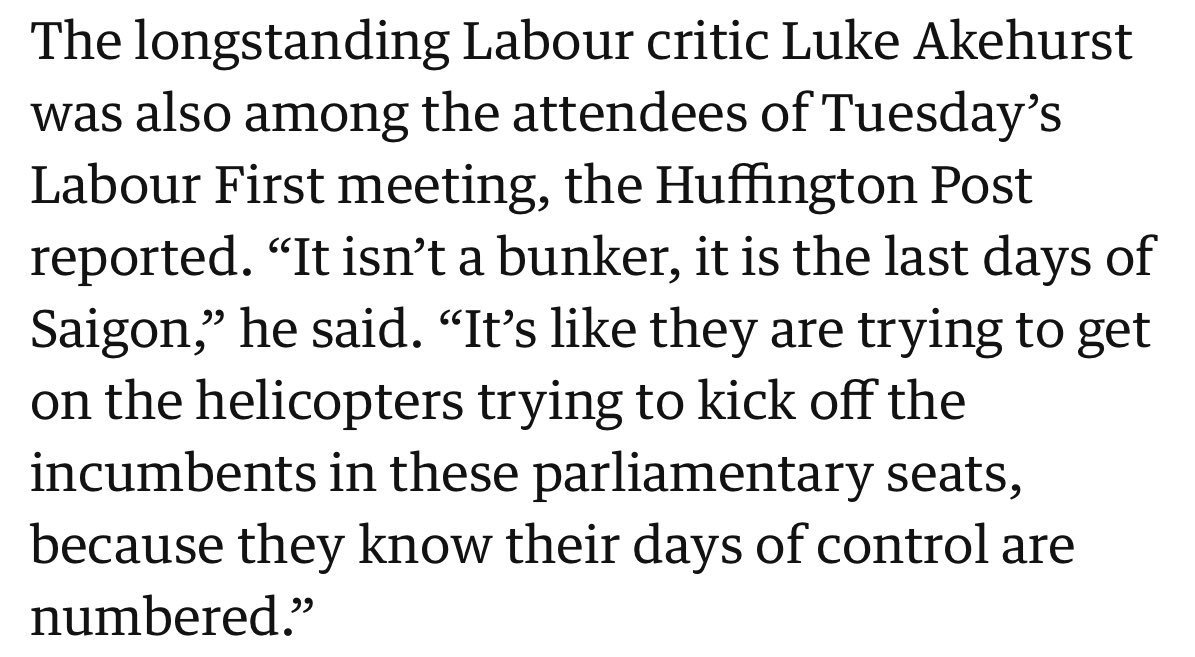 A few days ago:
More Osler please!