Love Socialism, Rebuild Britain, Transform Europe – Internationalist Anti-Brexit Left Speaks.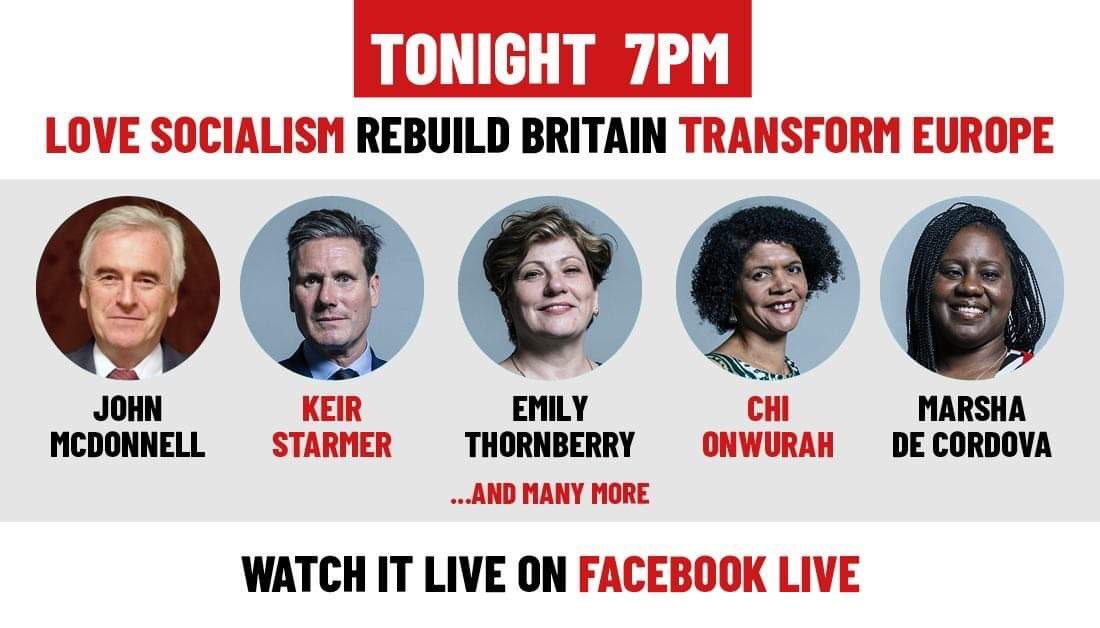 Labour Internationalists speak at anti-Brexit 'Love Socialism' meeting.
".we now need to campaign with idealism. Of course the economic argument is critical to our campaign but we also need to inspire people with the principles of internationalism that assert the unity of peoples rather than the separateness of nation states. At Labour's International Social Forum at the weekend we agreed that a new Internationalism was not only possible but needed. We should reframe our debate and campaigning over Europe into that inspiring vision."
Solidarity
John McDonnell.
On Monday 15 July, the Love Socialism Hate Brexit group of MPs – now rebranded as Love Socialism, Rebuild Britain, Transform Europe, and welcoming in a number of new MPs – held a packed meeting in the House of Commons. We hope to publish a report soon. This is the speech Shadow Chancellor John McDonnell sent to the meeting.

The Clarion gives the full text.
Labour List gives a report by Sienna Rodgers.
A large number of anti-Brexit Labour MPs addressed a packed committee room in parliament on Monday evening, at the latest event held by the Love Socialism Rebuild Britain Transform Europe group (until now called Love Socialism Hate Brexit).

As the first meeting held since Labour backed Remain against no deal or a Tory deal, it featured a number of shadow cabinet members – top Jeremy Corbyn ally Diane Abbott, plus Dawn Butler, Emily Thornberry, Jon Ashworth and Keir Starmer.

Supportive statements were sent by John McDonnell and Scottish Labour leader Richard Leonard. Other frontbenchers in attendance included Luke Pollard, Chi Onwurah, Anneliese Dodds, Clive Lewis, Bill Esterson, Sandy Martin and Matt Rodda; backbenchers included Alex Sobel, Paul Sweeney, Kate Osamor, Kate Green, Rupa Huq and Janet Daby.
This inspiring event, from the left internationalist wing of  Labour, is part of a major shift in the party, from MPs, to grass-roots activists. Joining the broad front of Another Europe is Possible, this is now a socialist voice for the campaign against Brexit.
This Blog is pleased not just to see  old comrades were at the meeting, but the breadth of the support for the initiative from inside Parliament and outside.  The 'People's Brexit' or Lexit pro-Brexit forces have been pushed to the margins of the left. As John McDonnell says, Labour is now "committed to a referendum in which we will campaign to Remain" and "we must campaign for Remain but also the change that many of our communities desperately need after decades of neoliberal dominance and years of harsh austerity."
This is a major step forward.