Union Leaders Step in the Right Direction to Shift Labour's Policy Against Brexit.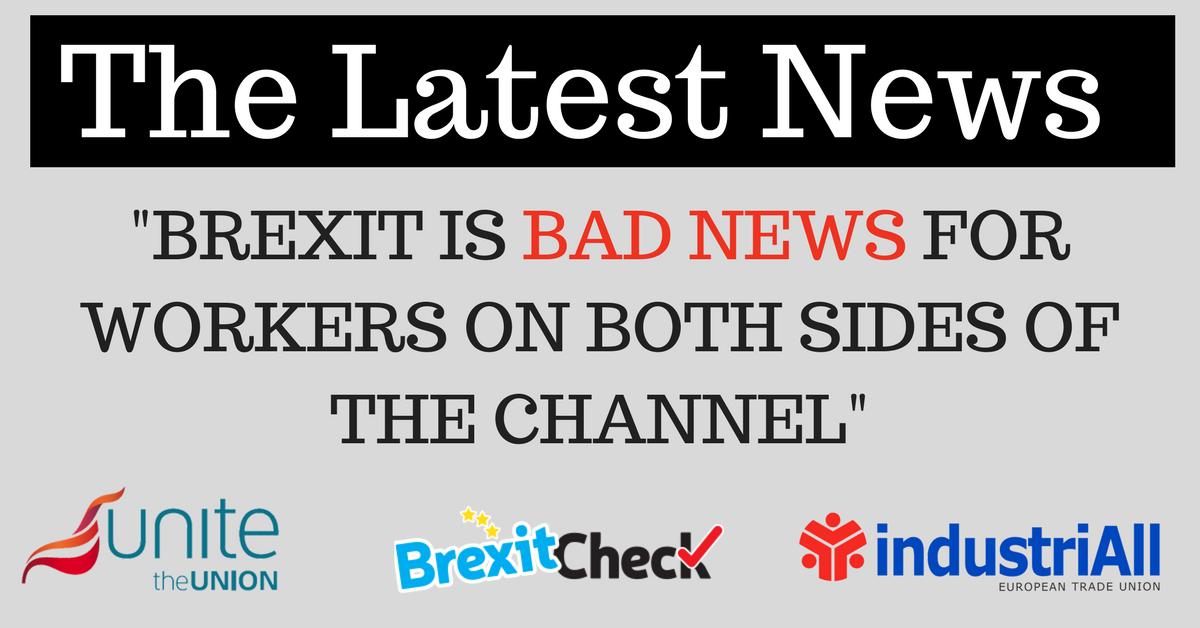 UNITE Makes Welcome Step Towards Action to Deal with this.
The Morning Star, Monday, 
Editorial:Beware misleading narratives on Labour
Momentum activist Holly Rigby made a convincing case today that a second referendum could mean the end of the Corbyn project even if Labour won an election. But winning that election would be far harder if Labour decide to take on the Tories as the party of Remain.

Remain supporters claim that the public's position has shifted significantly on Brexit, but evidence suggests otherwise.

The European elections were a disaster for Labour and the Tories, but the Brexit Party topped the poll. Arguments that if you compile all the pro-Remain parties' votes they outmatch the Leave ones depend on how you define those categories. Even if Labour is counted as a Remain party for the sake of the experiment, the difference in tallies is marginal and becomes meaningless when we consider that two-thirds of eligible voters stayed away.
What a difference a day makes!
The BBC today, Tuesday,
Trade union leaders have reached a common position on Brexit following a meeting with Jeremy Corbyn.

The bosses of Labour's five-biggest affiliated unions back a referendum on any deal agreed by the Tory government or a no-deal exit from the EU.

They are calling for voters to be given the option to remain in the EU and expect Labour to formally back remain.

If Labour wins power in a general election, they want a "confirmatory vote" on any new deal negotiated.

However, Labour's stance in a referendum campaign in these circumstances would "depend on the deal negotiated".
The Guardian, reporting on the events,
Labour is poised to declare it will campaign for remain in a second referendum on any deal put to parliament by a Conservative prime minister, after trade union leaders including Unite's Len McCluskey backed a change of policy.

The joint position agreed by the unions on Monday would not commit Labour to an explicitly pro-remain position in all circumstances: unions also agreed Labour should seek to deliver a Brexit deal if the party won an election before the UK left the EU.

That Labour deal would also be put to a public vote, but the party would not commit to campaigning for remain against its own Brexit deal, throwing into doubt what Labour would offer in any snap election manifesto.

One senior shadow cabinet source described it as a significant win for remain campaigners, despite the potential lack of clarity.

"Unions have backed a referendum on any deal this parliament and Labour campaigning for remain – that's a big victory. What's in a manifesto is a debate for another day," the source said.

Barring any major intervention, the surprise consensus among trade unions including Unite, GMB, Unison, Aslef and Usdaw is likely to force any remaining sceptics to agree to the new position when the shadow cabinet meets on Tuesday.

Several shadow cabinet sources said the policy had the hallmarks of being approved by the Labour leader's office and said it "would not be watered down" – though some shadow ministers are likely to push for an even stronger position.

Labour's deputy leader, Tom Watson, who has regularly clashed with Jeremy Corbyn over the party's Brexit position, tweeted: "Remain is who we are. Our values are remain, our hearts are remain. Today is a step in the right direction but members and supporters are clear that any kind of Brexit gives us less than we have now and Labour should not support it."
More reaction:
Anti rootless cosmopolitans had their say:
The declaration includes the principle of negotiating a new Brexit deal should Labour win an election and then, no doubt in the belief that this will be achieved with all the advantages that a Jobs and Rights Brexit could obtain, according to some (that is, pro-Brexit forces in UNITE), be then put to the electorate.
Looking at this in more detail:
Politics Home picked this up:
However, the door has also been left open to the possibility of Labour campaigning for Brexit if it wins a snap election and then manages to negotiate its own deal with Brussels.

..

The first one states: "The Labour Party should confirm that whatever deal is negotiated by the new Tory Prime Minister or an exit based on no deal should be put to the people in a public confirmatory vote.

"The options must be: 1) accepting the deal or a Tory no-deal in the knowledge of its terms; 2) Remaining in the European Union.

"In this event, the Labour Party should campaign to remain in the European Union."

However, the second scenario envisages a snap election in which Labour's manifesto would commit to renegotiating the Brexit deal.

If Labour won and reached a new agreement with Brussels, that would also be put to the people in a fresh referendum.

The options would be to either leave on the terms agreed by Labour, or staying in the EU.

Bizarrely, the trade union document leaves open the option of Labour possibly campaigning against its own deal.

It says: "The Labour party's campaign position on such a ballot should depend on the deal negotiated."

A Labour source insisted the party had not agreed on a formal Brexit position.

"Jeremy is working to unite the party and wider labour movement around a common agreed position," said the source.
This Blog is not convinced that UNITE has wholly abandoned this position,
A Brexit that works for working people

Unite's campaign for a jobs first Brexit
Or this,
UNITE has not posted anything on the above Brexit Check site since April.
It is to be strongly suspected that some will attempt to weave this stand on Brexit into the Labour negotiation, no doubt in the belief that the Party has superpowers to agree on a form of left Brexit, Lexit.
One Response