Far-Right Rassemblement National set to top French European Polls.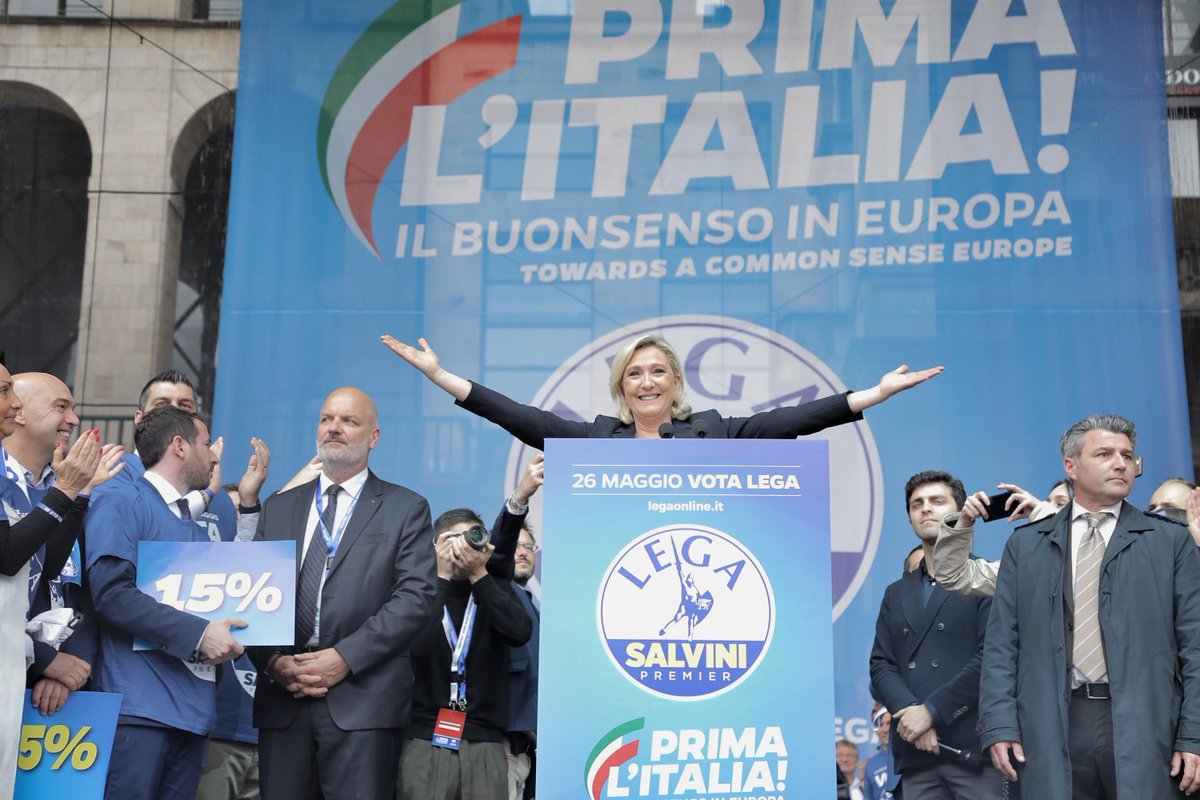 National Populists Predicted to get strong vote in European Elections.
Elections européennes 2019 : à deux jours du vote, le RN solidement installé en tête des sondages
European elections 2019: two days before the vote, the RN firmly installed at the top of the polls.
Le Monde.
Selon la dernière étude Ipsos-Sopra Steria pour « Le Monde », la liste RN devance de deux points celle de LRM. L'estimation de la participation augmente fortement, à 47 %.

According to the latest Ipsos-Sopra Steria study for Le Monde the RN list is two points ahead of LRM. The estimated  level of participation has increased sharply to 47%.
The party of Marine Le Pen, the Rassemblement National, RN,  (ex-Front National) is at around 25% while President Macron's list, La République En Marche  (LRM) with the centrist party, the Modems,  ( Mouvement démocrate) of François Bayrou  is at 23%
The once ruling right-wing politicians (under the Presidency of Nicolas Sarkozy 2007 – 2012) grouped in the Les Républicains have only 13%
The RN no longer advocates withdrawal from the European Union.
The hard-line sovereigntist far-right, which backs Frexit, with 'social' policies of nationalisation and anti-austerity with an end to uncontrolled immigration (resembling the British red-brown alliance), of Debout la France of Nicolas Dupont-Aignan, and Les Patriotes of Florian Philippot stand at 3,5% and 0,5% respectively.
According to these figures the Party of Jean–Luc Mélenchon, La France insoumise (LFI), has continued its decline and stands at 7,5%.
The Greens (EELV), who have been keen to stress that they are neither right nor left (Ecologie "ni de gauche ni de droite" : la stratégie à l'allemande de Yannick Jadot) , at 9,5% are well ahead of LFI.
The Socialists, Parti Socialiste (PS) have their own alliance, PS-Place publique. The list is led by Raphaël Glucksmann, of Place Publique, a socially liberal forum of intellectuals. he is the son of the anti-Marxist New Philosopher  André Glucksmann.  Glucksmann, fils, is a one-time dabbler in "neo-conservatism" with a controversial advisory role to the former President of Georgia  Mikheil Saakachvili . They are hovering at just over 5% at 5,5%
Both the Communists, the Parti communiste français  (PCF), and the alliance of Benoît Hamon  (former French Socialist presidential candidate in 2016, 6,36% of the vote),  Génération.s, stand well below the 5% needed to get MEPs (both at 2,5%)
It is worth noting that Génération.s, is linked to  DieM25,
This initiative, promoting a Green New Deal,  very much led by Yanis" Varoufakis, which has a European candidacies across the continent  seems unlikely to make an impact.
The far left  Lutte ouvrière is at 0,5% and a Gilets Jaunes slate (Alliance Jaune) is at 1,0%
Génération écologie, the historic bearers of "écologie intégrale", who have aligned with just about everybody in the long career of  Brice Lalonde are at 0,5%
The Parti animaliste, which backs animal rights, tops all three of them with 1,5%.

There was an important article in le Monde yesterday which judged that any alliance between the very disparate forces of the European nationalist populists is likely to unravel fairly quickly.
 L'alliance à contrecœur de Matteo Salvini avec Marine Le Pen »
By the "spécialiste du populisme et des droites radicales Gilles Ivaldi."
The failure of the French left to present a united front is clearly a major obstacle in efforts to win electoral support, leaving the way open for the RN and Macron list duel.
But this is not all.
The National Populist leaning (suitably mashed up in a Mouffe antagonistic articulation) left magazine Jacobin, could not be wider of the mark with this claim (yesterday):
Given the state of the Left on most of the continent it seems unlikely to benefit from a breakup of the European Union. If recent trends are any indication, the kind of broad social base and political power necessary to implement a bold, socialist exit from the EU is still quite a way off — Jeremy Corbyn being the hopeful exception.
Anybody looking at the Labour Party's probable European elections result (which is certain to see a big vote for non-Labour Remain parties by Labour supporters) will laugh at that "hopeful exception" comment.
Un rire jaune.
2 Responses