Corbyn's – qualified – Support for a Popular Vote on a Brexit Deal : Would it include an Option to Remain?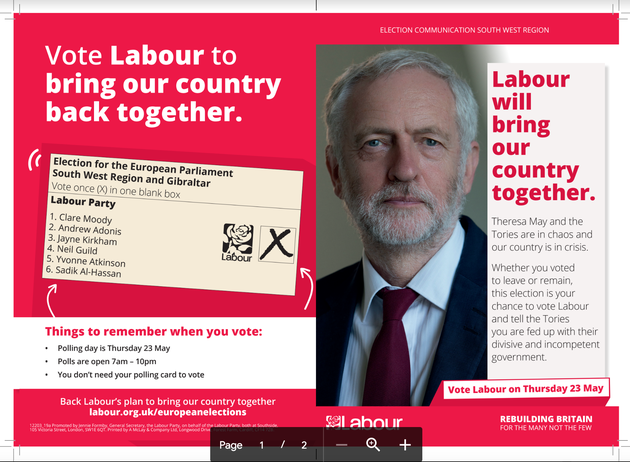 Lacklustre – amongst the Politer Comments.
People were excited about this today.
Some thought that Labour had turned to backing a People's Vote.
Some even tweeted that Labour had finally adopted the politics of the internationalist left, to remain and transform the EU.
The Currant Bun set the tone for the most optimistic reception.
PANICKED Jeremy Corbyn today suggested that Labour WILL back a second referendum in his latest Brexit flip-flop.

The leftie leader said there should be a "public vote" on any deal agreed by Parliament.
The Labour leader told the BBC's Andrew Marr Show: "I want us to get a good deal and then have a decision of the public after that.

"If we can get that through Parliament, the proposals we've put, then I think it would be reasonable to have a public vote to decide on that in the future."
Much excitement followed,
Well, yes and no.
These contentious points remain as Politics Home says,
The Labour leader pledged to look "very carefully" at any fresh promise by Theresa May to protect workers' rights after Brexit, with the Prime Minister on Sunday promising a "bold new offer" to MPs when they again vote on her EU deal.

Asked whether his party was "staunchly against" EU free movement, Mr Corbyn said: "I'm not staunchly against freedom of movement… Our manifesto said that the European system would obviously not apply if you're not in the European Union.

"But I quite clearly recognise there has to be a lot of movement of workers… Ask any company in manufacturing or any other sector how much they need and rely on workers from Europe and indeed the other way around."

And he added: "It would be open for negotiation, the level of movement of people between Europe and this country if we were a non-member of the EU."
For once one can only agree with this comment from the die-hard anti-Corbyn wing of the party,
The crucial issue of a People's Vote seems to involve no possibility of voting the remain.
Mr Corbyn also rejected a characterisation of his party's EU elections platform as 'Vote Labour, Get Brexit', and said he believed it would be "reasonable to have a public vote" on any Labour-backed EU deal that gets through Parliament.

He said: "I think what would be a fair assessment would be to say 'vote Labour, challenge austerity and guarantee living standards for the future, not a no-deal exit from the European Union which is all that is being offered by the Tory right and in a sense by the Tory Party.'"

On a second referendum he said: "What we fought the [2017] general election on was to respect the result of the referendum – and that we've done –  to try to get a deal which guarantees trade and relations with Europe in the future, and if we can get that through Parliament, the proposals we put, then I think it would be reasonable to have a public vote to decide on that in the future."
In other words, Remaining in the EU to transform the EU, the pillar of the internationalist left in the Labour Party and outside, is not an option promoted by Labour.
Not only is Labour not planning to Remain, but Corbyn did not put a commitment to include remaining in the EU on a ballot about the "deal" it would make with the EU.
The plan seems to be than, that Corbyn will heal the country's divisions and secure a real "People's Brexit" which he will then put to the popular vote.
That is, after new PM Boris Johnson has had a stab at things with his Chlorinated Trump Hard Brexit.
As it is,
Labour panics as remain voters switch to Liberal Democrats
Senior Labour figures were engaged in a desperate battle to shore up the party's support on Saturday night, amid warnings that its stance on Brexitwas helping to "detoxify the Lib Dems".

With just days left before the European elections at which Nigel Farage's Brexit party is expected to triumph, shadow cabinet ministers are among those concerned that Labour's ambiguous position on Brexit has helped revive the Lib Dems. It comes as new polling seen by the Observer suggests Vince Cable's party is running in first place in London and could even beat Labour overall.

One senior party figure warned: "If the consequence of Labour's Brexit position and this European election is to essentially detoxify the Lib Dems, then that's a real problem." Clive Lewis, a shadow Treasury minister, said "lifelong Labour voters" would not back the party this week due to its Brexit stance. He added: "It feels like we've given [the Lib Dems] the political equivalent of resuscitation."

..

Labour MPs revealed they were already drawing up attempts to stop a no-deal Brexit should a hardline Brexiter replace May as prime minister, with some suggesting that revoking Brexit had to be a fall-back option.
Corbyn Feels Your Pain:
3 Responses