Étienne Chouard, Alain Soral, The Far-right, Political Confusionism and the Gilets Jaunes.
Face au fascisme on ne pense plus; il ne faut plus penser – c'est tabou. L'antifascisme est une forme plus évoluée, plus subtile que l'antisémitisme, mais pas moins contre-révolutionnaire. Il crée une attitude de réflexe et de haine."

Faced with Fascism, one stops thinking; one mustn't think any more – it's taboo. Antifascism is the more evolved form, subtler than anti-semitism, but no less counter-revolutionary. It creates a reflexive attitude of hatred.
Groupes radicaux pour l'abolition de l'argent et de l'État
From, Précieuses pépites. Étienne Chouard.
(citations of his cherished nuggets, 1031 pages long, from the Situationists, James Madison, Gandhi, Pastor Neimöller, Edmund Burke, George Orwell……)
Alain Soral has been condemned to a year in gaol for Holocaust denial. As the would-be sorcerer's apprentice of a Red-Brown alliance, his balance-sheet has until recent years largely been a negative one. The most public initiative, the 'anti-Zionist' electoral list he helped organise with Dieudeonné, with the support of a few former leftists, and Tehran inclined Islamists, was a failure.
Égalité et Réconciliation¸ trumpeting the cause of workers and peoples, with right-wing national values, against globalist elites, appeared submerged in the malestrom of populism. As part of a "conspi" turn it could be said that Soral, who never fails to inject anti-semitism into the public domain, helped set out some markers, but little more. His site has had a small, if real, (according to reports) echo amongst the anti-gay marriage and anti-'genre theory' movement, which combined the traditional far-right, Catholic 'ultras' and some conservative Muslims. To escape from this impasse Soral has recently tried to engage – before his imprisonment has temporarily cut this short – with the Gilets Jaunes…with more success, if still limited.
It is the fashion in some quarters to look at the Gilets Jaunes through rose-tinted spectacles. After all, what could be more heartening than to discover, as perhaps prophesied by Jean-Claude Michéa, the work of those "en bas" in revolt against the neoliberal elite. The left which has, since, apparently the Dreyfus Affair, sought to integrate the left into a world ruled by finance is shaking. Woven in the by those who have been "solidaires depuis toujours", acting through the heart of their "idenitité populaire la plus spécifique", the French People have arisen…. (Notre Ennemi le capital. 2017)
No doubt there are worthy projects to wrestle inside the Gilets Jaunes movement, and fight for leftism and below within it. Reports, though not those broadcast by the professionals of tinting roses, the SWP, if their most recent General assembly (not universally recognised) indicate that they have decided to not offer any recommendation to vote for the coming European elections. A victory of sorts, though one finds it hard to imagine the good faith of any leftist sitting in a room with those who argued for supporting for a variety of hard-right lists – as happened..
Instead we have Étienne Chouard, a teacher, whose Mother worked for the – some might say – elitist Tel Quel literary and theoretical journal of Philippe Solars,  known for its 1960s structuralism, ultra-Maoist phase, and violent 'anti-totalitarian' turn in the 1970s. He says he is "a seeker of the original cause of social injustices". The blogs he runs, such as Plan C, and his own personal site, advance the cause of "une Constitution Citoyenne, écrite par et pour les citoyens."
Chouard is popular amongst the Gilets Jaunes – significant enough to be cited at length in the media, the latest appearance being in Saturday's Le Monde (13.4.19). His audience on social networks is astronomical. He is probably the best known promoter of one of the Gilets Jaunes central demands, direct democracy through the idea of government by referendum. "référendum d'initiative populaire". A one-time leftist, who dabbled in anarchism and the ultra-left, and who claims inspiration from  Cornelius Castoriadis he has expressed sympathy for Nigel Farage, yet voted Mélenchon in the last Presidential elections. The life-long grass-roots activist has now declared that he will back François Asselineau, a hard-right Frexit (French Brexit)  campaigner who runs the small UPR. It is also opposed to NATO. Le Monde notes he is far from alone amongst the Gilets Jaunes in backing this far-right party.. (12.4.19. Gilets jaunes » : François Asselineau et le « Frexit » font recette sur les ronds-points) that the UPR is known for promoting "conspiracy" ideas. (1)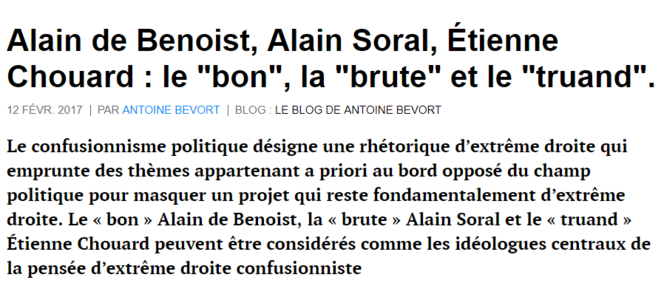 Chouard is the ideal type of " confusionism", melding together the far-right ideas with leftism. But this rhetoric does not stop at issues such as the European Union. As the reader of (one can believe this, see above) over 3,500 books on philosophy, politics and stuff, he has views on many areas. His freethinking has led him to express opinions doubting the official version of 9/11, and to express interest in the conspi site, Réseau Voltaire. Chouard has also had ties, notable ties, with Alain Soral over the years. His notorious description of Soral as a "resistant" did not go down well. He has stood back, preferring the calmer waters of the UPR, for his own red-brown alliance, from aligning himself with the sulphurous holocaust denier.
Despite the jolly film (judging from its trailer…) J'veux du soleil, by François Ruffin, there seems, as yet little indication of the français de souche amongst the Gilets Jaunes, reaching out to minorities, the "urban nomadic proletariat".  But he doubtless found somebody prepared to listen to Michéa when it comes to official left and liberal anti-fascism.
(1) See also COMMUNIQUÉ DE PRESSE : ÉTIENNE CHOUARD ANNONCE PUBLIQUEMENT QU'IL VOTERA POUR LA LISTE DE L'UPR AUX ÉLECTIONS EUROPÉENNES )
"François Asselineau's 'souverainiste' platform has two main targets, the European Union and the United States.[32] He insists that France should leave the Eurozone,[33] the European Union, and NATO.[32] According to Asselineau, the EU and NATO "as seen from Washington…are the political and military side of the same coin, that of the enthrallment of the European continent to their 'buffer zone' so as to surround and contain the Russian continental power".[33] He says the process leading to European unification was launched solely upon orders from the American government."
You can guess his views on Assange and Brexit….
2 Responses