From the Anti-Imperialism of Fools to Anti-Semitism?
The Far Right, the Left, and Anti-Semitism
A Very Public Sociologist.
Phil was one of the first people on the left to signal out, in 2015,  the The Anti-Imperialism of Fools.
Its main feature was to support anything "against" imperialism, primarily the USA.
a certain intellectual dishonesty about their positions. Stop the War write op-eds that, let's be generous, white wash the enemies of the US and UK, but do not link it with a clear intellectual framework for making sense of these position-takings. For the uninitiated, it suggests opposition to Britain's wars is a gateway into apologising for some of the most disgusting regimes and terror groups on the planet. Therefore to understand the politics of Stop the War, one must delve a little into political history.

…

Yet Stop the War has more or less carried on as if none of this has happened, as if the USA is the only active agent in the world and – implicitly – the designs and manoeuvres of rival states and enemies are benign or, at least, less harmful. This is why Putin never gets as much stick as Obama, why leading members of its steering committee have occasionally associated with sundry undesirables, why the Kurds get no support while IS are clumsily and favourably compared with the International Brigades. It's why it appears that authoritarians and totalitarians get a free pass while democratic countries are criticised and mobilised against.
Over the weekend he has developed this point, making clear his own opposition to "Israel's racist despoiling of the Palestinians"and support for "pro-Palestinian politics."
Phil begins by observing that,
"One thing very few people on the left seem willing to admit is that since 2003 the anti-war movement here has been subject to a process of infiltration by currents of opinion, and sometimes organised groups, behaving like the local representatives of the British far right."
There is no doubt a lot more to say about  Netanyahu, and Israel.
But this is a post about the British left.
A key strand since 2015, and which this Blog has called, following the French example, "confusionism", is the way that conspiracy thinking has crept into this "anti-imperialism".
In 2003-5, this was mainly about opinions. In particular, there was a current of opinion within the movement, which grew stronger the occupation of Iraq went on, to say that 9/11 was an American inside job. That strand of opinion was assisted, inevitably, by the need for people – who were against the war – to find websites which would give an honest, objective account of what was actually happening in Iraq. This meant disassociating from mainstream media, going to anti-war news sites. In the US a large number of these sites were hosted by the so-called "libertarian" right and saw no reason against promoting conspiracy theories, 9/11 Truth accounts, etc. Movements such as Stop the War did try to keep these sort of opinions out – banning them from our platforms, etc. But this was a matter of silent gatekeeping – the left didn't like to admit we had a problem in a movement we led – we would never say openly that we were worried about X or Y Stop the War group. The only time when the left in Stop the War came out publicly against the right was George Monbiot who in two Guardian pieces tore into the 9/11 Truth movement. In retrospect, that was a sign of the sorts of difficulties the left has been having in 2018-19: not least in the very many people who saw themselves on the left but posted in the Guardian comment threads criticising Monbiot.
That's to say nothing of those in recent days ranting about the 'Zionist' media attacking Corbyn….
Or this, from conspi Rachel Swindon:
Phil then focuses on anti-Semitism.
Like the "conventional" far right, today's anti-war anti-semites have grown through a process of individual activists building up a social media infrastructure which at a certain point they have monetised on YouTube, Patreon, etc, enabling previously isolated individuals to become full-time organisers on behalf of a certain political argument.

Probably most of my friends haven't heard of them but that doesn't meant they haven't been able to achieve an influence much larger than they deserve.

A typical individual is Vanessa Beeley who was at one stage associated with an anti-war group in Frome, but has built up a Twitter following of 40,000 people which she uses to applaud dictators everywhere – Assad, Putin. And to say that the people she dislikes are in the pay of the Jews.
This, and Beeley to the fore, has been the subject of many posts here and on other critical left Blogs.
Williamson, who has praised Beeley, is a good example of indulgence towards this conspi thinking
The point about Williamson is that over the last 12 months he has liked the social media accounts of each of the four people/groups I've just mentioned, used his own social media to boost their profile, and treated them like the allies in a shared political project which he undoubtedly regards them to be. In so far as this part of the far right has a "shield" in official politics, he provides it.

Every time someone points out to Williamson that he is promoting anti-semites he goes through the same cycle of denial, insisting that his allies are good socialists being unfairly targeted for their views on Israel, belated admission, apology, promises not to do it again.
Perhaps some trying to justifying Williamson will disagree, violently, but to this writer it's a fair summing up.
As indeed Comrade Dave Osler does in the Independent.
Once house room is granted to such relentlessly self-preening charlatans as Vanessa Beeley, Gilad Atzmon and David Icke, it's a perilously short step to political judgments centred on the shoddy output of propaganda-driven state broadcasters, half-arsed alt-left websites and the crankier fringes of the Trot diaspora.

Before you ask, this isn't a snipe from the right. I'm a long-standing lefty who has proudly donated to Jeremy Corbyn's electoral efforts and knocked on doors for John McDonnell and Diane Abbott for many years.

Nor do I wish to exaggerate the extent of the problem. Thankfully this nonsense remains predominantly the province of a few hundred headbangers on social media, although even that minimal degree of traction feeds the Daily Mail with "vile Labour Twitter troll" stories as if by conveyor belt.

But branding the White Helmets Israeli stooges, or postulating a Rothschild Zionist grip on global central banking, is just the type of dimwitted aperçu that ensured antisemitism renewed circulation among radical young people during the anti-globalisation and Occupy movements, and sometimes emerge in the real world.

As Trotsky himself used to note, with a scratch comes the danger of gangrene. In a climate where 2.6 million Britons think the Holocaust was a myth, no potential Labour standard-bearer should get away with posting offensively photoshopped pictures of the gates of Auschwitz, on any pretext whatsoever.

Tom Watson is right to brand incidents like that a cause for deep shame. So it's pleasing that Labour left figures such as Jon Lansman are on the case, as demonstrated by the excellent Rothschild Conspiracy Exposed video released by Momentum last week.

Meanwhile, matters are compounded in some quarters by wilful refusal to engage with current affairs, especially in other countries, which comes as an inevitable corollary of making the very words "mainstream media" a dread insult.

Put simply, the Beeb, The Economist and Financial Times have serious sources in Venezuela and Syria; one-man blogs written from bedrooms reeking of hamster urine do not.

Less of The Canary and more Marx: How Labour should deal with the conspiracism in its midst.
Confusion can naturally spread further as this indicates.
This is where 'taking sides' can lead.
But anti-Semitism seems to be at its heart.
Note this from the Gilets Jaunes protests this weekend.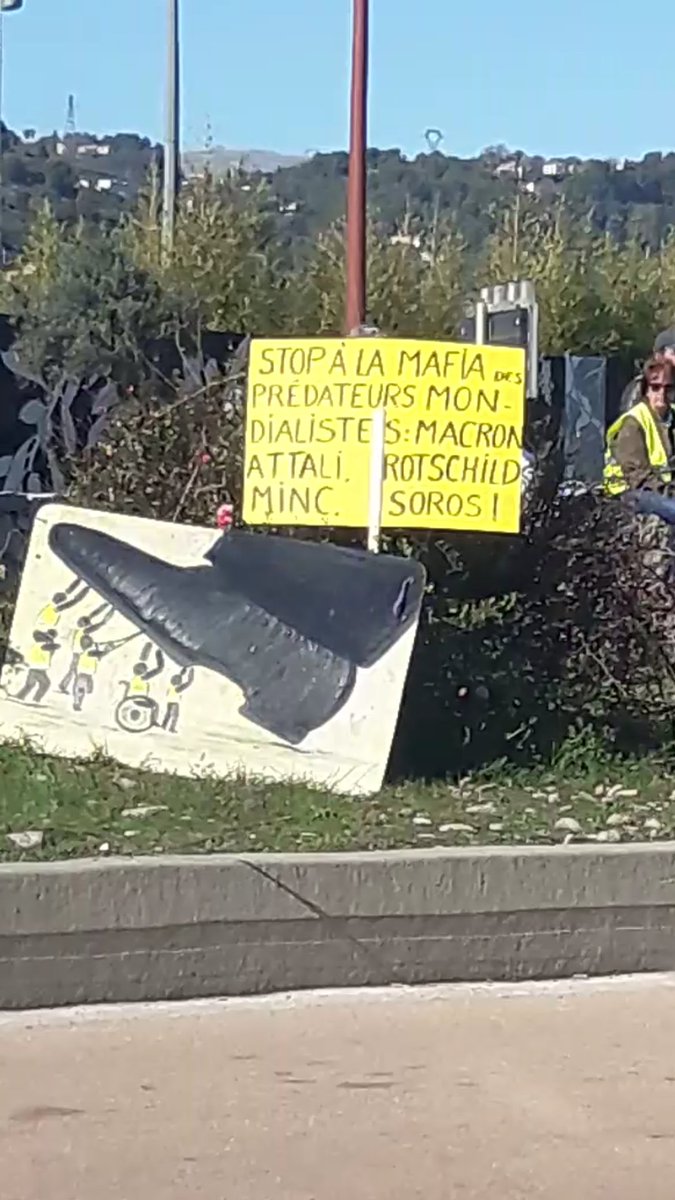 The Left's long history of antisemitism
The hard-Left's division of the world into good and bad makes it blind to its own racism.
6 Responses