Algeria: Demonstrations Grow Against 5th Term for Bouteflika.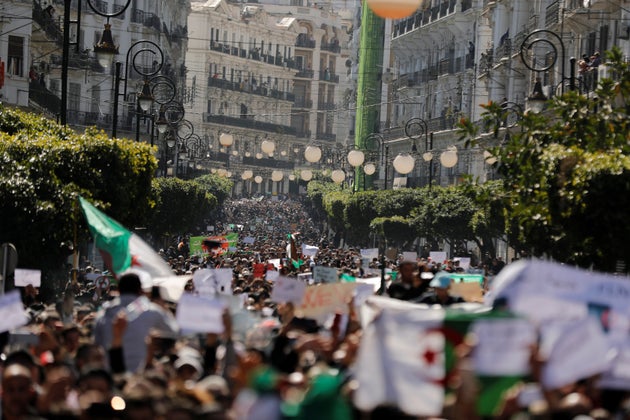 Au lendemain des manifestations du 1 mars: un peuple debout, un pouvoir groggy.
Al HuffPost Maghreb
In Algeria , while the demonstrations against a fifth term for outgoing President Abdelaziz Bouteflika have reached historic levels , at a few hours of filing applications for the supreme election (Sunday midnight local time), the presidential camp remains very discreet.

The dismissal this Saturday of the campaign manager and former Prime Minister Abdelmalek Sellal , replaced by the current Minister of Transport, was carried out without further explanation or comment.

No Algerian official has so far officially reacted to the massive mobilisation of Algerians on Friday across the country to oppose the prospect of a fifth term of Bouteflika, in power since 1999 , who celebrated his 82 years Saturday .

Hospitalised in Switzerland for six days , officially for "periodic medical examinations", the return to Algeria of the head of state has still not been announced.
20 Minutes:
Algérie: Des manifestations massives mais sans réactions politiques
Le Monde:
In Algiers, a huge crowd determined to demonstrate peacefully
Hundreds of thousands of people marched Friday in the Algerian capital against a 5th term of Abdelaziz Bouteflika.
See RFI Press review: la nouvelle déferlante contre Bouteflika en Algérie
In declaring their solidarity the Ensemble alliance notes that there is a call to demonstrate today in favour of a boycott of the elections.
Communiqué d'Ensemble ! sur la situation en Algérie
 dimanche, c'est le collectif « Mouwatana » (citoyenneté) qui prône le boycott de l'élection présidentielle qui a appelé à manifester.
Interview with one of the leading figures of the group in l'Humanité (Saturday) .
ZOUBIDA ASSOUL : « LES ALGÉRIENS EXIGENT UNE RUPTURE RADICALE AVEC LE SYSTÈME BOUTEFLIKA »
More on Mouwatana: Le mouvement Mouwatana précise les lieux de ses rassemblements