Violent Clash Between Far Right Gilets Jaunes and Anti-Fascists on March in Lyon.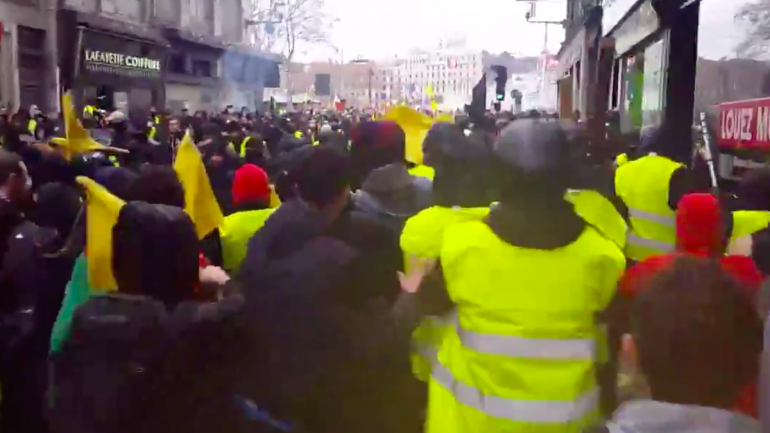 Far-Right Gilets Jaunes Confronted by Anti-Fascists at Lyon.
Affrontement entre groupes d'ultra-droite et d'extrême gauche à Lyon.
Lors de la manifestation des Gilets jaunes à Lyon ce samedi, des membres de groupuscules d'ultra-droite et des « antifascistes » se sont affrontés violemment.
Le Parisien.
The outbreak of  violence lasted a maximum of ten minutes, but left a deep impression. This Saturday, in Lyon, a clash between "yellow jackets" of the ultra-right and far left took place on the sidelines of Act 13 of Gilets Jaunes protests , in the city of Gérard Collombe (Socialist Mayor of the Metropolis of Lyon).
Lyon is well-known as the home for a number of far-right organisations, identitarians and the classic extreme right, Génération Identitaire, Bastion Social,  Jeunesses nationaliste, and the ex-Oeuvre française. It was a stronghold of l'Action Française during the Second World War.
LYON, CARREFOUR DES DROITES EXTRÊMES (2018)
More here:
This is how one far-rightist spun it:
VIDEO: Pitched battle between opposing 'yellow vests' in Lyon
There is a problem about the presence of the far-right at Gilets Jaunes protests which cannot be wished away by classing them as "fake" Yellow Jackets.
Gilets Jaunes is not a registered trademark.
7 Responses