People's Assembly Demo – up to 4 Thousand Strong – ends in Confusion over who are the 'real' Yellow Vests.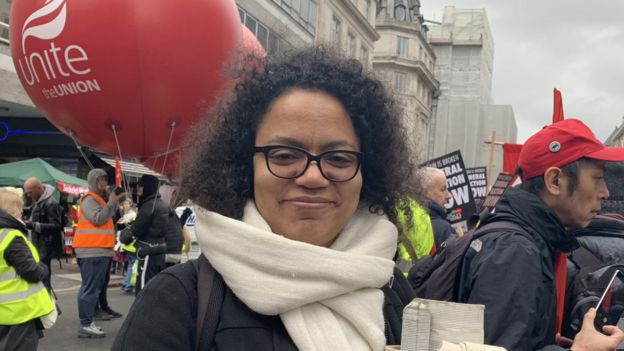 Some marchers declined to wear the high-vis jackets in case the symbolism might be misinterpreted, however.
Antonia Bright, a campaigner with the anti-racism group Movement for Justice, said she wanted to "steer away from white populism".
"I don't need it to march for what I am standing for," she said.
Socialist Worker reports,
The demonstration was much smaller than previous marches against the Tories—a sign that the focus on parliament has turned the focus away from the struggle needed to bring them down.

And there were very few trade union banners on the march.
Hundreds of anti-austerity yellow vest protesters have marched on London demanding a UK general election. Shadow Chancellor John McDonnell said austerity was "tearing apart the very social fabric" of the country. He said he expected Prime Minister Theresa May to lose on Tuesday when MPs vote on her Brexit deal.
Police officers tussled with pro-Brexit demonstrators to stop them getting into Trafalgar Square, where Mr McDonnell was speaking.
The I.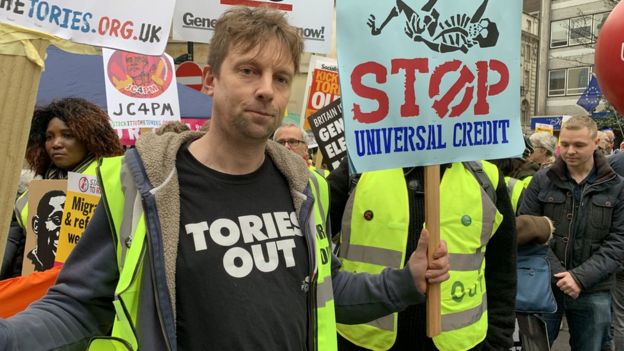 Comment:
The demonstration was small because very few people on the British left and in the trade union movement are going to march for a General Election at a march organised by the groupuscule Counterfire, even if endorsed by labour figures and Moemntum.
Still fewer identity with the politically ambiguous gilets jaunes. *
Channel Four last night interviewed French gilets jaunes, in Calais, all of whom were hard right, either Le Pen voters or backed the sovereigntist racist Philippe de Villiers.
The events of the day amply proved the ambiguous nature of the Yellow Jackets.
The pro-Brexit organisers of the march, Counterfire, who run the People's Assembly, are the last people to take a lead on this issue.
A General Election will not solve Brexit unless Labour takes a clear stand opposing it.
Or to put it another way, as Red Flag says,
4-5000 people on the People's Assembly Demonstration in London which the organisers called under the slogan – 'Britain is broken – for a general election now'. But this ducks the central question in British politics – how can Labour force let alone win an election when its policy on Brexit is indistinguishable from the Tories
* on this see this article Gilets jaunes (in English) Ni Patrie Ni Frontières,
In May 68 we shouted "CRS = SS !"
Today, the Yellow Vests shout : "The police with us!," "CRS, be with us !"
17 Responses