Comrade John McDonnell: if there is a Referendum I Will Back Remain.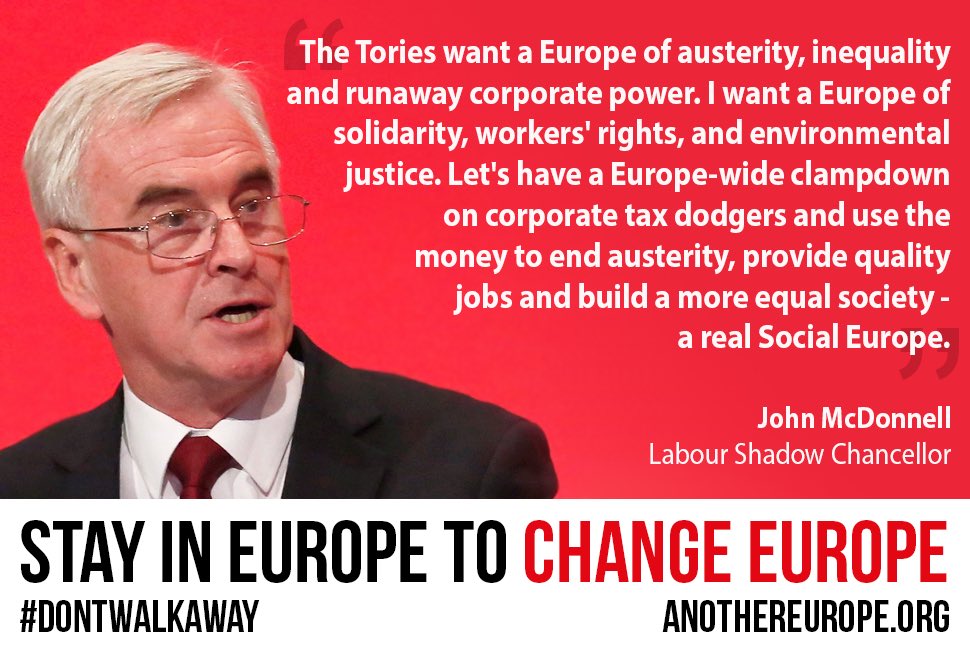 John McDonnell sticks to his principles. 
Last night on Channel Four comrade John McDonnell, as part of a longer interview (below)  said clearly that if there is a second referendum he would support Remain.
Labour's position on Brexit has not, to put it mildly, clear.
The brilliant efforts of comrade Keir Starmer to point out the folly of a No-Deal brexit and the ridiculous notion of a 'go it alone' UK have been exemplary.
But during the week there have been attempts to put a spin on a 'Corbyn style Lexit'.
Forces hostile to socialist internationalism, from the Morning Star to Counterfire, cling to the 'dancing with unicorns' strategy of a 'People's Brexit'.
There has been speculation on the Labour Leader's own views.
It has been suggested that Corbyn is not particularly interested in Europe, apart from hostility to the 'neoliberal' European Union.
Supporters of Corbyn have  by contrast pointed to the claim that the Labour leader had a conversation with the leader of La France insoumise Jean-Luc  Mélenchon in Spanish. (Jean-Luc Mélenchon : «Avec Corbyn, c'est le début de notre histoire»)
Mélenchon (whose family background is Spanish speaking) is given to citing the poets of Spain and Latin America.
Corbyn has a feline pet which he has named El Gato (the cat).
This witty sobriquet does not suggest great fluency in the language of García Lorca.
Be that as it may, it is clear that any form of Brexit is a disaster for the labour movement, workers' interests and the left.
John McDonnell shows that we should push for the strategy of Another Europe is Possible.
On Newsnight:
One Response