As SWP cracks up Morning Star goes Total Tonto.
Lessons of History Sadly ignored, says Morning Star top writer. 
The wisdom of Lenin's What is to be Done?
Morning Star.
"With dissatisfaction and anger growing, with confrontation intensifying, and with more and more institutions and authority discredited, the need for effective responses grows, says ZOLTAN ZIGEDY."
The cold war and the demonisation of communism further prodded the US and much of the academic and student western European left to distance itself from Leninism.

The ABC phenomenon — Anything But Communism — became deeply embedded in the "radicalism" of the late 20th century.

A "new" left — purposefully new in order to dissociate from Leninism and cold war ostracisation — sought new forms of radicalism, new approaches to struggle, new types of organisations.

Ironically, the new left found answers that had already failed in the past, in the kinds of politics toward which Lenin had earlier targeted his ideological weapons. And today's US and European left reproduces many of the same tendencies.

It has been a common thread weaving through the US left that so-called participatory democracy is the foundation of radical politics and emancipatory or empowering for oppositional movements.

From the new left of the '60s to the Occupy and Indignados movements, this approach has been foundational. The fetish for procedure has not only overshadowed establishing a common programme, but often blocked the achievement of one.
I had no idea that us European leftists actually cared that much, though we like the US left, about, er the US left,
History knows of no serious challenge to capitalism emerging automatically, without the intervention of a revolutionary organisation. Nonetheless, many in the US left deny the necessity or the desirability of a Leninist "organisation of revolutionaries."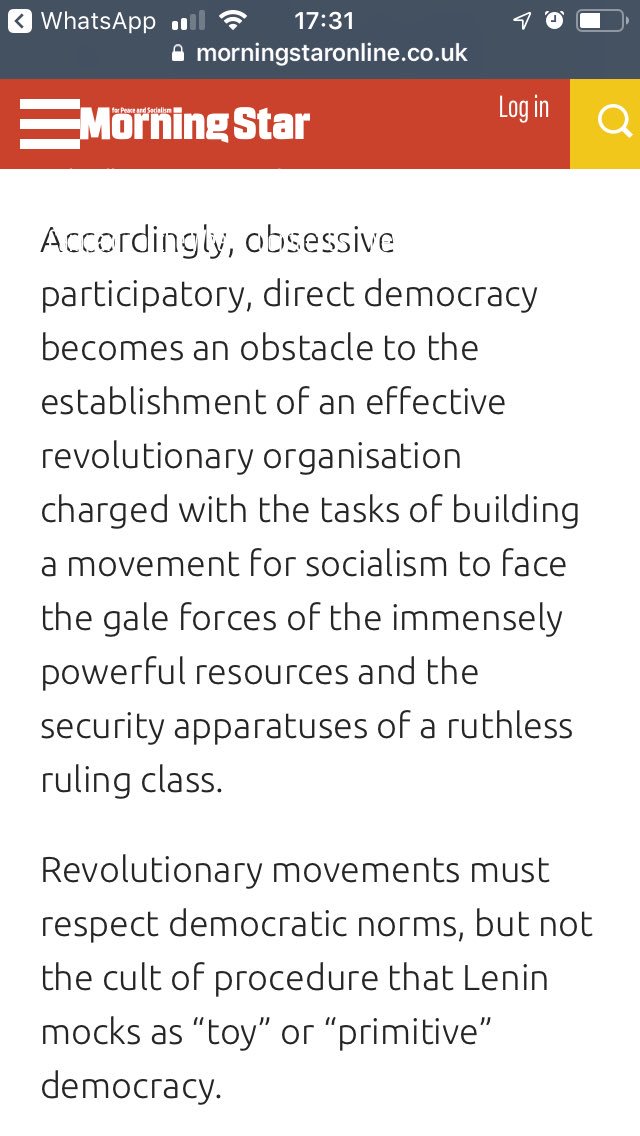 Under his pen name  the Morning Star leader writer,  concludes.
What Is To Be Done? demonstrates the need for a political organisation of ardent, committed revolutionaries, united with a programme to overthrow capitalism.

Since the retreat of communism, Leninism has unfortunately been discarded by many on the left. But the wisdom of Lenin's pamphlet is needed now more than ever.
And i thought the Posadists were bit strange…
5 Responses