Far Right Marches in Brussels Against UN Marrakech Migration Pact.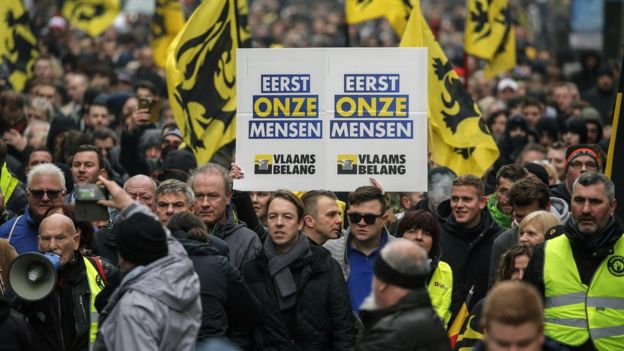 Not only British Brexiteers are anti-Immigration: Our People First! (Vlaams Belang).
The BBC reports:
Thousands of demonstrators in Brussels have marched against a UN migration pact, signed in Marrakech last week.

Flemish right-wing parties called the march, which took place near major EU institutions, amid fears the pact could lead to an increase in immigration.

Police deployed tear gas and water cannon as clashes broke out. About 5,500 protesters took part.

A counter-protest organised by left-wing groups and charities in the city centre drew about 1,000 people.

The largest member of Belgium's ruling coalition, the right-wing N-VA party, left the government last Sunday in protest against the prime minister's decision to sign the agreement.
Rats de gauches», «notre peuple d'abord»: des extrémistes flamands dérapent dans le quartier européen
Le Soir.
The far-right, principally the Vlaams Belang headed nebuleuse, KVHV, NSV, Schild & Vrienden, Voorpost and  Vlaams Belang Jongeren,  are trying to out bid the N-VA of Bart  De Wever in opposition to the UN agreement.
Against the 5,550 far-right marchers around 1,500 demonstrators responded to the call of left-wing organisations, including the trade union FGTB-CGSP for a ""marche pour Marrakech""
Marches "pour" et "contre" Marrakech à Bruxelles: une centaine de personnes interpellées, six personnes privées de liberté
La Libre Belgique also reports that a section of the Gilets Jaunes in Belgium joined the anti-racist protest, after strong attempts by the Vlaams Belang and the N-VA to win them to anti-migrant stand.
Des "gilets jaunes" se joignent à la marche contre le racisme à Bruxelles
4 Responses