Another Europe is Possible Conference as "New leftwing coalition urges Labour to reject Brexit."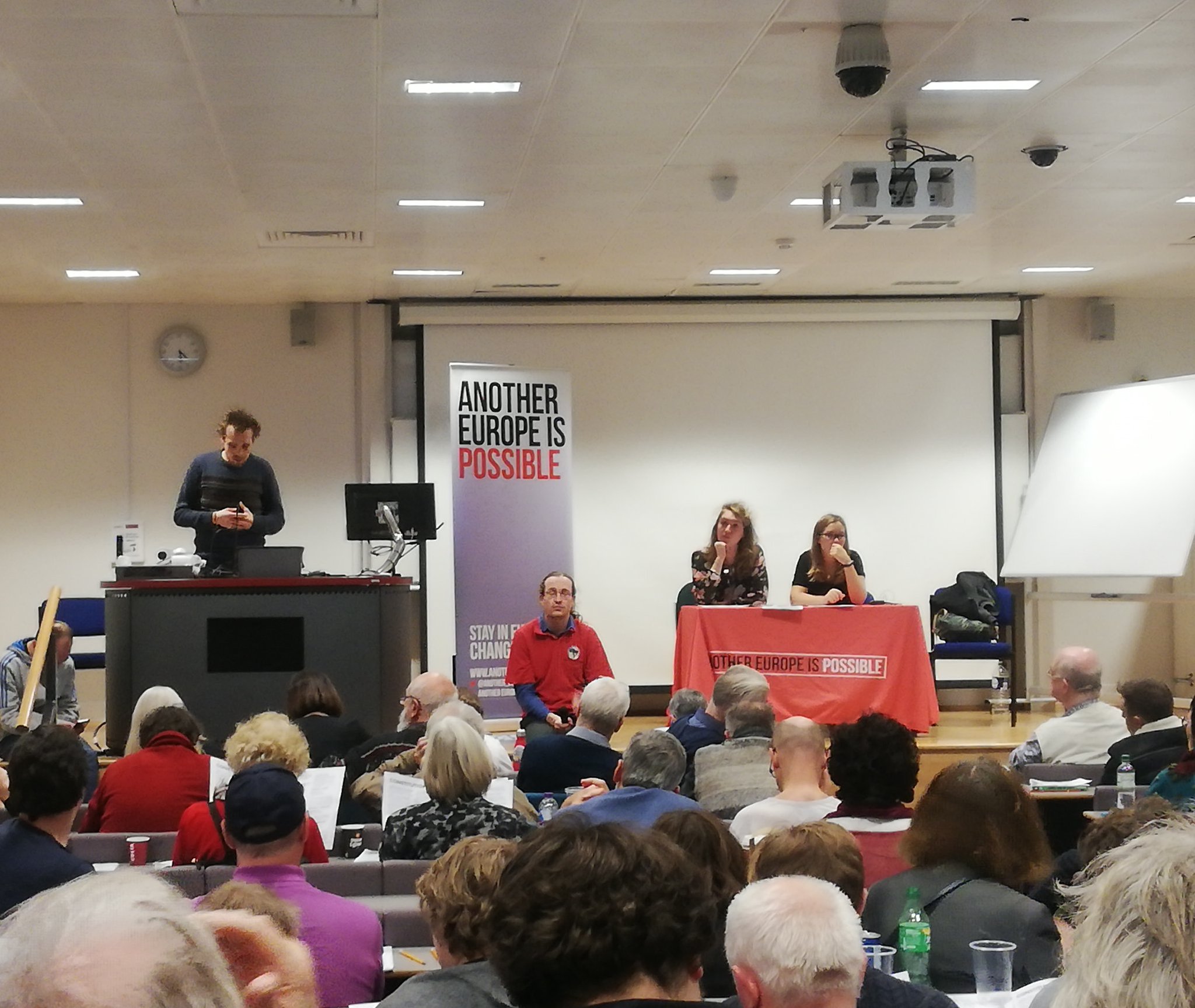 A Vital and Vibrant Conference. 
Over 150 voting members, from all over the country,  of Another Europe is Possible attended the campaign's first conference of Saturday.
The day kicked off with Emiliano Melino from the IWGB which organises  workers in the 'gig economy'. His small union, many of whose members do not have British passports, has come out strongly for a People's Vote on Brexit.
After some initial discussion there were workshops.
In the Lexit atelier Marina Prentoulis spoke of how a small section of the Greek left had become so anti-EU that their nationalism bordered that of the far-right. Contributors noted the development across Europe of a "sovereigntist" current which put issues of national identity and sovereignty in place of socialist internationalism.
The UK Lexit left, both  those claiming to oppose 'borders', except when voting for Brexit, and those against the free movement of labour, were at an impasse. Speaking on behalf of the British working class they ignored the challenge to develop a Europe-wide strategy of transforming the EU through alliances with the rest of the European left.
After debate, which included discussion of approaches to the British state, the legacy of Official Communism, and the views of the Bermondsey Republican Socialist movement on Britain and Catalonia, there was agreement on launching a broad radical campaign against Brexit.
This is a good summary (Socialist Resistance)  of the strategy adopted by Another Europe is Possible.
The conference,
…opted for an approach which could engage the widest possible coalition of radical forces opposed to Brexit.

Most AEIP members are Labour supporters and activists, but the campaign includes the Green Party, Left Unity and a few other organisations. The strategy document and the tenor of the contributions leaves no room for doubt that this a campaign which actively seeks to be radical and distinct from the politics of the pro-referendum campaign fronted by Alistair Campbell and Anna Soubry.
Amelia Womack,  Deputy leader of the Green Party, gave a good speech on the benefits of the EU.
Labour MP for Brighton Kemptown, Lloyd Russell-Moyle, who has won national attention for revealing that he is HIV positive, gave a resounding and call for action. Describing, with a moving illustration from his case-load, the racism of both the Brexit campaign and its results. The MP expressed concern at Web articles trying to re-brand 20th century ideas of go-it-alone British socialism. Russell-Moyle urged us all to work together for the internationalist ideas of Another Europe.
People stood up to applaud the speakers.
The organisers, who concluded the meeting, should be thanked for their hard work.
And samosas.
A few centre left and far-left Websites continue to pump out pro-Brexit views, such as the Euston Exiteers now given a voice  on  Harry's Place.
There, this Monday, Alan Johnson argues for a 'national popular' Gramscian strategy, inspired by Norberto Bobbio,  to haul up the drawbridge to protect us from Europe.
By contrast, with some optimism and lots of good will, the internationalist side of Another Europe,  saw the basis of the creation of a broad left alliance against Brexit.
This can be seen in this news which echoes many of the themes of Saturday's conference:
New leftwing coalition urges Labour to reject Brexit
Guardian. Jessica Elgot
A leftwing, remain-supporting coalition of Momentum activists, local party chairs and Labour councillors is to create a pop-up pressure group to persuade the Labour leadership to ditch a commitment to Brexit in any snap election manifesto.

The push came as another Labour frontbencher, Rosena Allin-Khan, broke with the party line and backed a second referendum on the final deal in an onstage announcement at a People's Vote rally on Sunday.

In effect, the group hopes to force a more explicit commitment to a second referendum in the next Labour manifesto and for the party to campaign to remain.
We call on Labour to back remain
With Theresa May's deal likely to be defeated on Tuesday, and a number of key parliamentary blocs losing confidence in the Tory government, we are facing a period of political crisis and upheaval, and a general election looks increasingly possible.

As Labour members and supporters, we want our party to fight in the months ahead, including in any general election campaign, to stop the anti-working-class disaster that is Brexit.

To quote the official policy passed at Labour conference 2018, we want "a radical government: taxing the rich to fund public services, expanding common ownership, abolishing the anti-union laws and engaging in massive public investment".

As the party of working people, Labour must defend all the rights threatened by Brexit – workers' rights, environmental protections, free movement. With the Tory deal published, the realities of Brexit are clearer than ever. Fighting effectively for a radical Labour government means committing to giving the people a final say, and campaigning for remain in that referendum.

In Europe, just as in domestic policy, Labour must offer a radical alternative to the status quo. Our movement must champion a revolt across the continent against austerity, neoliberalism and anti-migrant policies and for a democratic, socialist Europe.

Labour's policy is shifting, but is not yet committed to stopping Brexit. We will continue the campaign to win Labour to a vision for a radical government leading the fight to transform Europe from within the EU. To this end, and to provide anti-Brexit Labour supporters with a platform, organising framework and programme of activity, we intend to create an independent campaigning coordination within the campaign for a Corbyn-led Labour government.
Catherine West MP
Julie Ward MEP 
Luke Cooper Convenor, Another Europe is Possible
Billy Hayes Former general secretary, CWU 
Emma Burnell Co-chair, Open Labour
Zoe Williams Journalist
Paul Mackney Former general secretary, UCU
Michael Chessum National organiser, Another Europe is Possible 
Alena Ivanova Momentum activist
Marina Prentoulis Senior lecturer at UEA and Another Europe is Possible
Prof Mary Kaldor LSE
Ana Oppenheim Campaigns officer, Hornsey & Wood Green Young Labour
Lynn Morris Open Labour national committee, Canterbury CLP
Rachael Ward Open Labour national committee, Hackney South and Shoreditch CLP
Rachel Muers Committee member West Yorkshire Open Labour, Leeds North West CLP
Juliet Harris LGBT officer for Open Labour
Jamie D'Arcy Chair, East Midlands Labour
Steve Lapsley Regional Officer, Open Labour
Prof Pauline Stafford Leeds North West CLP
Ralph Berry Bradford councillor
Dr Jo Ingold Leeds North East CLP
Pablo John Leeds North West CLP
Abigail Marshall Katung Leeds North East CLP
Daniel Round Dudley Momentum and Stourbridge CLP
Niccolo Milanese Director of European Alternatives
Rebecca Lawrence Chair, Lewisham Deptford CLP
Marcus Thorne Organiser, Lewisham for Migrants campaign 
Marcel Golten Vice-chair, Harrow East CLP 
Ana Oppenheim Campaigns officer, Hornsey & Wood Green Young Labour
Obi Saiq Hackney South and Shoreditch CLP youth officer, Picturehouse BECTU rep and activist
Omar Raii London Young Labour committee
Janine Booth TUC Disabled Workers' Committee, Hackney South CLP Trade Union Liaison
Andrew Coates Ipswich CLP, Unite chair
Christie Neary Croydon NEU activist, NUS Trans Committee
Pat Murphy National Education Union national executive
Justine Canady BFAWU activist
Rhian Keyse Exeter CLP, UCU activist
Barbara Veale Lewisham Deptford CLP
Dave Levy Lewisham Deptford CLP
Lionel Openshaw Lewisham Central branch chair
Cllr Fred Grindrod Birmingham Bournville ward
4 Responses