Anti-Brexit Momentum Vote, "not Scientific" says Skwawkbox.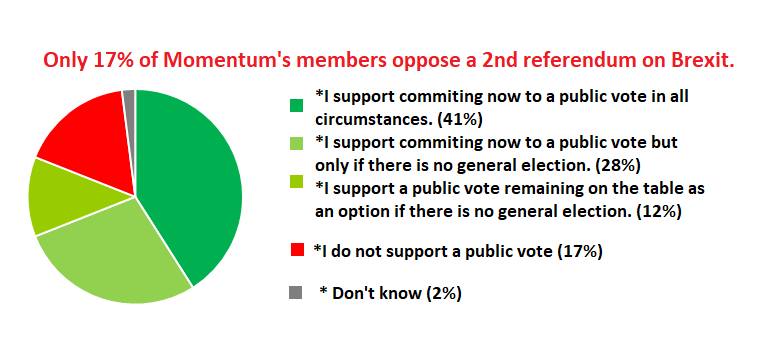 GUARDIAN DELETES FAKE NEWS RE MOMENTUM POLL. REALITY IS VERY DIFFERENT
Fake News Site Skwawkbox (Grenfell Tower 'D Notice*) is wriggling today (note to Steve Walker, thanks for the tip!).
The complaint from this pot to a Guardian Kettle cannot hide this news:
On Tuesday, Momentum published the results of a poll of its members' opinions on Brexit and Labour's priorities.
To Skwawkbox this,
Far from showing strong support for a fresh EU referendum, the poll showed that Momentum members fully recognise the far greater importance of a change of government – exactly the priority of Jeremy Corbyn's intelligent handling of the Brexit issue.

This will send – or should – cold shivers down the spine of any Labour rebels considering supporting Theresa May's eventual excuse for a Brexit deal in order to undermine the party's leadership.

Turnout in the poll was low – around 16% of Momentum's members – even though voting was electronic and needed only a couple of minutes to complete. Of those who did vote, barely over half – 53% – favoured committing to a new referendum now.

53% of the 16% who voted. The idea of committing to a new referendum could only generate support – from Momentum members, surely one of the UK's most pro-EU constituencies – of just over half of respondents, while around 84% did not even participate.

The hardcore, mostly-centrist 'stop Brexit' faction claims that a Labour commitment to a new referendum would result in a surge of support for Labour. But Momentum's results show there isn't even a surge of support for it among Momentum members.
A majority is a majority, let us not forget.
SKWAWKBOX comments: the Poll was "not scientific".

The Momentum poll was not scientific. Geography and demography were not factored in, for example. Nonetheless centrists – and a few in Momentum – have been trying to cast the results as supporting their claim that Labour should commit to a new EU referendum. The Guardian's fake news headline was barely more blatant.
Tendance Coatesy Comments.
It is hard to see how this poll endorsed " the priority of Jeremy Corbyn's intelligent handling of the Brexit issue."
Perhaps Walker could explain how his actions (no mention of  Keir Starmer,  supposedly in charge of this policy,  are in line with these parts of the vote, and how he has stood up to his adviser on Brexit, Andrew Murray who is reported  to favour backing May's Brexit Deal?
92% of members want all Labour MPs to vote down Theresa May's Brexit deal
89% believe a no-deal Brexit should be rejected as a viable option
82% believe Brexit is likely to make things worse for their friends, family and community.
The fact is that a majority did vote for a Referendum now.
Skwawkbox makes no mention of the socialist Left Against Brexit, which initiated this vote in Momentum.
Nor of the diehard sovereigntists pro-Brexit forces in the labour movement and the left who voted Leave with the far-right, UKIP  and the Tories.
What of the non-"scientific" claim?
The previous all member vote of Momentum supporters was in 2018 for Members' Representatives (four for each region.) 13,000 votes were cast – 35 per cent of eligible members. Positions on this "national co-ordinating group (NCG)" also include 4 Momentum members who are Labour public officer holders (of the UK, European or Scottish Parliaments, Welsh or London Assemblies, Elected Mayors or Police Commissioners, or Labour members of a British local authority), 6 members nominated by affiliated trade unions, 4 members nominated by other affiliated organisations (a subject of controversy). Like the consultation on the Constitution of the organisation, is again not comparable to the present ballot.
There have been no previous internal votes on specific issues still less anything comparable to Brexit.
What 'scientific' comparison between the (complex) vote on Momentum's position on Brexit  with the  election of (some) of the Leadership?
What Labour supporter is going to deny the importance of an election to get rid of Theresa May?
But Brexit is a disaster, and cuts us, the left and the labour movement off from the key EU fights for a left project.
Nationalist isolation, the dream of the sovereigntist left, is a dead-end.
The Momentum vote boosts the Left Against Brexit.
********************************
* "On 16 June, in an article headed "Video: Govt puts 'D-notice' gag on real #Grenfell death toll #nationalsecurity", Skwawkbox took up the claim made by grime MC Saskilla on the BBC Victoria Derbyshire programme that the number of victims in the Grenfell Tower fire was far greater than had yet been officially admitted, with as many as 200 people having died.
Skwawkbox used this claim to give credence to rumours that the government was engaged in an attempt to prevent the media reporting the true extent of the disaster: "At the same time, multiple sources told the SKWAWKBOX that the government has placed a 'D-notice' (sometimes called a 'DA Notice') on the real number of deaths in the blaze."
Bob Pitt. June 2017: Skwawkbox — an embarrassment to the Left.
Here is another example of their fake news: "DISABLED CLAIMANTS TOLD: 2 YRS TO GET JOB OR BE SANCTIONED FOR A YEAR."  17th of July. 2017.
2 Responses