In Praise of George Soros.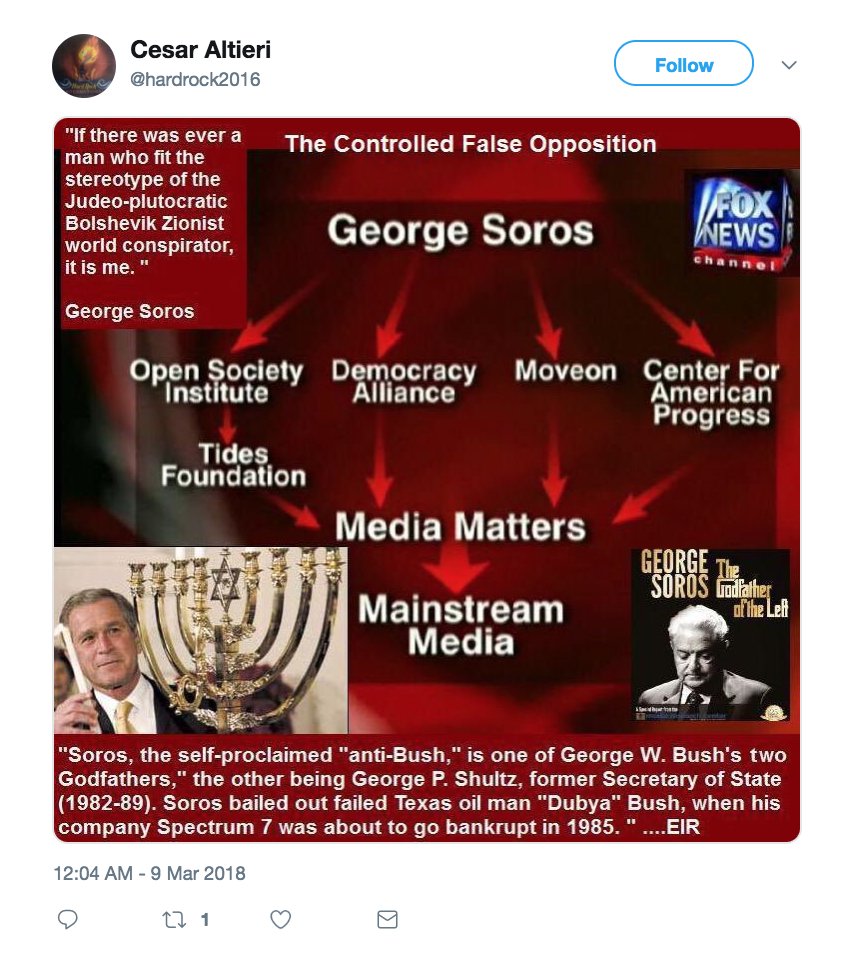 Soros: Open Diamond Geezer and His Enemies.
Frank Furedi, guru of Spiked,  wrote in the Daily Telegraph earlier this year.
My encounter with George Soros's bright-eyed missionaries left me deeply disturbed

Soros does not believe in the legitimacy of borders nor in the authority of national electorates. Consequently he feels entitled to influence and if possible direct the political destiny of societies all over the world. Today it is the future of Britain; tomorrow it might be Italy or Hungary that will be the target of Soros' largesse.

The problem with Soros is not that he is rich. (Note, like the proprietors of the Telegraph, the secretive Barclay brothers).  The rich, like the poor, are entitled to act in accordance with their political views. However, there is something morally wrong when a single individual seeks to use his wealth to alter the will of millions of people who constitute the electorate. It is even worse when an oligarch is able to exercise significant influence over the future of a society that he is not a part of.
Former Revolutionary Communist Party Furedi is not the only disturbed person around:
The Morning Star, happy with millionaire far right-winger Arron Banks backing for the anti-EU cause, and Trade Unionists Against the EU<  threw a wobbly about Soros during the Labour Conference,
The Chuka Umunnas, Anna Soubrys, Tony Blairs, Peter Mandelsons, Vince Cables, Andrew Adonises and sundry nationalist and greenish politicians, bankrolled by George Soros and other financial interests, are linked by their contempt for democracy and their hostility to Jeremy Corbyn, John McDonnell and the socialist policies they champion.
Demonising Soros they join the nationalist far-right.
As the Financial Times points out today:
The Soros conspiracy theory goes global

Three years ago, Hungary's prime minister accused billionaire George Soros of trying to flood the country with Middle Eastern migrants.

In recent weeks, a similar allegation against Mr Soros has emerged in the US: internet conspiracy theorists and some Republican politicians have accused him, without evidence, of funding a caravan of Central American migrants heading for the US border.

Asked last week whether Mr Soros was financing the caravan US president Donald Trump said: "I don't know who, but I wouldn't be surprised. A lot of people say yes."

Mr Soros denies any connection. The frequency with which such unfounded allegations have been aired in the US highlights how divisive the issue of illegal immigration — a favourite campaign theme of Mr Trump— has become. But it also shows how anti-Semitism and conspiracy theories have spread from the fringes to the political mainstream, in both Europe and the US.
Soros can speak for himself. And does:
George Soros has been a prominent international supporter of democratic ideals and causes for more than 30 years. His philanthropic organization, the Open Society Foundations, supports democracy and human rights in more than 100 countries.
As in this:
George Soros is a supporter of Karl Popper's idea on the 'open society'.
In the Open Society and its Enemies  (1945) and the Poverty of Historicism (1957) he attacked 'holism' and the claim, notably by those claiming to be Marxists, to have discovered the 'laws of history' and to subject societies to their closed views. Popper painted a contentious picture of political philosophy. His account of the history ideas, a broad-brush picture of totalitarian inklings from Plato, to Hegel and Marx, is contested. The idea that there is a "falsification""principle in science which demolishes and claim to objective explanations of historical development, how societies work, or how modes of production and class struggle operate, is not one Marxists – of (probably) all stripes –  would agree with. But there are some who would certainly find fault with "total" explanations and the orthodox and Hegelian use of the term "totality" as a category.
Since democratic socialists, including democratic Marxist, stand for open debate and are not afraid of criticism, one can hardly fault Popper for stirring things up.
There is a vast literature on the debates created by these books, open as can be.
And do we disagree with the concluding words of the Open Society and its Enemies?
For to progress is to move towards some kind of end, towards an end which exists for us as human beings. History cannot do that ; only we, the human individuals, can do it;we can do it by defending and strengthening those democratic institutions upon which freedom, and with it progress, depends. And we shall do it much better as we become more fully aware of the fact that progress rests with us, with our watchfulness, with our efforts, with the clarity of our conception of our ends, and with the realism 28 of their choice.

Instead of posing as prophets we must become the makers of our fate. We must learn to do things as well as we can, and to look out for our mistakes. And when we have dropped the idea that the history of power will be our judge, when we have given up worrying whether or not history will justify us, then one day perhaps we may succeed in getting power under control. In this way we may even justify history, in our turn. It badly needs such justification.
Soros' writings on 'reflexivity' need more a a glace oto get to grips with.
But this can surely be met with some sympathy:
Although the primary manifestation of the reflexive process that Soros discusses is its effects in the financial markets, he has also explored its effects in politics. He has stated that whereas the greatest threats to the "Open Society" in the past were from Communism and Fascism (as discussed in Open Society and its Enemies by his mentor Karl Popper), the largest current threat is from Market fundamentalism.
Faced with the kind of attacks Soros has received this is welcome:
Mr. Soros was born into a Jewish family in Hungary, and survived the Nazi occupation as a child in part by posing as the Christian godson of a government official.

After World War II, Mr. Soros fled Hungary for England as the Soviet Union consolidated control in his home country. He worked as a waiter and a railroad porter and studied at the London School of Economics, where he was deeply influenced by the theories of an Austrian philosopher who taught there, Karl Popper. Mr. Popper wrote about the consequences of what he called "closed" and "open" societies — concepts that shaped Mr. Soros's investment strategy and philanthropy for decades.

His daring investments in companies and currencies proved hugely lucrative, prompting The Economist to call him "surely the world's most intriguing investor" in 1987. His decision to short the British pound in 1992 earned his funds a reported profit of $1 billion.

By then, he was turning his attention to democracy-building in Eastern Europe.

Mr. Soros and his foundations supported groups and individuals seeking to bring down Communism, including the Solidarity and Charter 77 movements in Poland and Czechoslovakia. The leaders of both groups would later lead their countries in the post-Communist era.

In Hungary, Mr. Soros distributed photocopiers to universities and libraries as a means to fight government censorship, and he paid for dissidents to study in the West. The recipients included a young Mr. Orban, then a liberal activist.

After the end of the Cold War, with the Open Society Foundations as his main vehicle, Mr. Soros funded new work for destitute Soviet scientists in Russia, paid for free school breakfasts for Hungarian children and set up a college, the Central European University, that later drew the ire of Mr. Orban's government.

In the United States, where Mr. Soros was granted citizenship in the 1960s, Mr. Soros's efforts often won bipartisan applause. A professed admirer of President Ronald Reagan's efforts to topple Communist rule in Eastern Europe, Mr. Soros, who at the time described himself as a political independent, was seen by anti-Communist Republicans as a fellow freedom fighter.

As his activities grew more prominent in Europe, and he began funding drug reform efforts in the United States, he started being cast in the 1990s as a central figure in a shadowy Jewish cabal by extremist figures such as the fascist presidential candidate Lyndon H. LaRouche Jr. and allies of repressive Eastern European leaders who were targeted by groups funded by Mr. Soros.

The theories were initially confined to the anti-Semitic fringe, though Mr. Soros is not closely associated with Jewish or Israeli causes, and in fact has been accused of being anti-Israel and was criticized by Prime Minister Benjamin Netanyahu.

From: How Vilification of George Soros Moved From the Fringes to the Mainstream New York Times. October the 31st 2018.
Here are some serious criticisms of Soros (201*
Throughout his career, Soros has made a number of wise and exciting interventions. From a democratic perspective, though, this single wealthy person's ability to shape public affairs is catastrophic. Soros himself has recognised that "the connection between capitalism and democracy is tenuous at best". The problem for billionaires like him is what they do with this information. The open society envisions a world in which everyone recognises each other's humanity and engages each other as equals. If most people are scraping for the last pieces of an ever-shrinking pie, however, it is difficult to imagine how we can build the world in which Soros – and, indeed, many of us – would wish to live. Presently, Soros's cosmopolitan dreams remain exactly that. The question is why, and the answer might very well be that the open society is only possible in a world where no one – whether Soros, or Gates, or DeVos, or Zuckerberg, or Buffett, or Musk, or Bezos – is allowed to become as rich as he has.
His response:
 I have been a passionate critic of market fundamentalism at least since I first discussed the phenomenon in my essay The Capitalist Threat in the Atlantic Monthly 20 years ago. Moreover, I have been a steadfast promoter of what Bessner calls the "root-and-branch reforms" that could bring about the better world that I and many others desire – for example, I would cite the positions I adopted regarding reforms after the financial crisis of 2008. Anybody who reviews the record will see that my proposals were far from the mainstream "centre left" approach that eventually prevailed. In the same vein, regarding eastern Europe post-1989, Bessner writes: "It was more than a lack of political will that constrained the west during this moment. In the era of 'shock therapy', western capital did flock to eastern Europe – but this capital was invested mostly in private industry, as opposed to democratic institutions or grassroots community-building, which helped the kleptocrats and anti-democrats seize and maintain power." I agree. But Bessner continues: "Soros had identified a key problem but was unable to appreciate how the very logic of capitalism, which stressed profit above all, would necessarily undermine his democratic project. He remained too wedded to the system he had conquered." To the contrary, my interventions were entirely in support of "democratic institutions and grassroots community-building", and I urged others, including governments, to follow me in this approach.

Likewise, Bessner's conclusion that my status "as a member of the hyper-elite and [my] belief that, for all its hiccups, history was headed in the right direction made [me] unable to consider fully the ideological obstacles that stood in the way of [my] internationalism" is unfounded. I don't think I have ever expressed an optimism that history is headed in the right direction. Martin Luther King famously said "the arc of the moral universe is long, but it bends toward justice". I am less of an optimist, which is why I have spent my life actively trying to bend the arc in a positive direction. But recognising that I am a biased evaluator of my life's work, I will submit it to the judgment to history.
George Soros
Open Society Foundations
It is still unfortunate that somebody with money can have a great influence on politics.
But this is hardly 'post-democracy' when Soros has helped stir up democratic action and debate from those excluded by the truly powerful – the right and the nationalists.
If we are unlikely to agree with all of his views then, tough.
He is a respected interlocutor.
And clearly, from the enemies he has: Soros is a diamond geezer.
2 Responses