Mélenchon on Police Inquiry into La France insoumise's funding: "La République, c'est moi!"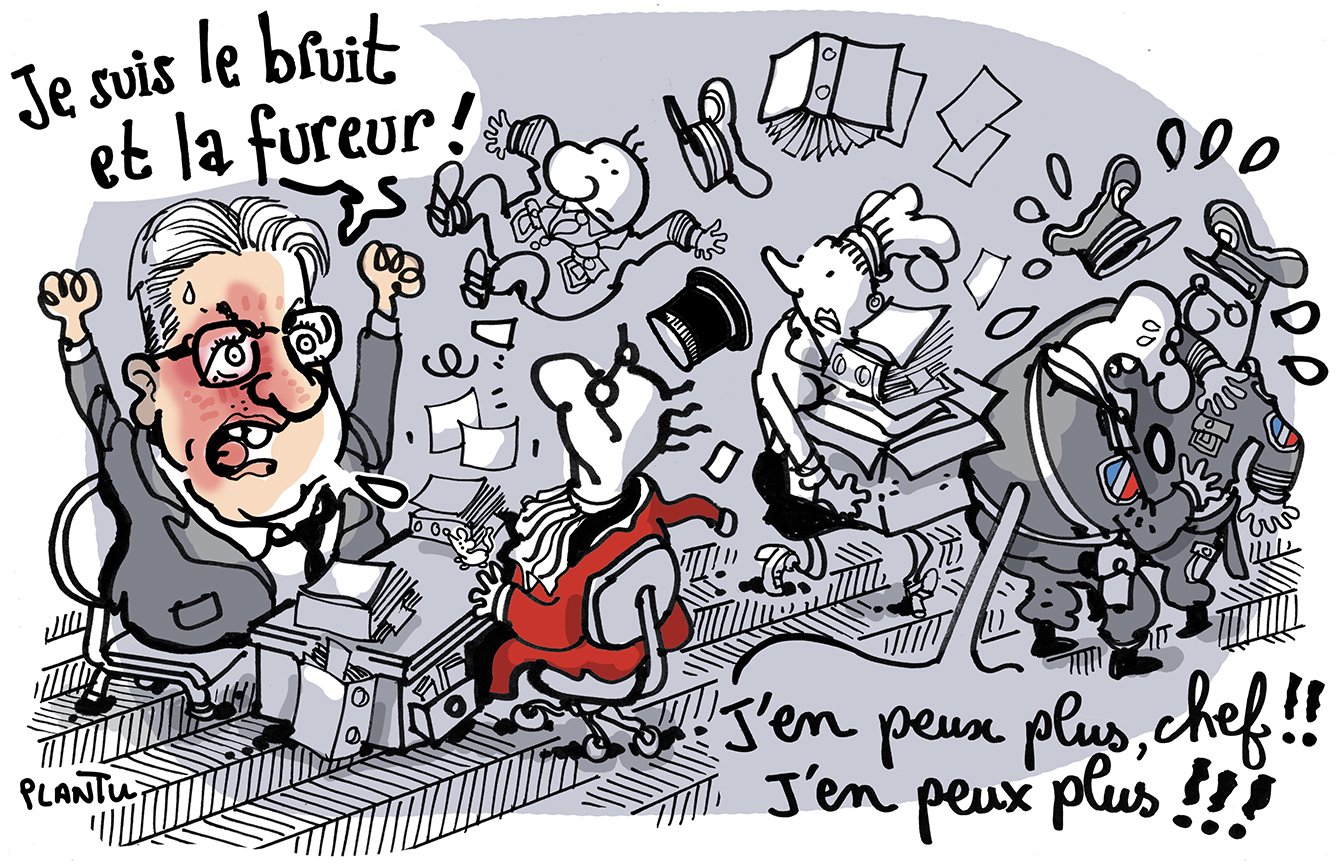 Mélenchon's sound and Fury: what does it signify?
Investigations have been opened into allegations of violence and threats against Police agents after incidents during the search of the headquarters of La France insoumise on Tuesday (October 16th).
The case, which arose from allegations of fictitious jobs in the European Parliament (that is, diverting EU funds into the movement's hands to pay party employees in France) and the other examining funding of Mélenchon's French presidential campaign last year. ,  and the finance of Jean-Luc Mélenchon's Presidential campaign of 2017, has created an unholy row.
France 24 reports,
Anti-corruption investigators on Tuesday raided the home and party headquarters of French far-left leader Jean-Luc Mélenchon, who broadcast the raids live from his mobile phone.
The raids, part of a long-running investigation into the alleged misuse of European Parliament funds to pay party employees, took place at the offices of La France Insoumise (France Unbowed) in central Paris and Mélenchon's private residence.

Shouting "Resistance!", hundreds of supporters gathered outside the party's headquarters to protest against the police action.

Police blocked Mélenchon from entering the premises as the far-left firebrand threatened to break down the door if he was not allowed in.

"Who gave you these orders?" he demanded a police officer blocking the entrance. "I am a parliamentarian!"

Amid the scuffle Mélenchon yelled, "I am the Republic."
This was the "hallucinatory" scene that ensued,
La France insoumise issued a series of furious statements, stating that the inquiry originated in malicious complaints from the far-right, and the was motivated by President Macron's wish to discredit his most serious rival (at – at most – around 25% of public support).
They have issued this video of the events claiming that there was a  "will" to intimidate behind the actions.
Coup de force policier, judiciaire et politique
LFI asserts that the French president himself received funding (donations) that infringed laws regulating party finance.
Whatever the truth of these claims (and little can be ruled out in this murky world) Mélenchon's barking response won the affection of the wits of the Internet.
Here is LFI's own version of events:
Here is one of the countless parodies:
"You pour water on the tea-bag, you do not put the tea-bag in the water. Never!"
You can see more here, Pose ton  Mélenchon.
Oddly not everybody sees the funny side of this.  Nor have the media and political figures dismissed the unseemly display of anger as "just one of Mélenchon's little tantrums".
Showing that after this outburst he has not lost the ability to rub people up the wrong way Merluche yesterday mocked a journalist's Provençal accent, in a fashion some might suggest was racist….
Mélenchon se moque de l'accent d'une journaliste avec un ton méprisant
The harshest criticism is not the he made a fool of himself but that the leader of the rally, La France insoumise failed to respect the authority of the Law of the Republic ignoring the dictum that, "nul n'est cense ignorer la loi", (nobody should ignore the law).  Or in plain language, no-one is above the law.
Le Monde's Editorial today there is talk of his "deadly rage".
The tone is, to say the least, severe.
Voilà un député, qui plus est président de groupe, qui conteste violemment, entrave et veut discréditer une procédure judiciaire, certes spectaculaire et déplaisante pour les intéressés, mais, quoi qu'il en dise, parfaitement conforme aux règles de la procédure.

Here is a member of Parliament, who is also the president of a Parliamentary group, who violently contests, obstructs a judicial procedure, and who wishes to discredit it,. This is certainly spectacular and unpleasant for those concerned, but, whatever he says, the procedures followed in this case are perfectly in accordance with the rules.
A widely shared view is that the leader of LFI has shown himself incapable of self-control, that he loses his nerve in the face of adversary, and is thus unsuited to hold any position of power.
Rumours that he will be appearing in a London pantomime with Ken Livingstone have not been confirmed.
This will no doubt interest those on the British left who brought the leader of LFI to speak at a meeting outside the recent Labour Cofnerence.
Perhaps a world tour, with Jacobin, is on the cards.
In short, his behaviour has obscured the real issues arising from this judicial operation, summarised here;
The row over Mélenchon has become sufficiently loud to reach even the homegrown English language press.
Allegations relate to staff payments and 2017 presidential campaign accounts
French police have questioned leftist leader Jean-Luc Mélenchon in connection with two funding probes after raids on his home and party headquarters this week.

The firebrand leader of the France Unbowed party, who has led opposition to President Emmanuel Macron's economic reforms, was summoned to the headquarters of the anti-corruption bureau in the Paris suburb of Nanterre.

Police are investigating allegations that he used EU funds for European parliament assistants to pay staff for work carried out in France. They are also looking into allegations of irregularities in his 2017 presidential campaign accounts.

The 67-year-old MP, who won 20% of the vote in the first round of last year's presidential election, has denied any wrongdoing and claims he is the victim of a political witch-hunt.

He reacted furiously to the raids on his home and party headquarters on Tuesday, shouting at police officers, shoving a prosecutor and attempting to force open the door of his party's offices during the search.

The former Socialist minister has been strongly criticised over his outburst, with members of Macron's government and centre-right Republicans accusing him of seeking to intimidate public servants and acting as if he were above the law.

Mélenchon, who is famous for his tirades (Note, should have read, "famous for his tirades, full stop") against globalisation, the EU and elites, admitted later that things "got heated" but said he had "no regrets".

The Paris prosecutor's office is investigating him and other party officials for "threats and acts of intimidation against judicial authorities" and "violence against people carrying out public duties".

Mélenchon's party has filed a counter-complaint alleging police violence.
6 Responses