Historic Gains for Greens and Radical Left Workers' Party in Belgium Local Elections.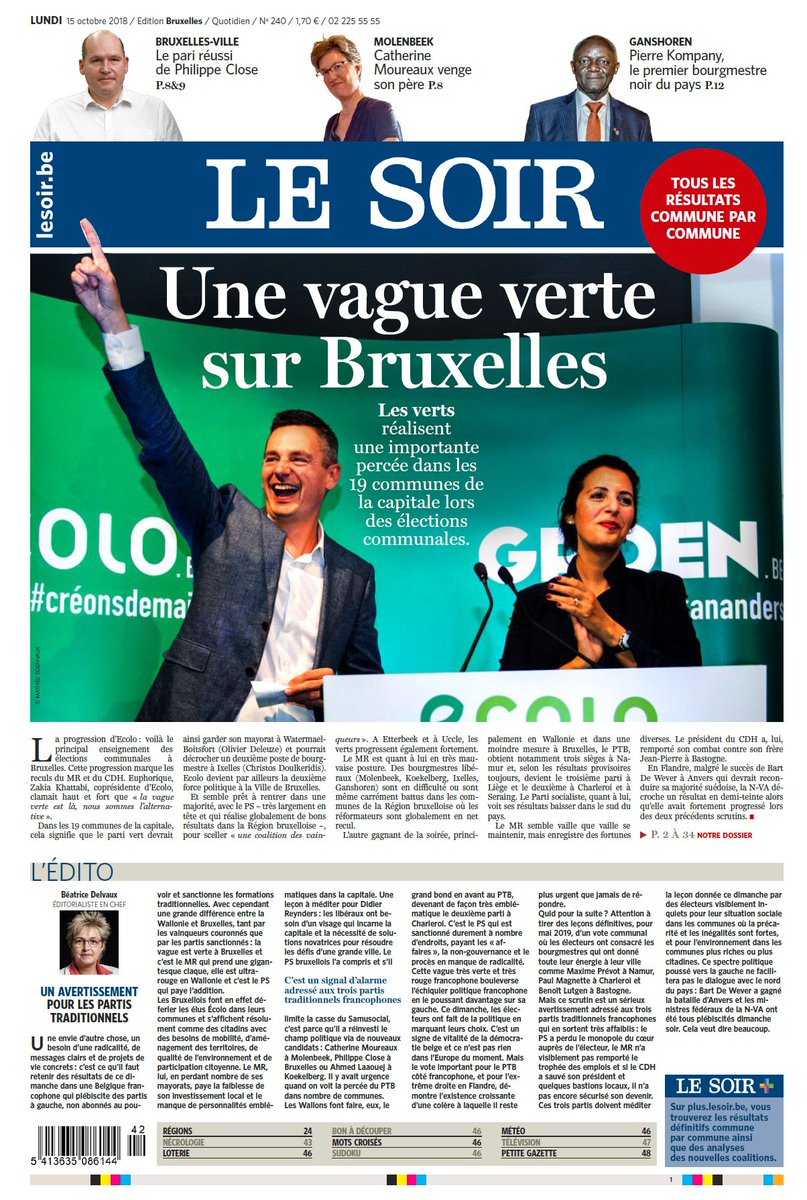 Greens and Radical left on the Rise in Belgium. 
Greens and other smaller parties hammered traditional political heavyweights in local elections Sunday in Belgium, in what has been billed as a rehearsal for next year's federal and European elections.
France 24.
In Brussels, the Green party Ecolo-Groen made a breakthrough in the local ballot, finishing first and second in a number of local councils.

Overall, the party led by Zakia Khattabi and Patrick Dupriez, finished first in four Brussels Region districts, including the EU district of Ixelles, and won up to 29 percent of the vote in other districts.

These results could lead the party to having a number of mayors in the Brussels region, where they currently only have one, in Watermael-Boitsfort.

The election's other big winner in the Belgian capital was the leftwing Workers Party (PTB/PvdA), especially in the city's former industrial districts.

The pro-sharia Islam Party lost its seat in Brussels's Molenbeek district, winning less than 2 percent of the vote.

In Flanders, the Greens also made gains, although the separatist New Flemish Alliance (N-VA) — which advocates for the separation between French-speaking Wallonia and the Flemish Flanders — maintained its leadership there.

The ruling socialists remained dominant in French-speaking Wallonia but they were challenged by the rising PTB/PvdA in a number of local town halls.

Commentators say these elections are a mirror for the national, regional and European elections to be held in Belgium in May.
The French version of the France 24 article points out that in the Flemish areas  also points out that  extreme right anti-immigrant  Vlaams Belang has returned with a  strong showing.
Le Vlaams Belang, le parti anti-immigration qui concurrence la N-VA sur sa droite, a enregistré un retour en force dans plusieurs cités flamandes et a revendiqué la place de 3e force politique de la région, derrière les chrétiens-démocrates du CD&V.
Le Monde notes that the Workers' party, le Parti du travail (PTB, gauche radicale) scored 15, 8 % à Charleroi, 16,5 % à Liège. Le parti marxiste réalise aussi 8,9 % à Anvers, 11,6 % à Bruxelles ville et 13,6 % à Molenbeek, où le PS lui propose une alliance, alors que la direction du parti condamnait jusqu'ici les positions jugées populistes de cette formation.
"En Belgique, forte progression des écologistes et de la gauche radicale aux municipales."