Trade Unionists Against the EU – "Former" Leading Communist Party of Britain Member worked with Arron Banks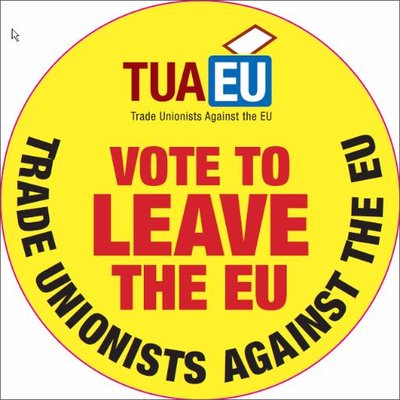 Worked Hand in Hand with Hard Right Millionaire Arron Banks.
Trade Unionists Against the EU was a key front for the Brexit left, supported by, amongt others, the Morning Star and the Socialist Party.
It is a strange beast, as today's Unherd outpouring from their national Organiser Paul Embery illustrates,
…for those of us on the more traditional Left, the concept of family, far from being antithetical to our socialism, is the very essence of it. It is within the family unit that we first learn about obligation, sacrifice, loyalty, compassion and solidarity. It is one place where the common good will almost always transcend self-interest, where you are in every sense your brother's keeper. What better example is there of socialism in action?

That's why we socialists should defend the family unit against all-comers. And that means resisting not just the cultural war against it, but the economic one too. Austerity, low wages and poverty have all weakened family ties, as has the explosion in the number of families in which both parents go out to work, often not through choice but financial necessity.

..

Confucius had it right 2,500 years ago when he said, "When there is harmony in the home, there is order in the nation."

Why won't our spineless politicians stand up for the family?
In a more traditional vein Trade Unionists Against the EU made much of their imaginary support amongst the European left.
It is true that some on the Continental  left – generally known as 'sovereigntists' and others who could be called anglophobes – resented the UK and some may have backed Brexit.
I recall one of the leading figures of TUAEU,  Enrico Tortolano, speaking loudly in public about his internationalism, and citing in evidence the 'millions' of Greeks who has stated that they wished the 'Leave' campaign would win.
Yet, as we known, the Greeks actually voted in a pro-EU left government, for all its faults, led by Alexis Tsipras.
The only concrete evidence of this pan-European  Lexit alliance,  came from a, they claimed at the time, a mass Paris Rally. In reality this was a hook up with the French trotskyist splinter (too small to stand in the most recent Presidential elections), the Parti ouvrier indépendant démocratique, (POID One of its best known members, Gérard Schivardi,was the last Presidential candidate (standing on a platform of backing for local Mayors' power)  from this current, in 2007. He got  0,34 % of the vote.
Is this an "internationalist" movement?
POID is known for its support for reasserting  French National sovereignty against the European Union. The EU, they assert, has deprived Parliaments of their sovereign will, and reduced them to a subsidiary role to the EU  which imposes its will directly on nations. ("Parlements privés de toute velléité de souveraineté étant réduit à un rôle subsidiaire, les décisions de l'Union européenne s'imposent directement à toutes les nations. La Tribune des travailleurs).
That particular jamboree (2017) can be viewed here: LE GRAND MEETING INTERNATIONALISTE DE PARIS PORTE DE CHARENTON' en 20 minutes et version sous-titrée:
More recently Trade Unionists Against the EU has developed a good rapport with the Spiked-on-Line linked Sovereigntist, grouping, the Full Brexit, which includes Murdoch's Man in Brussels "The founding statement of a group called 'The Full Brexit'. Good to see the statement signed by some well-known figures in the labour and trade union movement." (5th of July): Trade Unionists Against the EU
Yesterday John Rogan  published:
Lexit and Brexit collaboration-what did the Morning Star know?
One long standing Lexiter is leading Communist Party of Britain member Brian Denny (also of the RMT union who backed Brexit). He has written extensively on the need to get out on the CPB's website ("Trade Unionists need to take the lead against the EU"14 Aug 2015) and was a co-ordinator for NO2EU (Lexit electoral alliance), organiser for the ("Eurosceptic Labour Movement") Campaign Against Euro-Federalism (CAEF) and a founder of Trade Unionists Against the EU (TUAEU).
Denny's contributions also take up some space (see here)  on the Trade Unionists Against the EU site.
Rogan continues,
Denny (CPB) and Banks (Ukip) worked together to maximise the Leave vote. Here's an extract from Arron Banks's "Bad Boys of Brexit" (28 Jan 2016) where Banks saw Labour voters as key to winning and the need to fund an anti — TTIP (Transatlantic Trade and Investment Partnership) leaflet produced by Trade Unionists Against the EU (TUAEU).
Here is some evidence of the collaboration between the leading Communist and the far-right Brexiteer.
Rogan Notes,
Arron Banks is currently under investigation by the Electoral Commission for funding of Trade Unionists Against the EU (£54,000) and other organisations. Some more background to this can be found here and here.
So far we have heard nothing from those accused of collaboration with the hard right.
Brian Denny, meanwhile, regularly retweets Spiked-on-Line….
47 Responses