Venezuela Hyperinflation at the One Million Mark as Maduro Regime Faces Breakdown.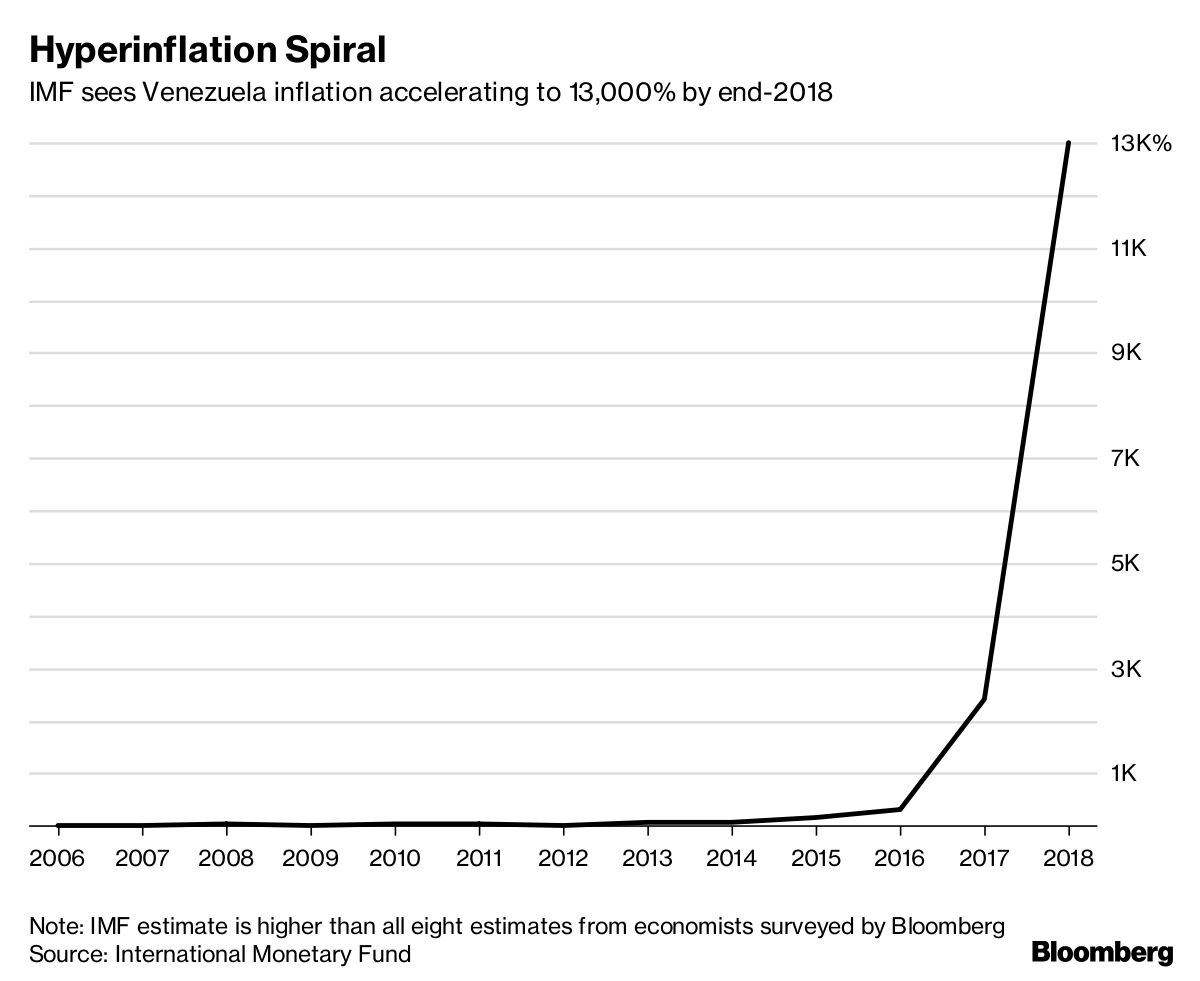 Venezuela Hyperinflation Index Reaches the One Million Mark
…just two years ago, when we launched the Bloomberg Cafe Con Leche Index, a coffee cost 450 bolivars. Or that today's price is the equivalent of almost one-fifth of the monthly minimum wage. Or that to buy a cup with the most common bill in circulation — the 100-bolivar note — you'd need to gather up a stack of 10,000 of them.
Libération 22nd of June, François-Xavier Gomez.
In Venezuela, the minimum wage has now been raised  to 1 dollar.

For the fourth time this year, President Nicolás Maduro has raised the minimum wage for Venezuelans. On the 1 st July it will pass to  million bolivars, against 1 million since 1 st May To this sum is added a monthly food voucher for a value of 2.2 million bolivars. On 1 st January, the minimum wage stood at 250,000 bolivares. The inflationary spiral that is devastating the country's economy renders any attempt at conversion useless. The government keeps the figures of the price rises hidden from its own public, while external sources (World Bank or International Monetary Fund) put them  at 2,700% for 2017, with a forecast at 13,800% for this year.
These incredible  figures mean that a month's minimum salary will buy you, " deux bouteilles d'huile, ou un kilo de poulet, ou une douzaine d'œufs" two bottles of cooking oil, a kilo of chicken and a dozen eggs.
More than 120,000 Venezuelans have formerly asked for asylum in Peru alone – outnumbering those fleeing to the USA,  which is overwhelmed by the flood of refugees who total more than  353.000 of whom 16.000 are children. They have added to a country's difficulties where already 60% work in the 'informal' economy.
The Maduro 'Bolivarian revolutionaries' – once the best known example of 'populism' claiming to be on the left and a central  inspiration for some European left leaders, such as the Spanish speaking Jean-luc Melechon (MÉLENCHON : "CHAVEZ, C'EST L'IDÉAL INÉPUISABLE DE L'ESPÉRANCE HUMANISTE, DE LA RÉVOLUTION") – are trying to hold onto power through repression.
El estado de derecho está "virtualmente ausente" en Venezuela.(Noticias ONU).
Rule of law 'virtually absent' in Venezuela, UN report says. Government forces carry out killings with impunity.
Guardian 22nd of June,
Government security forces in Venezuela carry out unjustified killings without any apparent consequences, as the rule of law is "virtually absent" in the country, according to a new report by the United Nations.
The UN human rights office called on the government to bring perpetrators to justice and said it was sending its report to the international criminal court (ICC), whose prosecutor opened a preliminary investigation in February.

The report published on Friday cited "credible, shocking" accounts of extrajudicial killings of young men during crime-fighting operations in poor neighbourhoods conducted without arrest warrants. Security forces would tamper with the scene so that there appeared to have been an exchange of fire, it said.

"The failure to hold security forces accountable for such serious human rights violations suggests that the rule of law is virtually absent in Venezuela," said Zeid Ra'ad Al Hussein, the UN high commissioner for human rights. "The impunity must end."
In the left-leaning Vice Tommy Walters reported last week  on those who seek to deny these realities.
Why Are People on the UK Left Supporting Venezuela's Authoritarian Regime?
Prominent Labour figures held a gathering in London to show their solidarity with a human-rights abusing government.
The obvious irony of denouncing other countries' human rights records while simultaneously ignoring the Venezuelan government's own crimes seemed to be lost on many. It would only have taken Williamson a second to find the numerous videos and reports from international human rights organisations documenting unlawful detentions and the repression of protesters in Venezuela. As the VSC builds closer links with UK trade unions, such as Unite and the Transport Workers Federation, the Venezuelan government continues to imprison its own union leaders.
Today, any remnants of the optimism of the deep social reforms of Maduro's revolutionary predecessor Hugo Chávez are long gone, replaced by a successor who turns to violence and coercion to keep his citizens in line. Emblematic of this is the perpetual imprisonment of Leopoldo López, an opposition leader who is currently under house arrest, and has been described by Amnesty Internationalas "deprived of his freedom" in a "politically motivated attempt to silence dissent". At the meeting, Amnesty International was widely discarded as being funded by "neo-liberals", while the single mention of López dismissed him as an illegal provocateur "rightly convicted of fermenting street violence".

To explain the dismal economic performance, the VSC blamed US imperialism, while ignoring the role of Chavez's years of high borrowing and over-reliance on oil revenues. The Venezuelan economy had been contracting for four years before Trump imposed sanctions last year.
True to form the last few days have seen the Morning Star has rushed to defend the predatory clique running Venezuela in the name of 'socialism'.
OLIVER VARGAS "responds to an article by liberal hipsters Vice and its misrepresentation a recent Venezuela Solidarity Campaign event."
Calling the above an "episode in red-baiting" the author flays around trying to find the cause of the economic difficulties of the country in the policies and actions of the comprador clique that's taken over the mantle of left populism.
Nothing to do with them: it's about:
The fact that the price of oil crashed almost overnight in the first year of Nicolas Maduro's presidency is ignored.

The crippling sanctions are ignored. The siphoning of essential goods across the border by Colombian paramilitaries is ignored.

The distorting effects of currency speculation by international finance are ignored.

The economic impact of the wave of opposition riots, vandalism and blockades is ignored.
Maduro must have the healing powers of a living saint to keep people in monthly eggs and cooking oil, with a bit of poultry, in these conditions and after all these attacks!
With an airy wave of the calloused toiler's hand Vargas dismisses reports (by the UN amongst others) about repression.
"Intimidation", you're having a laugh, "After all, Chavistas have been putting up with personal insults for much longer."
The real problem is "pernicious terrorism that citizens have suffered at the hands of the opposition."
With a call to order Vargas thunders:
Chavez represented the first successful defeat of the "end of history" and US triumphalism.

In those times of defeat for the left, Chavez built an economy that provided both significant GDP growth together with equality. He combined that with a thoroughly internationalist outlook that encouraged social movements around the world.

The huge changes in the country together with popular mobilisation mean that those who had been excluded from politics for 500 years were finally able to take leadership of their own country for the first time.

Maduro is the continuation of that legacy, though with an incredibly difficult external situation as the key factor separating them.

For all these reasons, I expect Chavez will pass into popular folklore as Che Guevara has done. Western writers may oppose that and the movement he represents but if they're to write on it then it is incumbent on them to at least try to objectively understand why Maduro and the Bolivarian revolution still have the energetic support of the poor majority in Venezuela.
Human Rights Watch will disagree:
5 Responses