The Full Brexit: Alliance of Labour Patriots, Spiked-on-Line, Immigration Obsessives, Left Sovereigntists and other Oddballs.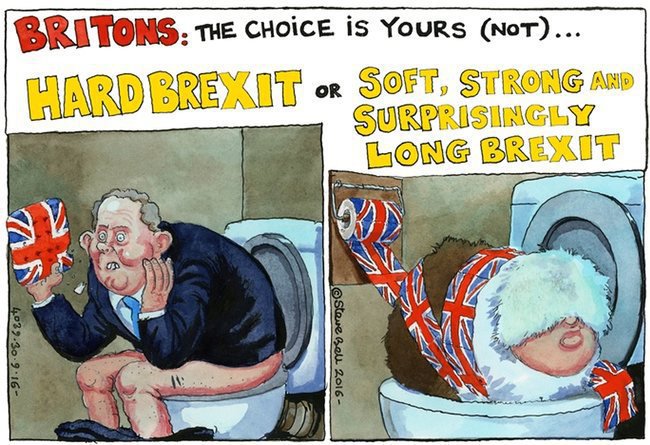 Full British Brexit'. Not 'bog roll Brexit'!
What does a leader of Trade Unionists Against the EU, concerned about 'easy divorce' and immigration, somebody who defends "Flag, faith and family" and who (2011), wanted Labour to be an organisation, "that involves those people who support the EDL within our party", a prominent contributor for the left-wing magazine Jacobin, a founder of a new Social Democratic Party, the  former editor of Prospect magazine, a pamphleteer for  Labour Leave, a Harvard Professor, Murdoch's Man in Brussels, a well-known figure in the British Communist Party (CPB), and a small battalion of former members of the Revolutionary Communist Party and contributors to Spiked-on-Line, have in common?
Answer: THE FULL BREXIT
The Full Brexit is not a political party. We do not all agree about each and every policy or document on this website. But we do agree, first, that the left's proper role is to be the architect of a better, more democratic future and, second, that a clean break with the EU is needed to realise that potential.

To this end, we will provide analysis of the present political situation and proposals for the future. We will engage with the public, politicians and anyone who shares our democratic ethos. And we will conduct our work in solidarity with those on the left in other European countries to develop a genuinely internationalist and democratic politics of national sovereignty.

Brexit offers an unprecedented opportunity to reshape Britain for the better. Please join us in that mission.
The common sovereigntist thread (Popular Sovereignty and "Taking Back Control": What it Means and Why it Matters), the links with Spiked-on-Line (Revolutionary Communist Party, RCP) of the signatories below  – you might be tempted to call it a Brendan O'Neill front – and the ever more right-wing drift of these people makes this a more authentic  warning from Hell.
Beginning with Paul Embery and Trade Unionists Against the EU recent comments on Trump splitting up arrested migrant families.
Founding Signatories
​Christopher Bickerton, University of Cambridge. Extensive Spiked on Line Archive.
Philip Cunliffe, University of Kent, "University of Kent's Dr Philip Cunliffe: Brexit is a triumph for the people over the elites."
Paul Embery, Trade Unionists Against the EU:  The left-wing zealots are threatening our freedom.
…..try discussing with these people – the self-appointed guardians of enlightened society – the idea that immigration levels are too high and should be reduced. You're a xenophobe. Try saying that kids are better served being raised by two parents, one of each sex. You're a homophobic bigot. Don't believe someone with the anatomy of a man can suddenly become a woman just because he says he is? Transphobe.
Thomas Fazi, Author and Journalist. 'Left' Sovereigntist: WHAT IS NEEDED IS A PROGRESSIVE VISION OF NATIONAL SOVEREIGNTY May 2017.
Maurice Glasman, House of Lords. Blue Labour. "Work, family, community." wanted Labour to be" a party that brokers a common good, that involves those people who support the EDL within our party" (Labour isn't working. 2011.)
David Goodhart, Author and Journalist. Founding editor of Prospect. The Road to Somewhere 2017. "A fault line in Britain existed, he suggested, between Somewhere, those people firmly connected to a specific community which consists of about half the population, "Inbetweeners", and Anywhere, those usually living in cities, socially liberal and well educated; the latter being only a minority of about 20% to 25% of the total, but in fact had "over-ruled" the attitudes of the majority."
Matthew Goodwin, University of Kent. "Concerned" about Immigration, "Brexit Britain is in denial over immigration Debate since Brexit referendum has failed to tackle immigration — the key motivator behind the Leave campaign."Politico.
Pauline Hadaway, University of Manchester. Spiked-on-Line extensive Archive.
James Heartfield, Author and Journalist. "In the 1980s he was a member of the Revolutionary Communist Party." Fanatical Sovereigntist.
Kevin Hickson, University of Liverpool.
.. Kevin left the Labour Party in the summer of 2017.  Never a fan of Jeremy Corbyn, he accepted the outcome of the leadership contest but was increasingly uneasy with the sneering attitude of some within the Labour Party to the working class and all things British.  This reached its peak, he felt, in the constant attempts to undermine, if not stop the Brexit process.  It was this which led to him resign from the party.

With his belief that political principles are futile unless put into action he joined the SDP which is the only party, Kevin believes, to offer the correct combination of left-of-centre social and economic policies and a commitment to uphold the will of the people to leave the European Union. Having previously worked closely with Labour Leave on Brexit, Kevin is now the organiser for SDP's North West region and keenly engaged in raising the profile of SDP, locally and nationally.
Lee Jones, Queen Mary University of London.  THECURRENTMOMENT 
Puts its faith in the Mother of Parliaments, "as The Current Moment argued all along, Brexiteers made the mistake of failing to trust representative democracy, and instead rushed to trigger Article 50 and marched unprepared straight into the EU's favoured terrain: meeting-rooms safely closed off from democracy where they may bully smaller negotiating partners."
Costas Lapavitsas, School of Oriental and African Studies (author of the recent so-called 'left' article backing Brexit in the US Jacobin magazine).
Tara McCormack, University of Leicester.  Spiked on Line.  19th of April 2018. SYRIA, THE TIMES AND FREE SPEECH."The Times states that by questioning the British government's stance we are apologists for Assad. More absurd still, it claims that by questioning and debating British foreign policy we are somehow shutting down debate."
March 2018: THE EU: WHERE DID IT ALL GO WRONG?
"Krastev argues that the migration crisis in the EU has pulled national politics or, perhaps to be more precise, the national electorates, back into the picture, as the borderless, cosmopolitan ideal is forced to confront the reality and impact of migration, and attendant concerns over welfare, identity and rights."

"Moreover, questions around identity and values do need to be discussed freely. It is certainly reasonable to ask if significant migration of other religious groups will impact on post-liberal or conservative values in Europe. Yet such debate is considered unacceptable by the EU, leaving the resentments to be expressed by right-wing populist groups."
Jasper Miles, Goldsmiths College, University of London. Joint author of Labour Leave pamphlet, "The Labour Case for Brexit."
Peter Ramsay, London School of Economics. Linked to THECURRENTMOMENT 
"…as The Current Moment argued all along, Brexiteers made the mistake of failing to trust representative democracy, and instead rushed to trigger Article 50 and marched unprepared straight into the EU's favoured terrain: meeting-rooms safely closed off from democracy where they may bully smaller negotiating partners."
Richard Tuck, Harvard University​. "Tuck has long believed that Brexit would benefit the British Left — both by killing the drive for Scottish independence, and by opening up a new space for radical left politics in Britain." Policy Exchange 2017.
Bruno Waterfield, Murdoch Journalist – Brussels Correspondent — The Times.
Philip B Whyman, University of Central Lancashire. Sovereigntist fantasist, "Beyond Brexit: how to build an independent British economy."
Suke Wolton, Regents Park College, University of Oxford. Author of "Marxism, Mysticism and Modern Theory. 1996. Not known to have moved on since.
Amongst others attaching themselves to this bandwagon I note Mary Davis (Communist Party of Britain).
People's Vote.
We will doubtless hear today dire warnings from the Brexit left about splitting the labour movement by marching with anti-Brexit campaigners in the People's Vote Campaign.
Given their own background in dividing the Labour and trade union vote to Remain this is like hearing Satan preaching against Sin.
But it's Full Brexit alliance that ought to be kept  in mind when hearing attacks on the People's Vote campaign against Brexit.
What a bunch!
20 Responses