Fall out from Anti-Semitism and Barnet, from Morning Star to Conspiracy Site Skwawkbox .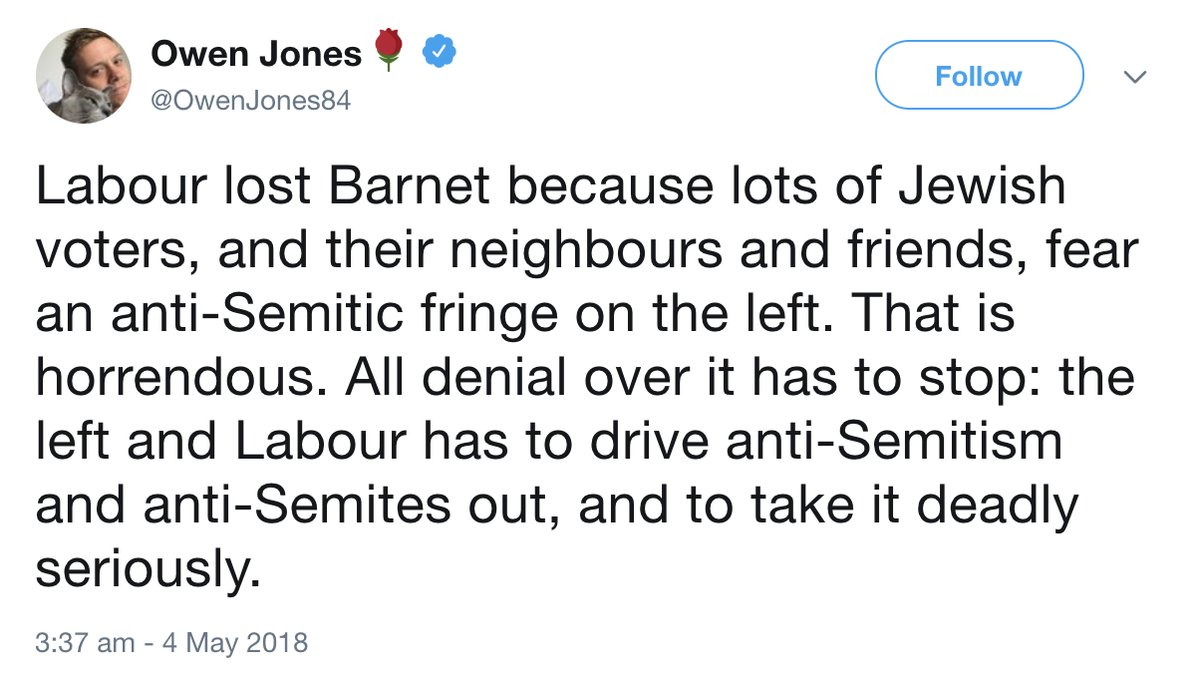 Owen Jones Talks Sense.
Hat-tip Jim D.
Letter in today's Morning Star:
Before the idea takes root among Star readers that the Barnet Labour group of councillors is a nest of "hard-core of the Labour right" determined to "attack the left and their own party" (M Star May 5-6), I can assure anyone that is willing to listen that that is far from being the case.

On the electoral impact of perceptions of anti-Semitism, as on other issues, denouncing the messenger does not change the truth of the message. Group leader Cllr Barry Rawlings and ex-councillor Adam Langleben just told it as it is – the great majority of of Labour-inclined Jewish voters in Barnet are horrified at the national party's response to incidents of anti-Semitism in the party and far too many have withdrawn their support, while Jewish Tories are far more certain to turn out against us.

And not voting for Jeremy Corbyn as leader does not put any of us in the "hardcore of the Labour right" or make us some sort of traitors to the party. Apparently the Star's contributor Kevin Ovendon has belonged to more than one party opposed to Labour, unlike Jeremy Corbyn who, like me, has fought the party's cause under a variety of national leaders.

Belatedly, Jeremy has acknowledged that we have to do better on anti-Semitism and, yes, it has been weaponised against him.

Weaponising issues is mainstream activity in politics. It is time that all the left recognised, as Momentum has done on this issue, that your opponents raising an issue does not imply in itself that the issue is fabricated or exaggerated.
GEOF COOKE
Chief Whip, Barnet Labour group and Morning Star reader.
Cooke is restrained.
Kevin Ovendon is the former bag-man for Gorge Galloway's Respect party. He stood by when there were calls to make the organisation, "Zionist free" – to cite one of the many anti-Semitic incidents that marked the organisation's career (Respect Party:Wikipedia)
This is what Ovendon wrote in the Morning Star.
The furore about "Labour anti-semitism" doubtless had an impact. How could it not? It is not only that it has been weaponised by the Tories. It has been adopted for two years by a hardcore of the Labour right to attack the left and their own party.

And that includes by Labour councillors in Barnet — all but two of whom backed rivals to Corbyn in the leadership elections. Far from helping to deal with the issue, they've taken up the claims emanating from the Tories.

So the leader of the Labour group Barry Rawlings says it all should have been dealt with two years ago, but it was the Labour general secretary supported by the right over those two years who failed to do so or to implement the comprehensive recommendations of the Chakrabarti report dealing with the matter.

Unsurprisingly, that has not stopped anti-Corbyn elements of the Labour Party, in collaboration with the Tories, trying to use the result not to seek the implementation of that report but to reheat the political assault.
Ovendon appears to think that concern on the issue of anti-Semitism is "weaponised" – he later talks of  "sabotage".
What words does he have for the Morning Star's opposition to Labour policy on Europe, its backing for Brexit, and its support for the Arron Banks funded Trade Unionists Against the EU?
More fall out has appeared in the shape of Skwawkbox.
Labour Has Betrayed Jewish Voters – Corbyn Must Take Action Now
Tonight I will ask that Corbyn comes to Barnet and apologises to the Jewish community.
Former Labour councillor for West Hendon
'Chalutzim' means 'pioneers' in Hebrew. Many of the early founders of the Labour Movement were Chalutzim from the mainstream Jewish community. That is why what happened last Thursday in the local elections is so distressing. It was the first complete electoral collapse of Jewish voters for Labour.

……

But some wish to paint a different picture. The alt-left blog Skwawkbox, which has a record of spreading fake news, claims that because Labour increased its share of the vote in Barnet and in Gateshead, there is no problem.

In response, and to his credit, John McDonnell, the Shadow Chancellor, messaged me and asked for a meeting to discuss this issue and the wider issue of Labour antisemitism and its impact on Barnet. I am seeing him tonight and what I will be telling him is that fake news, conspiracy theory websites such as Skwawkbox provide a dark place for antisemitism to fester and be nurtured. Antisemitism's dark past started with conspiracy, ending in gas chambers. History has taught us this. He and others should come out and say clearly that such websites are not part of our Labour movement's discourse and that they are detrimental to our success and to our anti-racist, evidence-based Enlightenment values.

I look forward to talking to John. I am going to tell him hard truths: that there was rarely a canvass session over the past month in Barnet where we did not lose votes over antisemitism. And I am going to ask that he, Jeremy and the Shadow Cabinet come to Barnet as soon as possible to apologise to our activists and the Jewish community. The issues raised by the Board of Deputies and the Jewish Leadership Council remain outstanding. The Party can no longer hide behind process.
Huff Post.
Previously  Langleben had said in the Huff Post.
As I am filming this, an alternative left-wing news website called Skwawkbox is going through all of the tweets attacking me, as a Jewish Labour Party member, now former councillor, that accuses me of being a Mossad agent, that accuses me of trying to undermine the leadership, accuses me of all sort of things and it is propagating this bollocks, propagating anti-Semitism."

He added: "The Labour leadership can do something very simple and easy and say that these alternative fake news websites do not speak for them.
I was a Jewish Labour councillor in Barnet – and I warned Jeremy Corbyn what was coming.
 ADAM LANGLEBEN.
On the doorstep I heard lifelong Labour voters say anti-Semitism was driving them from the party. When I told Labour HQ, I was ignored.
We were asked about Jackie Walker's views on Jews and the slave trade. We were asked about Ken Loach's Jew-splaining. We were asked about Ken Livingstone's Holocaust revisionism.

….

Ken Livingstone's repeated outrageous ramblings on Zionism, Hitler, the Holocaust and Jews – and the party's lack of action – compounds the situation. The more I think of his words, the more I hear implication of what he says – which is that Jews were complicit in their own genocide. Nothing is more offensive than that. Surely that cannot be compatible with membership of the Labour Party?

…

Since we lost in Barnet, our Labour candidates have had lots of support from MPs, Momentum supporters, members and others who are desperate to fight anti-Semitism. However, there is a small but very vocal hard-left group within the party – certainly not the majority even within Momentum – within which this sickness festers, and it is to these people that Jeremy Corbyn needs to clearly state: this is not in my name.
Here.
5 Responses