The Anti-Imperialism of Idiots.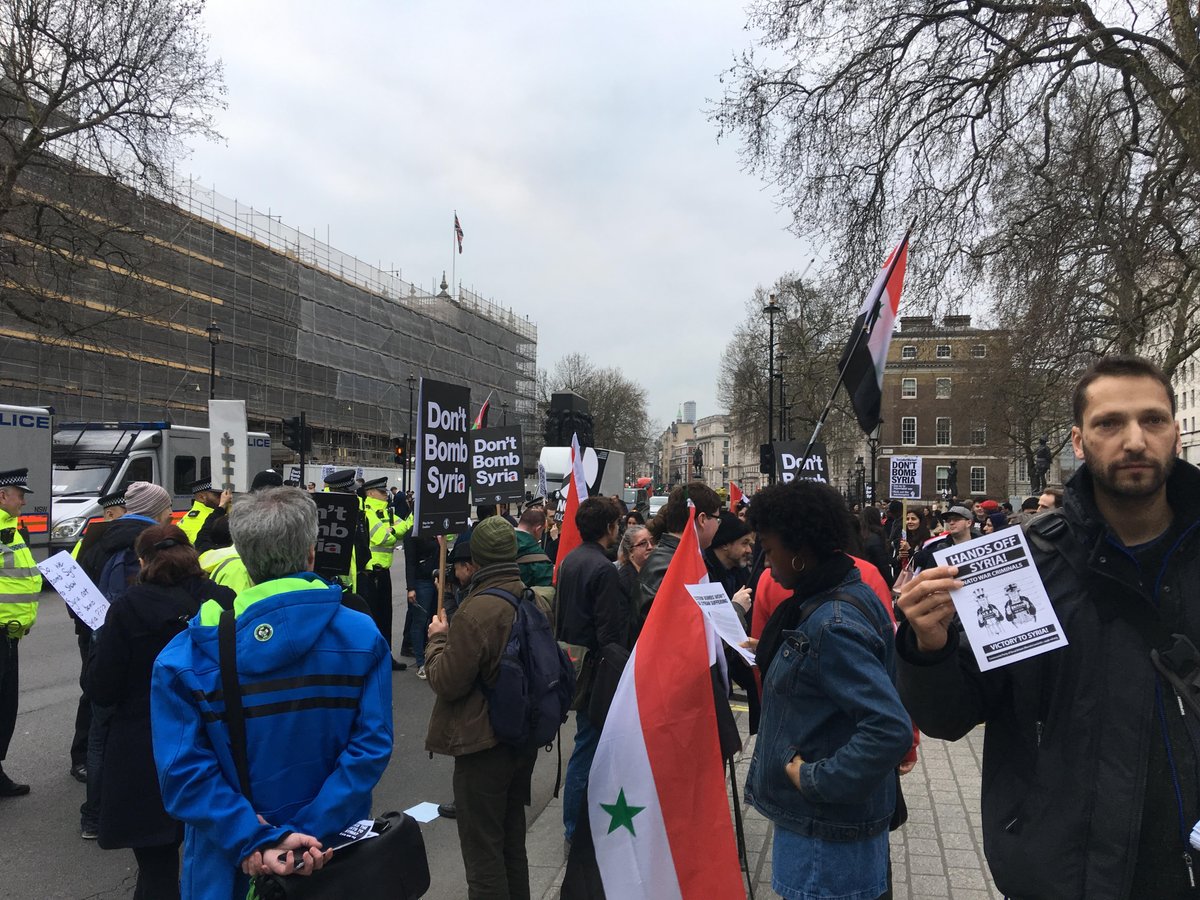 The 'anti-imperialism' of idiots
This morning I was struck, listening to Europe 1 to hear people in Syria, including Kurds, saying that they welcomed bombs on Assad's military resources, though they doubted that the present air strikes would have any real effect.
Amongst other thoughts were the need to respond to this criticism in the Guardian,
Labour calls for the attack on Douma to be "fully investigated". That sounds unarguable. But then what? Jeremy Corbyn issued the same call after the chemical attack that killed at least 74 at Khan Sheikhoun a year ago: demanding there be a "UN investigation and those responsible be held to account". The UN duly investigated and in October concluded unambiguously that the Assad regime had used sarin gas. But Corbyn greeted that verdict with silence. So unless there's a plan for action once guilt is established, demanding an investigation sounds a lot like an excuse to do nothing in the hope that soon we'll all be talking about something else.
And then, the nature of the Syrian civil war and the anti-war movement comes up….
Not to mention the complexities of the far from admirable leadership of  East Ghoutta:
La Ghouta orientale, tombeau de la révolution syrienne  (Le Monde yesterday).
Les exactions des insurgés et le siège cruel imposé par le régime de Bachar Al-Assad ont provoqué la chute de cette ancienne oasis agricole, située aux portes de la capitale Damas.

The abuses by the insurgents and the Assad regimes cruel siege have brought down the old agricultural oasis located at the doors of Damascus, the Syrian capital.
This has to be read in full.  The Anti-Imperialism of Idiots.
A British Syrian whose been  involved in human rights and social justice struggles in Syria and elsewhere in the Middle East since 2000.

I was a founding member of Tahrir-ICN a network connecting anti-authoritarian struggles across the Middle East, North Africa and Europe.

Co-author (with Robin Yassin-Kassab) of Burning Country: Syrians in Revolution and War (Jan 2016)

Contributor to Alford, Wilson (eds): Khiyana-Daesh, the Left and the Unmaking of the Syrian Revolution(April 2016)
These paragraphs are particularly important.
Once more the western 'anti-war' movement has awoken to mobilise around Syria. This is the third time since 2011. The first was when Obama contemplated striking the Syrian regime's military capability (but didn't) following chemical attacks on the Ghouta in 2013, considered a 'red line'. The second time was when Donald Trump ordered a strike which hit an empty regime military base in response to chemical attacks on Khan Sheikhoun in 2017. And today, as the US, UK and France take limited military action (targeted strikes on regime military assets and chemical weapons facilities) following a chemical weapons attack in Douma which killed at least 34 people, including many children who were sheltering in basements from bombing.

The first thing to note from the three major mobilisations of the western 'anti-war' left is that they have little to do with ending the war. More than half a million Syrians have been killed since 2011. The vast majority of civilian deaths have been through the use of conventional weapons and 94 per cent of these victims were killed by the Syrian-Russian-Iranian alliance. There is no outrage or concern feigned for this war, which followed the regime's brutal crackdown on peaceful, pro-democracy demonstrators. There's no outrage when barrel bombs, chemical weapons and napalm are dropped on democratically self-organized communities or target hospitals and rescue workers. Civilians are expendable; the military capabilities of a genocidal, fascist regime are not. In fact the slogan 'Hands off Syria' really means 'Hands off Assad' and support is often given for Russia's military intervention. This was evident yesterday at a demonstration organized by Stop the War UK where a number of regime and Russian flags were shamefully on display.

…

I no longer have an answer. I've consistently opposed all foreign military intervention in Syria, supported Syrian led process to rid their country of a tyrant and international processes grounded in efforts to protect civilians and human rights and ensure accountability for all actors responsible for war-crimes. A negotiated settlement is the only way to end this war – and still seems as distant as ever. Assad (and his backers) are determined to thwart any process, pursue a total military victory and crush any remaining democratic alternative. Hundreds of Syrians are being killed every week in the most barbaric ways imaginable. Extremist groups and ideologies are thriving in the chaos wrought by the state. Civilians continue to flee in their thousands as legal processes – such as Law No.10 – are implemented to ensure they will never return to their homes. The international system itself is collapsing under the weight of its own impotence. The words 'Never Again' ring hollow. There's no major people's movement which stands in solidarity with the victims. They are instead slandered, their suffering is mocked or denied, and their voices either absent from discussions or questioned by people far away, who know nothing of Syria, revolution or war, and who arrogantly believe they know what is best. It is this desperate situation which causes many Syrians to welcome the US, UK and France's action and who now see foreign intervention as their only hope, despite the risks they know it entails.

One thing is for sure – I won't lose any sleep over targeted strikes aimed at regime military bases and chemical weapons plants which may provide Syrians with a short respite from the daily killing. And I will never see people who place grand narratives over lived realities, who support brutal regimes in far off countries, or who peddle racism, conspiracy theories and atrocity denial, as allies.
Here is one outstanding idiot:
The far-right in Europe is against the air strikes:
From the French left (notably Jean-Luc Mélenchon) to parts of the right and the far-right (including Philpott's split from Marine Le Pen's party) there is opposition to the air-strikes.
Le chef de file de la France Insoumise, comme une partie de la droite et de l'extrême-droite a vivement critiqué samedi les frappes menées contre le régime syrien Libération.
The leader of the mainstream right party, les Républicains,  Laurent Wauquiez, has expressed doubts about the use and the objectives of the airstrikes (Syrie : Laurent Wauquiez ne comprend "ni l'utilité ni le sens des frappes punitives")
Response?
Don't bomb Syria – No support for Assad
Socialist Resistance.
they will not force Assad out of power. Indeed it is not clear that the imperialist powers want to see an end to this barbarous regime and certainly they are opposed to self-determination for the people of Syria.

The entire Labour Party must back Corbyn in his opposition to more bombing and war and we should make sure that party banners are highly visible at demonstrations opposing military intervention. We need to be demanding an end to the war and all foreign interventions, including those on behalf of Assad from Russia, Iran and Hezbollah. We must continue to offer political and material support to the secular and democratic opponents of the dictatorship and Labour must call on European governments to offer sanctuary to Syrian refugees.