Suspected Assad Chemical Attack in Douma, Syria.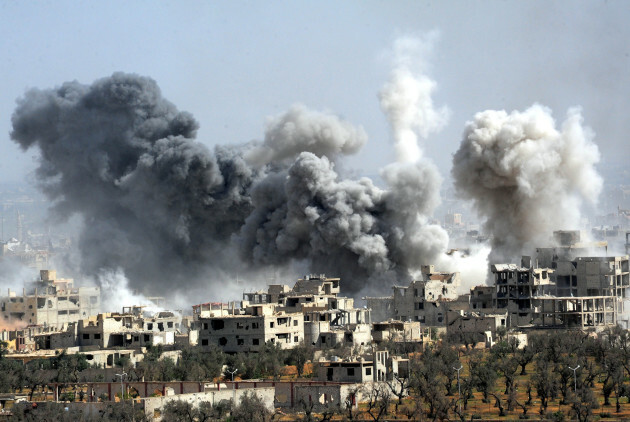 Syria war: At least 70 killed in suspected chemical attack in Douma
At least 70 people have died in a suspected chemical attack in Douma, the last rebel-held town in Syria's Eastern Ghouta, rescuers and medics say.

Volunteer rescue force the White Helmets tweeted graphic images showing several bodies in basements. It said the deaths were likely to rise.

There has been no independent verification of the reports.

Syria has called the allegations of a chemical attack a "fabrication" – as has its main ally, Russia.

The US state department said Russia – with its "unwavering support" for Syria's government – "ultimately bears responsibility" for the alleged attacks.
En Syrie, les rebelles dénoncent une attaque au chlore à Douma. Le Monde
Syrie: frappes sur Douma après une attaque chimique présumée du régime.  L'Express.
Syria chemical attack: Scores killed in Douma, rescuers say.
Al Jazeera.
The White Helmets, a group of rescuers operating in opposition-held areas in Syria, said on Saturday that most of the fatalities were women and children.

"Seventy people suffocated to death and hundreds are still suffocating," Raed al-Saleh, head of the White Helmets, told Al Jazeera, adding that the death toll was expected to rise as many people were in critical condition.

Al-Saleh said that chlorine gas and an unidentified but stronger gas were dropped on Douma.

"White Helmet volunteers are trying to help the people but all that we can do is evacuate them to another area by foot because most of the vehicles and centres went out of service."

One member of White Helmets told Al Jazeera that an entire family had suffocated to death as they hid in their cellar, trying to seek shelter from air raids and barrel bombs.

The US government has warned of a global response against Syria if reports of the chemical attack are confirmed.

The Syrian government, however, is calling it a fabrication, dismissing talk of the Syrian army using poisonous gas as "farcical".
Here
10 Responses