Amidst "misogynist attacks on Jennie Formby" Jon Lansman withdraws from race for Labour General Secretary.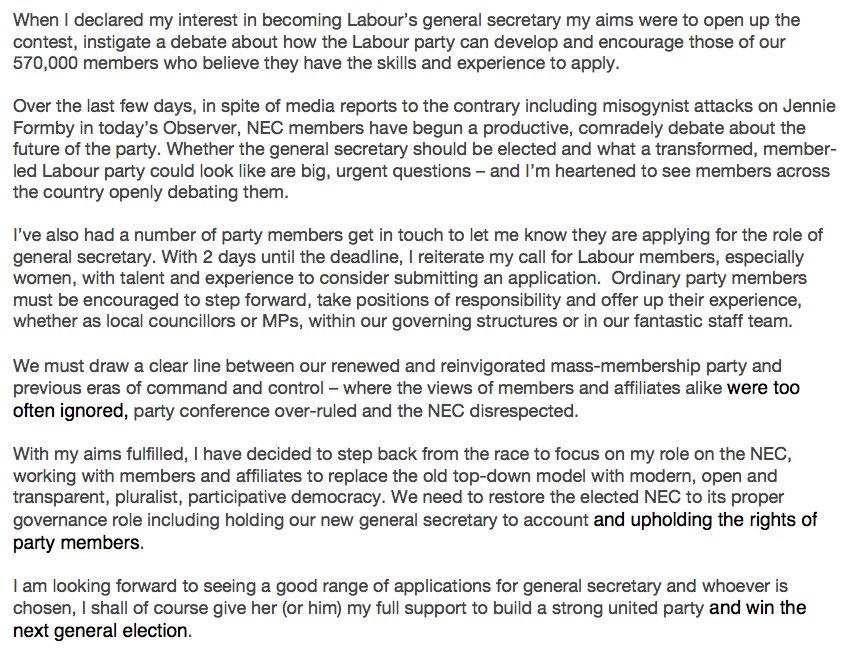 Background:
Contest for job of general secretary widens rift between Unite and Momentum.  Michael Savage. Observer.
"Senior backers of Jennie Formby, the Unite union's former political director and the frontrunner to become Labour's new general secretary, are trying to reassure party staff that there are no planned overhauls should she secure the job.

It comes as senior party and union figures try to find a last-minute "compromise candidate" to take on Formby, with several sources warning she has had run-ins with some of the other major Labour-affiliated unions that have left them seriously concerned about her appointment."

"The split between Lansman and Formby supporters has also spilled into an online battle, with tensions among a group of leftwing blogs and news sites that emerged to support Corbyn's leadership. The Skwawkbox, which is seen as having strong links with the leader's office, has been pushing for Formby's appointment and has questioned Lansman's decision to run, while Novara Media, another Corbyn-supporting outlet, has backed both the opening of the contest and a member-elected general secretary. The internal tension has also seen the arrival of the Red Roar, a more centrist blog that details the fights raging within the ranks.

Some moderate Labour MPs now believe the forces that brought Corbyn to power are dividing. The split has even been criticised by the Labour Party Marxists group, which said it was "at best, ludicrous and, at worst, irresponsible".
Now since these, if obviously mischief making, are clearly not misogynistic attacks what could Lansman be referring t?
Look no further in the Observer:
Don't look to Len McCluskey and his sorry ilk to defend workers' interests. Nick Cohen

Apart from the ill-thought and condescending content, the tone of the last sentence sounds like a crib from Hancock's Half Hour…. the Brave Hungarian Girl Magna Carta….
Cohen's article also contains some words for this pair,
The Scottish aristocrat Andrew Murray (he's descended from the earls of Perth and the kings of Navarre on his father's side and the dukes of Norfolk on his mother's) not only offers apologies for Lenin but Stalin too. He's moved from Unite and the Communist Party of Britain to join Seumas Milne, another apologist for Uncle Joe, in Jeremy Corbyn's office.
I did not notice Murray, the son of the  Slains Pursuivant  educated at a Benedictine independent boarding school in Sussex complaining about his coverage in the New Statesman recently  which cut out this aspect of his biography, and referred only to him leaving school at 16 with 4 'O' Levels. Nor this – accurate – description " Mr Corbyn's most senior aide, Seumas Milne, was a Soviet Union sympathiser. Andrew Murray, the chief of staff of Unite and a consultant to the Labour leader, was a member of the Stalinist Communist Party of Britain until 2016 and expressed solidarity with North Korea in 2003. They hail from an authoritarian leftist tradition."
This Blog is more concerned with Cohen's attacks on UNITE. Apparently they and UNISON are "stale bureaucracies" with little interest in their membership's day-to-day needs.
Against these  "old far-left-dominated unions." Cohen advocates USDAW (whose new General Secretary Amy Murphy is a supporter of the 'far-left' Socialist Party), the Broadcasting, Entertainment, Communications and Theatre Union (BECTU), a section from the far-from-unbureaucratic Prospect union, and a small Independent Workers Union, whose origins lie in the (respected) far-left anarcho-syndicalist tradition of the  Industrial Workers of the World (IWW), or the "Wobblies" which they left to form their own union, the  IWGB.
It is questionable if the "consensus" method of reaching decisions admired in the article, and made a rule in the Occupy movement,  and prevalent amongst those influenced by certain strains of "alter-globalisation" activism and anarchists, is an answer to authoritarianism. Critics point to the imposition of a consensus by the loudest voices and the unsuitability of this model for union activity which, however we wish to put it, involves controversy and strong differences of opinion – normally resolved by voting contests between opposed stands.
Cohen completely neglects the role of UNITE in organising the unorganised, and, above all, its 'Community branches' which campaign for the rights of those receiving benefits, for the disabled, and in coordination with those acting  against the injustice inflicted on women through changes in the state pension scheme (WASPI – Women Against State Pension Inequality) The union is at the forefront of protests for such 'far-left' issues as defending the NHS.
UNITE also works for the day-to-day interests of workers across a range of sectors, areas perhaps not striking enough to attract the journalist's attention.
The Lansman announcement was greeted with joy by Skwakbox, "We applaud Mr Lansman's decision. "
That alone, given Skwakbox's involvement in fake news (from Greenfell 'D' notices, to the claim that all the disabled would receive a 'sanction' if they did not get a job within 2 years) is cause for concern.
But there is more, the 'anti-Zionists' of Labour Against the Witchhunt states,
LAW welcomes Jon Lansman's decision to withdraw
We believe that Unite's Jennie Formby would be the best choice for general secretary. As a supporter of the rights of the Palestinians people we think her election would send a powerful political signal. We hope that her tenure would mark the beginning of the end of the witch-hunt.

Steering Committee
But,
Labour General Secretary election to play for as many NEC members hold out for third candidate. Red Roar.
Analysis by The Red Roar shows that while Unite's Jennie Formby has over three times as much support as her rival Jon Lansman in the race to become Labour's general secretary, an equal number of NEC members remain undecided.

No one can claim to know how NEC members will vote, of course. This is not an exercise in mind-reading but an honest attempt to give as clear a picture as possible as to how the two main candidates for the job are likely to fare.

Backing Formby: 17
Backing Lansman: 5
Undecided: 17
Total: 39
More to follow……
2 Responses