The Left and Solidarity with East Ghouta.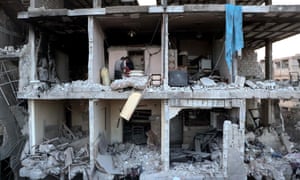 Arbin Hospital after an airstrike carried out by Assad regime forces in Arbin district of Eastern Ghouta in Damascus, Syria on 21st of February Photograph: Anadolu Agency/Getty Images
The Left and East Ghouta by LOUIS PROYECT
This piece merits reading in full but these extracts can give a taste of this deeply thought out and heartfelt article.
Why has East Ghouta become a living hell recently, even more so than in the past? Perhaps this is the result of Assad finally turning to a remaining rebel enclave after final victory in places like Homs and East Aleppo was achieved. Once East Ghouta has been "liberated", the regime will be free to finally deliver the death blow to Idlib, the last sanctuary for "terrorists" in the country.

…

For much of the left, especially the Gray Zone 3, East Ghouta is condemned territory—a haven for al-Qaeda that deserves to be annihilated. Not much research is available on East Ghouta but a few things should be kept in mind. It is part of a belt of mostly agricultural towns and cities that abut Damascus to the east and south. It is like most of the places that rose up against Assad in 2011 and that were largely invisible to the Western press that found Damascus irresistible. After all, it was a place where you could enjoy scotch in a hotel bar, eat at 3-star restaurants, and stroll around in the evenings absorbing local color. Yes, there were people being tortured in Syrian prisons through the CIA extraordinary rendition program but they probably deserved it.

…

The revolutionary struggle in Syria certainly had goals that seem quite modest in comparison with the July 26th Movement in Cuba or any other leftist cause I have been involved with over the past half-century. But in order to overthrow capitalism, you need the freedom to organize the workers movement. That is why Marx and Lenin always stressed the need to oppose absolutism whether it took the guise of the Junkers monarchy or Czarism. That the left has lost track of such an elementary need is a terrible deficit. To build a worldwide revolutionary movement that can abolish class rule once and for all, we have to support the right of people to speak freely and to form political parties without fear of being tortured or killed. It is impossible to say how events will unfold in the Middle East and North Africa over the next 25 years or so but if we can't defend basic liberties such as the kind the Arab Spring demanded, we are useless.
Louis' views will be endorsed by those of us on the left who support universal human rights.
In a piece in French on the anti-capitalist left an even more heart-rending contribution is made by
LETTRE À LA GHOUTA : "C'EST LE CŒUR EMPLI DE HONTE QUE JE T'ÉCRIS"
Via the website of the International Socialist Organisation (US),
We, the Alliance of Middle Eastern Socialists oppose the various military attacks on Afrin, Idlib and Eastern Ghouta  and support all the innocent civilians in Syria. . . There has been a consensus between all the international and regional powers on the necessity to liquidate the revolutionary popular movements initiated in Syria in March of 2011 . .

..

Solidarity with Idlib and al-Ghouta against the attacks by Assad's regime forces and its Russian ally

At the same time, we condemn the Assad regime's attacks on Eastern Ghouta and Idlib, areas which are supposedly considered "de-escalation zones" according to the Astana « peace » negotiations, led by Russia, Iran and Turkey.

…

In the face of this counter-revolutionary consensus,  what is desperately needed is  solidarity between all (Arabs, Kurds and all other ethnic minorities) revolutionaries who are against the Assad regime and all the regional and international imperialist powers and support the struggles for social justice, women's rights and the rights of oppressed minorities.  

 The Alliance of Middle Eastern Socialists supports the right of self-determination of the Kurdish people in Syria and in other countries. This does not mean that we take an uncritical stand  on the policies of Kurdish parties leading these struggles, whether the PYD or  the Kurdish Democratic Party or others, notably regarding violations of Human rights against civilians.

Oppose all forms of sectarianism and racism

Our destinies are linked

Join the Alliance's Campaign in Solidarity with Middle Eastern Political Prisoners.
Syria and the Problem of Left Solidarity by Donya Alinejad & Saskia Baas.
Salvage. 1st of March 2018.
Crude notions of anti-imperialism have for too long yielded dubious analyses of Syria and the Middle East. The contribution of the Left has often been dominated by an unsophisticated 'campism' wherein the enemy of our enemy should not be criticized. This has recently taken startling and contradictory forms: a recent petition calls for the leaders of Russia, Iran, and the U.S. to "ensure that the sovereignty of Syrian borders is not breached by Turkey." The petition was signed by, among others, Noam Chomsky, Michael Hardt and David Graeber. Staggeringly, the petition appeals to the key perpetrators of war crimes in Syria for help in the protection of Afrin.

There are a multitude of ways we might explain such a turn, among them a Euro/American-centrism wherein the Left's positions simply mirror and are dictated by those of their liberal opponents, the Western left's long-running ideological links to the PKK, Left sectarianism, refusal to update expired Cold War categories, incidental ignorance and laziness, and the relative sophistication of the YPG/J's communication networks and media branding with Western audiences. We end up engaging with Syria as no more than a distant war in which our task as the Left is merely to discuss and select the correct armed faction to support. But this filters out the less spectacular but equally courageous initiatives for self-organization still going on in various parts of the country and among its refugee diaspora; compelling cases such as the recent women's campaign against forced disappearances. In ignoring these, we surrender our key principles of upholding the value of human lives in the face of militarism, state interests, and divisive borders.

Our internationalism must cultivate a willingness to grasp the complexity of Syrian polity, society, and culture as it unfolds in everyday life under the current circumstances of extraordinary duress. Rather than a lapse into apolitical humanitarianism, defending the lives of those brutalized by violence is based on an international solidarity that registers survival in this context as struggle. Similarly, our welcoming and hospitality to those who fled Syria in recent years must not smother them into politically pacified victimhood. We must seek out and listen to what a variety of Leftist Syrian political activists and intellectuals have to say about Syria. Their migration experiences and diasporic self-organization are part of the story of the Syrian revolution, an inexhaustibly rich resource for understanding and learning from the realities of this important contemporary struggle. It is a struggle that lives on in many of them and contains intimate knowledge of the notions of racial and ethnic discrimination, prison state, political disenfranchisement, and neoliberal policies we also fight against. The vast contextual differences make articulating the common ground all the more profound.

In short, let us stop approaching Syria in the way a colonial power approaches its subject's civil war, calculating which intervention(s) of force to back and then vehemently spreading the chosen party's war propaganda. Let us focus, instead, on building a socialism that modestly but consistently puts into practice the radical internationalist idea that we inhabit the same world as all those who struggle for a dignified human existence.
This is how the so-called People's Daily, the Morning Star, is 'reporting' the tragedy.
UN aid convoy enters Islamist-held enclave near Damascus
Syrian forces are besieging Eastern Ghouta, a largely agricultural area to the south and east of Damascus.

It is one of the last holdouts of mainly foreign-backed jihadist rebels, who have been firing shells and mortars at Damascus proper from their positions there.

The Syrian government has been pursuing tactics similar to those that broke the grip of Islamist fighters on Homs and Aleppo, shelling rebel-held areas and then using ground forces to retake districts.