Christine Shawcroft in row over saying, "major trade unions are actively opposed" to Labour rank-and-file members.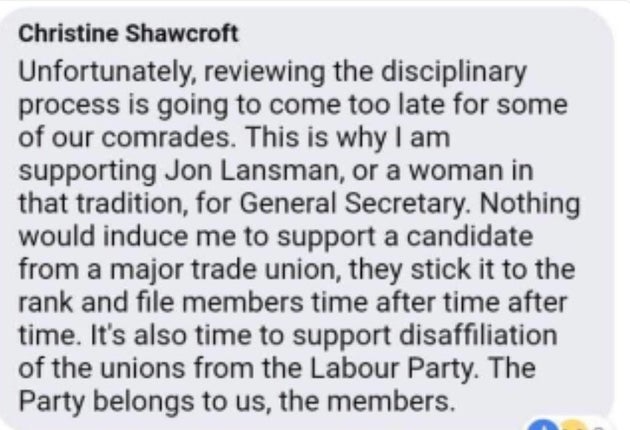 Shawcroft told HuffPost that she was not speaking on behalf of Momentum and had acted in 'the heat of the moment'.
This story tends to confirm the well-informed opinion that Lansman's Labour General Secretary challenge is aimed, not at trade unions as such, but  a 'union shoe-in' for their candidate for the post.
But before one expresses sympathy for Shawcroft.. (Huff Post)
Shawcroft is understood to have expressed her frustration with union 'stitch-ups' in the past, and in recent months told one Momentum meeting it was time to deal with the union issue once and for all.

Her outburst on Facebook came after fellow NEC member Darren Williams expressed his frustration that the disputes committee had voted on Tuesday – with union support – to refer several cases of alleged anti-semitism for a full disciplinary hearing.
And,
HuffPost understands that Momentum-backed NEC reps objected and wanted those accused to be issued with formal warnings rather than a route to explusion. But the rest of the committee heavily supported disciplinary inquiries.

On Wednesday, Shawcroft told HuffPost that she had been advised to take down her Facebook remarks because Lansman did not want Momentum associated with them.

She insisted that she was not speaking on behalf of Momentum or of Lansman.

It was just a bit of a heat of the moment thing, a personal one. Nothing to do with Momentum whatsoever. I'm just a committee member for Momentum, it's not like everything I do or say has to be seen through that prism," Shawcroft said.

"I don't speak for them or tell them what to do. I'm just a member, same as anyone else."

Shawcroft still faced a backlash for her remarks, with Unite's Len McCluskey, GMB union boss Tim Roache  and Unison's Dave Prentis all attacking her stance.
Responses:
More emerging now (Total Politics).
When Momentum founder Jon Lansman announced that he was challenging Unite boss Jennie Formby for the job of Labour general secretary, the battle lines could not have been clearer.

"The first major Unions/Momentum skirmish is already causing some disquiet within Labour's ranks," we noted in a piece on Lansman's candidacy.

A week later that is starting to look like an understatement…

Writing on her Facebook page, veteran activist and senior Momentum official Christine Shawcroft said Lansman should be general secretary because "only someone from his tradition will support the rights of rank and file members in the CLPs".

Going further, she claimed that the major trade unions "stick it to the rank and file members time after time after time" and even called for Labour to break its historic links with the trade union movement.

Naturally the comments from Shawcross – who is an ally of Jeremy Corbyn and has been on Labour's ruling national executive committee for over a decade – sparked a furious backlash from union bosses after they were revealed today by PoliticsHome.

Unite general secretary Len McCluskey said: "Christine Shawcroft is a member of the Labour party. The clue is in the name. We are the party of labour, founded by the trade union movement. Her proposals for disaffiliation aid the most backwards forces in our society and she should withdraw them."

Unison general secretary Dave Prentis stated: "Christine Shawcroft's comments are wrong on every count. Trade Unions are an integral and historic part of the Labour Party. This is no time for this kind of divisive nonsense – we need to focus on getting Labour elected."

Also weighing in today was Corbyn's former chief of staff Simon Fletcher, once described as "the linchpin of the Corbyn operation".

He argued: "The Labour left advances most clearly when it builds an alliance of the CLP left and the unions. The demand to break the union link is longstanding goal of the right in British society. This intervention tips disorientation over into rottenness."
Huffington Post more on the story.
More: 
EXCL Labour row erupts as Jeremy Corbyn supporter calls for party to break from trade unions

Veteran activist and senior Momentum official Christine Shawcroft claimed "major trade unions are actively opposed" to the party's rank-and-file members.

Ms Shawcroft, who is head of Labour's powerful disciplinary committee, is supporting Momentum boss Jon Lansman's bid to succeed Iain McNicol in the powerful role.

He defied pleas from Jeremy Corbyn and his closest aides not to run in order to leave the way clear for Unite official Jennie Formby to take the post.

Ms Shawcroft, who has been on Labour's ruling national executive committee for over a decade, launched her attack on Facebook in the wake of a fractious meeting yesterday of the disputes sub-committee she chairs.

Responding to one Labour member, she said: "Unfortunately, reviewing the disciplinary process is going to come too late for some of our comrades. This is why I am supporting Jon Lansman, or a woman in that tradition, for general secretary.

"Nothing would induce me to support a candidate from a major trade union, they stick it to the rank and file members time after time after time. It's also time to support disaffiliation of the unions from the Labour party. The party belongs to us, the members."

In a post on her own Facebook page, she added: "I was supporting Jon Lansman for general secretary before today's NEC sub committee meetings, but after today I'm even more determined.

"Only someone from his tradition will support the rights of rank and file members in the CLPs (constituency Labour parties). The major trade unions are actively opposed to us, a very cursory examination of trigger ballots in mayoral "selections" will tell you that. Look at their track records before you rush to support someone."

Her comments are highly significant because she is a key supporter of Mr Corbyn and a major figure on the left-wing of the party.

Momentum has also enjoyed support from trade unions such as the TSSA, Unite and CWU.

Labour's new general secretary will be chosen by the party's NEC on 20 March.

Jennie Formby has already been forced to condemn "anti-Semitic" attacks on Mr Lansman.

A Momentum spokesperson said: "We're very proud of the strong links Momentum has to the trade union movement.

"From running digital campaigns in support of striking McDonalds workers to making viral videos highlighting Tory cuts to public services with the CWU and the TSSA – we believe Labour is strongest when trade unions and member organisations work together closely.

"The unions were central to the formation of the Labour Party, and every day they represent millions of people fighting for better rights at work. We firmly support Labour's trade union link, and hope to see more unions affiliate in the future."
Yet more:
Update from The Clarion Edd Mustill.
This week comments made on Facebook by a prominent figure in both the Labour left and Momentum, Christine Shawcroft, have provoked fierce criticism and some alarm. Shawcroft appeared to call for the ending, or at least weakening, of the link between trade unions and the Labour Party.

However serious these comments are or whether they were made in the heat of the moment (it should be noted that Momentum quickly distanced itself from Shawcroft's comments), it is immensely disappointing to see a prominent leftwing apparently advocating something that has been a fantasy of the party's Blairite wing for a quarter of a century, albeit no doubt for very different reasons.

I recently argued that any debate around how trade unions formally relate to the membership of a mass socialist party should be welcomed by Labour members. That said, any calls, from any wing of the party, to end or dramatically weaken the link should be robustly resisted.
COMMENT.
This looks a mess, and entangles many themes.
But, firstly, there is a problem with the ambitions of people, and unions, coming before both Momentum or UNITE's goals, either a social movement or 'political union'. This does not just refer to the most visible person in this case, as those in a position to know are aware of other individual's projects at play.
Secondly, these are really pretty secondary affairs compared to Labour's overriding need to win this year's local elections and the next General Election.
Finally, Labour activists are not going to be pleased with this clash being acted out in public, either by union leaders or by Momentum. Since it is not principally important for the left who is a "reliable ally" of whom, but Labour policy and direction, the dispute is highly unwelcome.
8 Responses