Critical Support for Jon Lansman as Labour General Secretary.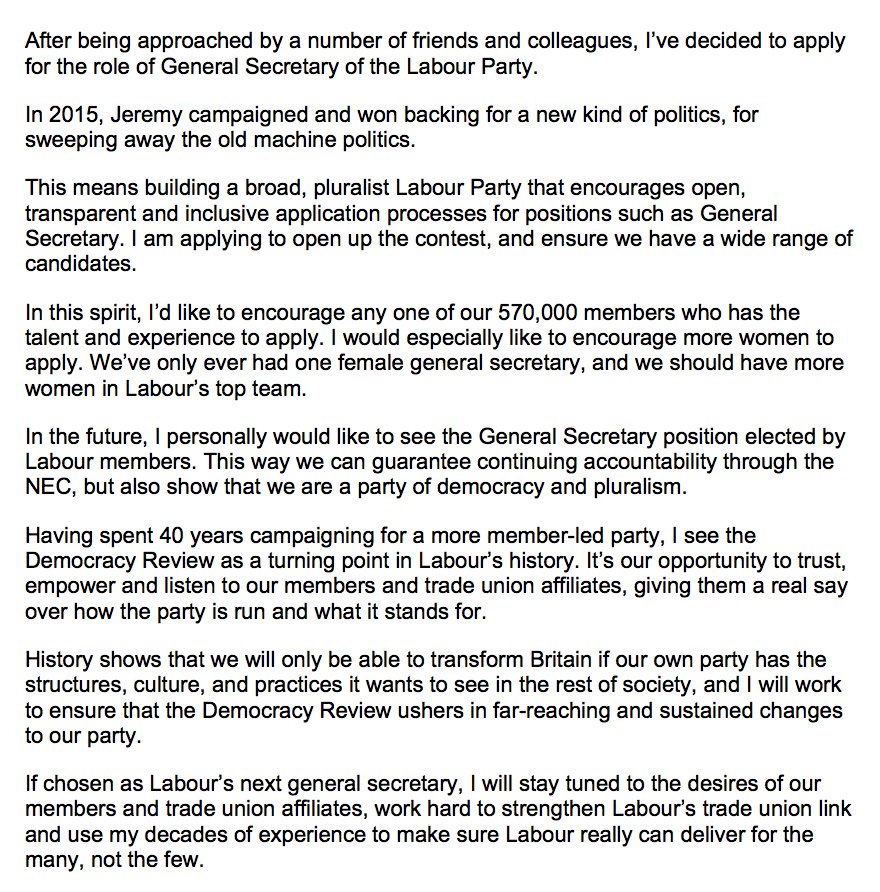 Lansman's Announcement.
Progress columnist Adrian McMenamin writes,
Only one candidate for Labour's top job seems to have the full backing of the leader. It should be them that gets the job, argues Adrian McMenamin

I want Jennie Formby to be the next general secretary of the Labour party.

I want her to be selected because she is the least suited of the two known candidates, but the one most firmly backed by Jeremy Corbyn. You see – and I have never hidden this before and I am not starting now – I do not want Corbyn to be leader of the Labour party. I also know that, in holding that view I am in the minority, at least amongst Labour party members. I need things to happen that will persuade more members to agree with me, and appointing Formby, who has never demonstrated to me any of the characteristics needed to run our party's machinery, should, I believe, help in that task.

I know that is not likely to be a welcome sentiment to many of the good people who work for the Labour party. As someone who spent three periods in party headquarters between 1987 and 2005, I know they are some of the very best and most dedicated of people, yet I also know we live in the middle of a political emergency and the necessity of saving the Labour party from itself overrides so many other things. Sorry, comrades, but I am not sorry.

If Formby gets the job she will be Corbyn's appointment pure and simple. Others are backing her of course – and tarring them with her likely failure is important too – but the buck stops at the top.

I  want her to get the job too because to get her there her supporters have engaged in the most appalling behaviour that makes a mockery of every claim they have ever made about wanting a democratic party where the wishes of members come first and where parachute landings were ended. Their manipulation of the process needs to succeed so they can have no excuses.

The pixels on the press statement announcing Iain McNicol's resignation had barely switched state before we were being told that Formby was to be the next general secretary. It took less than a working day for the National Executive Committee officers group to announce a timetable for the new appointment that was shorter than any in living memory. Since then we have heard reports that Corbyn's office have been leaning on everyone they can to endorse Formby and – of course – there has been rubbishing of the only other, now declared, candidate.

Whatever else this will be, it will not be an equal opportunities appointment, but one of the worst stitch-ups ever.

Another reason I want her to get the job is because I want the reality of the way in which Len McCluskey and his followers seek to centralise power to dole out favours to one another to be fully exposed. If Corbyn will be the father of this appointment, McCluskey will be its midwife.

Under McCluskey's leadership a wicked political culture in Unite has festered. Failing to be honest about the union's falling membership while going so far as to threaten to sue Gerard Coyne's campaign for libel and then sacking him are just a few of the examples of the way in which Unite is turning into the Potemkin Village of industrial militancy. That culture, corrosively eating away at our biggest union, needs to be destroyed, and sunlight is essential for that to happen.

Finally, I want Formby to succeed because I want the Momentum train to be derailed. The political world Momentum are busy creating is, if anything, even worse than that found amongst McCluskey's camp followers. While none of the national or local leaders of Momentum may be sexists or antisemites, it seems many are unwilling to take a firm stand against either if it gets them what they want. They deserve to be beaten and their supporters need to learn that if you run with the tigers you get eaten.

–––––

Adrian McMenamin is a Progress columnist and is the former chief press and broadcasting officer for the Labour party. He tweets at @adrianmcmenamin.
Labour List publishes this, Unite hits back at antisemitism "smear" against Jennie Formby
Unite has hit back at a claim that Labour general secretary candidate Jennie Formby "acted with antisemitic intent", calling the allegation a "malicious smear".

Labour Against Antisemitism (LAAS) released a statement this afternoon alleging that Formby was ousted from Unite as political director due to "antisemitic comments" over Baroness Royall's suitability to conduct an NEC inquiry.

In 2016, Baroness Royall investigated members of the Oxford University Labour Club and found that they engaged in antisemitic activity.

LAAS claims that Formby said Baroness Royall's membership of Labour Friends of Israel made her unsuitable for the role and that the Unite regional secretary tried to stop the Labour peer heading the investigation.

LAAS alleges that Formby "acted with antisemitic intent" by "reportedly seeking to prevent an investigation by Baroness Royall".

Unite has hit back at the statement calling it a "malicious smear". The union says Formby was not "never under any pressure" to step down as Unite political director.

"At that NEC discussion, Jennie Formby voted for Ms Jan Royall's appointment, and argued for her inquiry to be properly resourced by the Party," says Unite.
This is the background (It's Jon versus Jen to be Labour's next general secretary. Jewish Chronicle today)
 "Two years ago she caused outrage at a Labour NEC meeting by questioning Baroness Royall's suitability to lead an investigation into claims of antisemitism among Labour-supporting students. Her claim was on the grounds, apparently, that the peer had previously visited Israel. 

When it was pointed out that her remarks were inappropriate, Ms Formby said she had wanted to ensure Baroness Royall had adequate support for the investigation because a search for her previous experience had only indicated involvement in a LFI delegation.

She was also said to be behind attempts to get Labour to boycott G4S, the security firm, over its contracts in Israel and the West Bank. She has denied the allegation."
These posts put well, well, aside, one of the strongest arguments for Lansman is that fake-news site Skwawkbox is backing Formby in its habitual style.
I note in passing that one of the complaints about Lansman is that he does not run Momentum democratically.
As a paid up supporter of the Labour Representation Committee I observe that they did not ask members' views before plumping for Formby and calling for Lansman to pull out of the race.
LRC ENDORSES FORMBY FOR LABOUR #JENSEC. URGES LANSMAN TO WITHDRAW
Here is the group taking decisions off their own back:
But the decisive reason to back Jon Lansman comes from here:
Why Labour Against the Witchhunt cannot support Jon Lansman's Labour Party general secretary bid

We do not believe Jon Lansman would do that, for a number of reasons, not least the ones cited below:

–       When Jackie Walker was suspended from the Labour Party on trumped-up charges of anti-semitism, Jon Lansman did not defend her. Quite the opposite: he quickly removed her as vice-chair of Momentum and hand-picked her replacement.

–       After Ken Livingstone's suspension, he wrote on Twitter: "A period of silence from Ken Livingstone is overdue, especially on anti-Semitism racism & Zionism. It's time he left politics altogether." That does not bode well for any new NEC enquiry on Livingstone that is now being mooted.

–       Momentum's constitution now bars from membership all those expelled by the Labour Party's compliance unit for their alleged "support for other organisations" under rule 2.1.4.B. This rule that has been used exclusively against left-wingers. Lansman has since come out in support of keeping the rule in Labour's constitution (in a letter to Tony Greenstein in response to LAW's submission to the Corbyn Review).

–       In the same letter, he has opposed our demands for the abolition of the compliance unit. We are firmly of the belief that all disciplinary matters should be dealt with by elected representatives, which means their action can be held up to scrutiny.

Labour's next general secretary should ensure the NEC immediately implements the recommendations on the party's disciplinary procedure made by the Shami Chakrabarti report of 2016.

We believe that Unite's Jennie Formby would be the best choice for general secretary. As a vocal supporter of, for instance, the rights of Palestinian people and genuine bottom up Labour Party democracy, we think her election would send a powerful political signal that Labour is ready for government. We hope that her tenure would mark the beginning of the end of the witch-hunt, which has caused such disunity in the party. Labour unity is the top priority and is essential in order that the party wins the next general election.

Steering Committee,
Labour Against the Witchhunt
Those taking this view include the Mad Bob Pitt who has argued in a public forum,
The problem for Lansman is that if Jennie Formby gets to be general secretary she's not going to be implementing the hysterical witch-hunt over antisemitism with the same unbridled enthusiasm that McNicol did. Lansman essentially supports the witch-hunt, because he thinks the Israel lobby can be bought off by throwing people like Ken Livingstone, Jackie Walker and Marc Wadsworth to the wolves. So he wants to block Jennie. The rabid Zionists of Labour Against Antisemitism have already launched a campaign against her, smearing her as an antisemite, which has been angrily condemned by Unite. Lansman wouldn't go that far, but basically he's with the Zionists against Jennie.
Not that Labour members actually get a vote in this…..
6 Responses