Third Night of Riots in Tunisia: Front Populaire Backs Peaceful Protests and Denounces Violence.
Fech Nestanew: Young Tunisians in latest protests against Austerity.
Le Monde reports: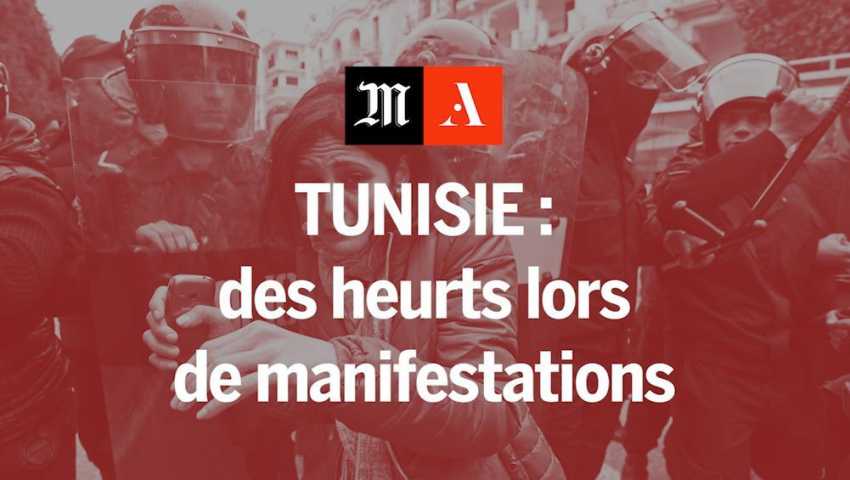 Tunisia is governed by a working arrangement between a President Beji Caid Essebsi, his republican centre Nidaa Tounes party and the rightwing Islamist Ennahda party.
Agence France Presse reports,
200 arrested, dozens hurt in Tunisia unrest.
More than 200 people have been arrested and dozens of police hurt during clashes in Tunisia, the interior ministry said Wednesday, as anger over austerity measures spilt over into unrest.

The North African country has been hailed for its relatively smooth democratic transition since a 2011 revolt that sparked the Arab Spring uprisings, but seven years after the revolution, tensions over economic grievances are high.
Tunisia has seen rising anger over hikes in value-added tax and social contributions after a tough new budget was applied at the start of the year.

Interior ministry spokesman Khalifa Chibani told local radio that 49 police officers were wounded during a second night of clashes across the country Tuesday to Wednesday and that 206 "troublemakers" were arrested.

Properties were damaged, he said, including a branch of the Carrefour supermarket chain in a suburb of Tunis that was looted.

After a calm day on Wednesday, residents said demonstrators in the evening took to the streets of Tebourba, a town west of the capital Tunis where a man in his 40s died in unrest Monday night.

On a visit to a nearby town, Prime Minister Youssef Chahed condemned acts of "vandalism" that "serve the interests of corrupt networks to weaken the state", pointing the finger at a leftist party that called for protests.

Fresh clashes broke out Wednesday night in the northern town of Siliana, where youths threw stones and molotov cocktails at security forces. Police responded with tear gas, an AFP correspondent said.

There were similar scenes in Kasserine, a town in Tunisia's neglected central region, with protesters burning tires to block roads and some throwing stones at police.

The army has been deployed around banks, post offices and other government buildings in the country's main cities, the defence ministry said.

There have been no figures given for the number of protesters injured in the clashes.

On Tuesday night, hundreds of young people took to the streets of Tebourba for the funeral of the man who died.

In the central town of Sidi Bouzid, the cradle of the protests that sparked the 2011 uprisings, youths blocked roads and hurled stones, and the police retaliated with tear gas, an AFP reporter said.

The recent unrest started with peaceful protests against the austerity measures last week, but escalated into clashes with police in the night of Monday to Tuesday.
On the back of the protests which Libération describes as the result of a general state of anger (un «ras-le-bol généralisé») at the country's conditions, racist Islamist elements have been involved (Guardian)
Among the hundreds arrested on Tuesday were two radical Islamists who had helped storm a police station in Nefza town, the interior ministry spokesman said. In Tunis, a crowd stormed a Carrefour market.

On Tuesday, petrol bombs were thrown at a Jewish school on the southern tourist island of Djerba, home to an ancient Jewish community.
Front Populaire.
The left wing alliance, the Front Populaire, (15 MPs out of 217) has stood by the protests and called for street demonstrations. Le Front populaire appelle à la mobilisation de la rue pour le retrait de la loi de Finances 2018.
The leader of the left wing Front Populaire Hamma Hammami (English link) criticised the government and its response to the protests while making it clear that they do not support the violence of "milices criminelles" who are exploiting the unrest.
In response to statements by Youssef Chahed, Head of Tunisia's present government, which accuse them of encouraging the "troubles"  he stated yesterday that one should not confuse peaceful mass movements, which his alliance backs, and acts of vandalism and violence carried out by criminal organisations. ("la confusion entre les mouvements militants pacifiques que nous appuyons et les actes de vandalisme et de violence que font des milices criminelles" Huffington Post).
They have called for an independent inquirty in the repression and violence.
After asking whether these groups which had been involved in pillaging and exacerbating tensions  had a relation with the mafias and other corrupt forces linked to the government Hammami stated that the Front Populaire would continue to support protests against the economic policies of the state.
Manifestez en étant unis et autour d'un slogan claire qui est la suppression de la hausse des prix et contre ces mesures qui détruisent la vie des Tunisiens".

Demonstrate in unity around the clear demand for an end to price rises and against policies which are destroying the lives of Tunisians.
More on the young citizens' movement, Fech Nestanew (what are we waiting for?): Qui sont les militants de « Fech Nestanew », qui mobilise contre la vie chère en Tunisie ? Jeune Afrique 11.1.18.
One Response