Labour Right-Wing Factionalism, Labour First.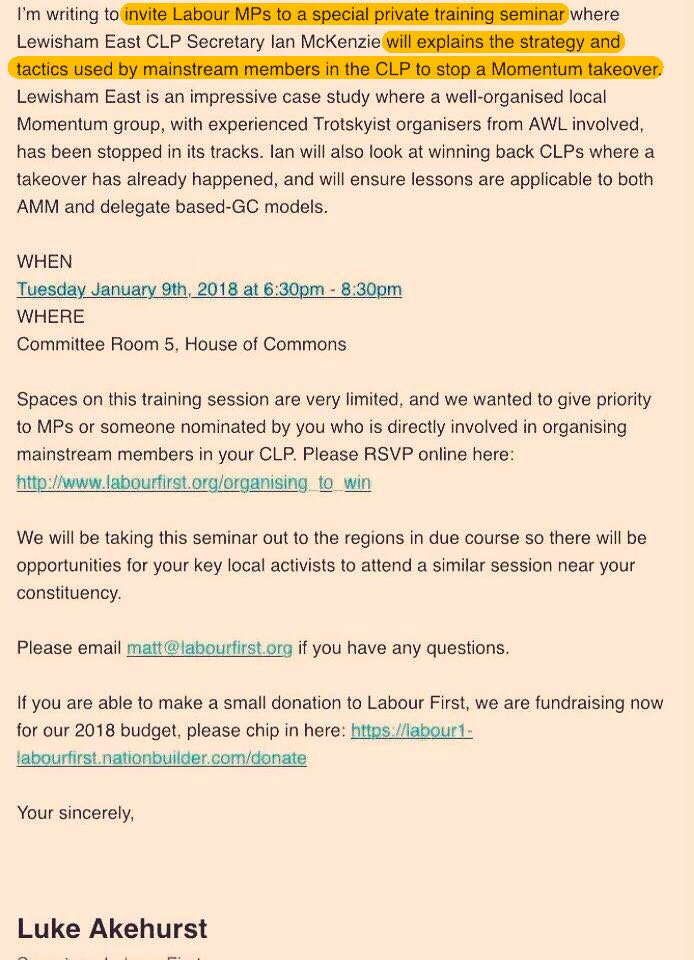 This, circulated yesterday,  is causing a stir.
Labour First is increasingly behaving like the 'factionalists' is derides,
Labour First, founded in 1988, is a pre-Blairite pressure group seen as the voice of the party's traditional right. Headed by campaigner and former councillor Luke Akehurst, this faction supported ABC (Anyone But Corbyn) in the leadership election, while Akehurst himself backed Yvette Cooper. In the deputy race, it emphasised its ties to Tom Watson. The group made headlines during the leadership contest by urging fellow centrist group Progress to promote the other non-Corbyn candidates as well as its first choice, Liz Kendall. The groups have since held events together espousing moderate Labour values. Labour First says it "exists to ensure that the voices of moderate party members are heard while the party is kept safe from the organised hard left".
Before going further it is important to note that the AWL is not, how shall I put it, at the forefront of Momentum.
Next I would point out that, Lord Hattersley notwithstanding,  there are not large real factional divisions in the Labour Party, but differences on policy issues.
Such as this:
Or this,
Just a suggestion, but if Labour First is going to go in for factionalism, they should consult the real classic studies not just do a bit of 'organising'.
Such as this book:
Trigger-warning: factionalist activity in meetings is not universally appreciated. 
6 Responses