Catalan Nationalist Support Slumps as Puigdemont's Call for UK Style Break from the EU Falls on Deaf Ears.
The tragedy of Catalonia continues as Spain refuses bail for top Catalan politicians, as decision on Carles Puigdemont extradition delayed.
But the repressive acts of the Spanish PP government have not meant a surge in support for the Catalan parties backing independence.
Latest voting projections based on today's opinion poll published in El pais suggest a big drop in pro-Catalan nationalists  in latest opinion poll,: ERC (Republican left), (down from 62 to 32),  party, Carles Puigdemont the Junts pel Sí (from 62 to 25-6) and the "radical left" odd balls of the CUP, Candidatura d'Unitat Popular,  sinking from 10 to 9.
The main story is the rise of pro-Spanish unity, centrist Ciudadanos (up from 25 to 31-2 to 11) and growth in PSOE (Catalan wing, PSC) backing (16 to 21. There has been a small decline in Podemos involved alliance, CeC-Podem (9, down from 11), backing.
Catalan nationalists look like losing an absolute majority in the coming, 21st of December Catalan Parliament ballot.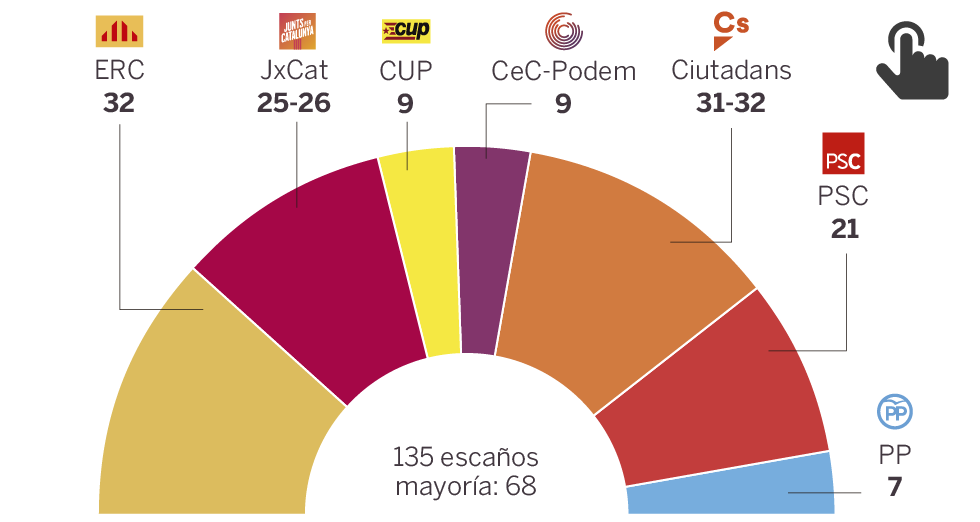 3 Responses