Charlie Hebdo Has a Laugh at Catalan Nationalists.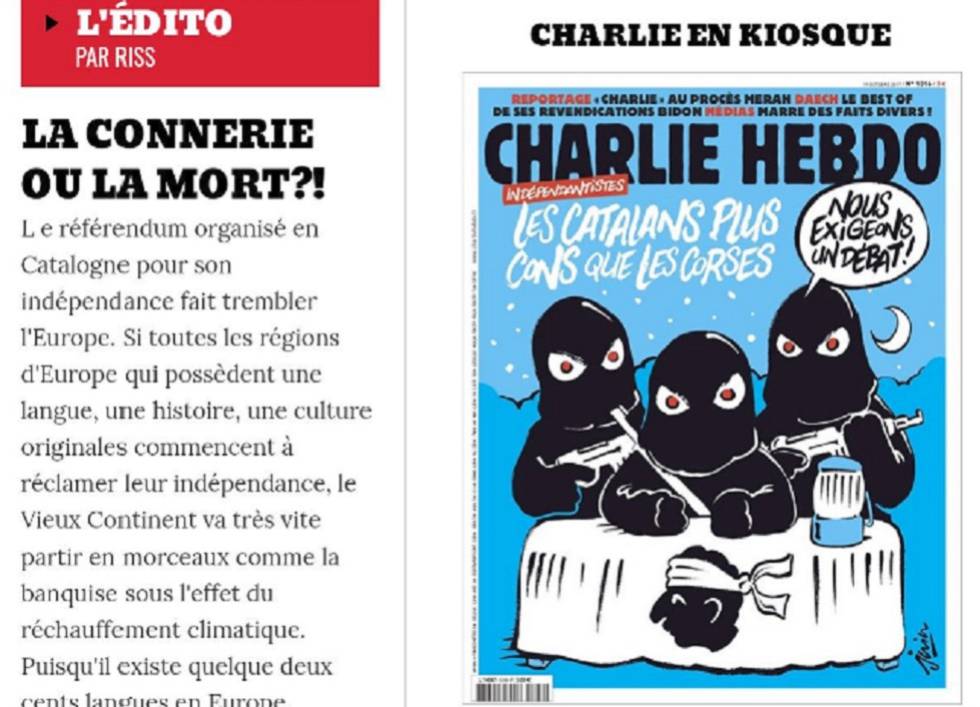 Catalans Bigger Bleeding Idiots than the Corsicans. "We Demand a Debate".
This is all over the Spanish media today.
"¡Idiotez o muerte!" La feroz burla de Charlie Hebdo al 'procés' catalán
El Paìs.
The Catalonia based  El Periódico (which publishes in Spanish and Catalan)  is less enthusiastic, describing the cartoon and editorial with the word – who would have guessed it, "provocative" –  but takes it all in good stride.
'Charlie Hebdo' se burla del 'procés': "Los catalanes, más tontos que los corsos"
Some of the Tweets they publish take exception to the comparison with the violent FLNC, but in our view the journal comes out of this in a good light by indicating this one.
There are too many other reports to signal here, but ask Comrade Google.
The Riss Editorial (pictured on the left, above)  is sure to win Charlie new friends as well:
The Catalan independence referendum has shaken Europe. If all the European regions with their own language, history and culture start claiming independence, the Old Continent will soon break up like pack ice under global warming. Given that there are 200 languages in Europe, why not create 200 new countries?
…..

"the worst dictatorship the world has ever known, the European Union."

"Independence. A flamboyant word sometimes hiding less noble concerns."

"We can almost hear the despicable Margaret Thatcher again: "I want my money back".

"Besides these mercenary considerations… certain voices on the Left claim …a blow for cultural identity".

"Why should the cultural identity claimed by Catalans be OK when the Christian identity claimed by European xenophobes isn't?"

"Right wing nationalism and left wing nationalism have one thing in common: nationalism"

"When Catalonia has broken the shackles binding  it to the Spanish Monarchy and the Holy  European Empire what will happen?"

"Proud independentists will march through the streets to the sound of drums and fifes, taking themselves for the Durutti column, young girls will throw rose petals at the militants.."

"And when the evening comes everyone will go home and collapse in front of the telly to watch Wheel of Fortune and  Barça  in the quarter-final of the League. Catalonia will have really deserved that.
And so it goes….
3 Responses