Puigdemont Betrays National Cause of Catalonia – Socialist Worker.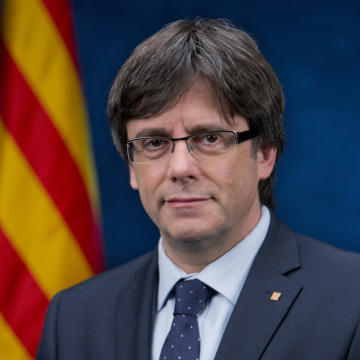 Puigdemont: Betraying United Catalan National Cause, Say British Leftists.
El presidente de la Generalitat, Carles Puigdemont, declaró este martes la independencia de Cataluña pero abogó por suspender durante varias semanas los efectos de esta declaración para lograr una mediación.
"La suspensión" of the full implementation of the declaration of independence was in all the media this morning.

You can watch the right-wing leader's speech here.
It must have been easy for the SWP to write this, immediately.
Carles Puigdemont betrays hopes of Catalan independence – but the fight is not over 
Today's Socialist Worker.
Catalan president Carles Puigdemont has betrayed the hopes of the movement for independence from Spain by saying that "dialogue" must come first.

He told a session of the Catalan parliament on Tuesday night that he would "suspend the effect of the independence declaration" in "a gesture of responsibility in favour of dialogue."

Before the referendum—held on 1 October in defiance of repression by Spanish cops—Puigdemont had vowed to declare independence within 48 hours of a yes vote.

Some 90 percent voted for independence. But Puigdemont did nothing until Tuesday, 48 hours and one week later.

By then he only said, "The voting said yes to independence and this is the way I'm going to follow"—eventually. First, "We have to start a dialogue because otherwise it wouldn't be possible to reach our goal."

But the Spanish government of Mariano Rajoy has shown no interest in dialogue, responding only with repression and blackmail.

Puigdemont urged politicians and the media to "calm" and "de-escalate" the bitter row rather than ratcheting it up. He called on businesses moving their legal headquarters from Catalonia to return.

His climbdown only hands the initiative back to Rajoy.

Outside the park that contains the parliament building, where thousands of demonstrators were watching the speech on big screens, many responded with anger and disbelief.

Members of the pro-independence anti-capitalist party CUP shouted, "Shame on you". They warned Puigdemont's party—whose government CUP props up, that "It's the end of our patience".

Others were more positive, telling reporters they hadn't expect Puigdemont to risk a unilateral declaration of independence yet. One man told the Euronews channel it felt like "The first day without the king of Spain."

The fight for independence clearly isn't over, but Puigdemont's speech is a major setback.

Senior European Union (EU) politicians may have helped broker the backsliding.
Socialist Worker ends this article by supporting the movement for "democracy and independence."
Today the Candidatura d'Unitat Popular, CUP, demands that Puigdemont fixes a limit, a date, for negotiations to end.
Their twitter feed is full of demands that Catalan sovereignty be recognised, but little that is recognisably socialist.
The most recent declarations of the other main left nationalist group, Esquerra Republican, (Republican Left) also lacks any socialist dimension, referring vaguely to a "social" dimension to the Catalan republican ideal. 
No doubt Catalan national unity, and  demanding that  Carles Puigdemont, a right-wing career politician, leads the struggle for Independence come what may, against the Spanish Government, and the European Union, is more important in the fight for the Nation than class struggle, or any form of socialism or social democracy.
Meanwhile, for entertainment, we note this: (Socialist Party).
For a socialist republic of Catalonia!
The workers can finish what Puigdemont won't!
This groupuscle managed to see a working class moblisation at the centre of the Independence Campaign.. NO doubt the workers were hard at inside the main cultural force for independence, the wealthy, business and Catalan government funded Òmnium Cultural, not to mention…see below.
Meanwhile in the Catalan Parliament, Junts pel Sí (the bloc behind right-wing  Puigdemont, which includes the so-called Republican left, has 62 seats, the CUP has 10.
Despite having only 10 of the Catalan parliament's 135 MPs, this anti-capitalist force has become one of the central kingmakers in the process of self-determination conducted by the Catalan government. Its deputies are crucial for ensuring a separatist majority in the chamber, and so, while voting to put a pro-independence government into power, its radical anti-capitalist view has frequently clashed with the Catalan establishment and the liberal parties in charge of the Catalan government.

New Internationalist. Marc Almodóvar
That has not stopped the CUP setting aside such differences in the interest of the Catalan Nation and People and reaching an agreement to keep the right in power.
Government (62)
Confidence and supply (10)
Opposition (63)
This another example of 'left-wing' drivel being circulated at the moment.
Update: SWP calls for international support for coalition of right and left fighting for an independent Catalonia.
Please organise yourselves. Set up united solidarity campaigns with Catalonia. Mobilise in support of democratic rights in Catalonia and against repression. If they smash us, they can smash you tomorrow. Everybody has a stake in this."
Meanwhile about the only people speaking sense are Podemos.
Francesc Xavier Doménech, deputy for Unidos Podemos, tells the Spanish government: "You are denying reality. This is a state crisis. This crisis cannot be resolved by applying the same measures taken to date, which are basically repressive measures."
4 Responses