Nigel Farage: Catalonia Demonstrates EU Democratic Failure.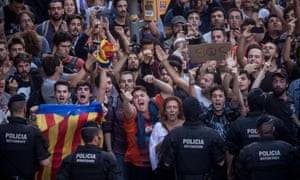 Main unions' statement, "CC OO and UGT are not calling the general strike for October 3," said the country's top two unions in a joint release. "Our organisations in Catalonia are encouraging participation in protests against the excesses committed on October 1. In no way are we going to support positions that provide backing for the unilateral declaration of independence"
"The regional government and Barcelona City Hall are allowing their employees to strike today without docking them the corresponding day's pay, as would usually be the case for a stoppage."
"All three production lines at the Seat carmaking plant in Martorell (Barcelona) are working at full speed. The factory has not been affected by the general strike and only a reduced number of employees have decided to stay home, said the works council."
The  repression in Catalonia continues to have a wide international fall-out.
"Right-wing British politician Nigel Farage expressed support for the Catalan separatists' cause inside the European Parliament, where he strongly criticized the Spanish government over the events of last Sunday. Esteban González Pons, leader of the Spanish delegation in the European People's Party group, said that it is the far right that supports independence in Catalonia."
In Catalonia we have seen how the EU does 'democracy'. Why can't Remainers see it too?
Telegraph. NIGEL FARAGE
4 Responses