Barcelona Attack, Love, Solidarity and Sadness: Reflections.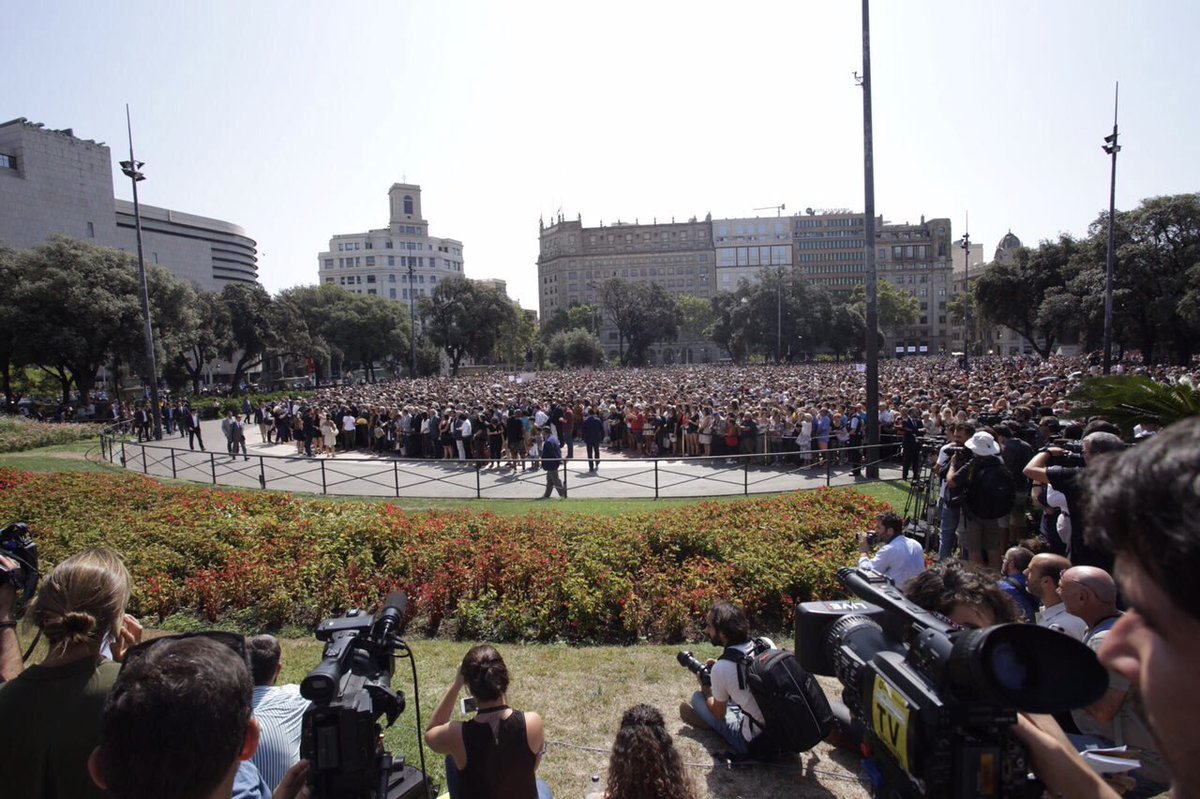 Barcelona: "No tenim por! No tienen miedo! We are not Afraid!
Spanish police kill five suspected terrorists in resort town of Cambrils
Suspects believed to have been preparing attack following killings in Barcelona on Thursday afternoon; one woman injured has since died. El País
ISIS claims responsibility for Barcelona terror attack that killed at least 13 people
Police detain three suspects, naming Driss Oukabir, who allegedly rented the van used in the attack El País
Isis supporters celebrate Barcelona attack after the terror group claim responsibility.
Several pro-Isis social media channels put out messages in Spanish such as "Kill the Spanish pigs" and users changed their profile pictures to Driss Oukabir, a suspect in custody.
More: Daesh reivindica el atentado y llama a matar "cerdos españoles"
Barcelona and its people have a special place in many hearts.
The history and culture of the City is celebrated and loved throughout the world.
It goes without saying that many are keenly aware of the tragic 20th century history of Barcelona. Some on the English speaking left will have read the translation of Max Aub's Campo cerrado (1943, translated as Field of Honour 2009), "It tells the story of Rafael Serrador, a young man from Castellón, near Valencia who, aged sixteen, moves to Barcelona. He gradually becomes involved in politics. He is very unsure of himself and what he believes and ends up joining the Falange, i.e. the Fascists. He starts becoming disillusioned when the leader tells him that he is interested only in ideas and not people. When the Spanish Civil War does break out, at the end of the novel, we follow events in Barcelona as the workers resist the take-over of the city by the Fascists and Nationalists. At this point, Rafael realises the error of his ways and fights with the anarchists rather than the Falange.  (The Modern Novel).
It is to be hoped that the same left will respond with dignity to the present horrific events.
We do not need a further recycling of the idea that the murders took place because of "imperialism", and "Western Wars".
Nor do we need yet another 'Nothing to do with Islam', "so-called Islamic State" lecture, still less 'Islam is a religion of Peace' homily.
A simple declaration of love for those affected by the slaughter and condemnation of the killers is the principal message called for. 
We could however mention this,
Islamist extremists suspected of opening fire on diners at Turkish restaurant popular with foreigners in Ouagadougou.
One Response